DAVIDOFF CLASSIC No.2
6x38 Panetela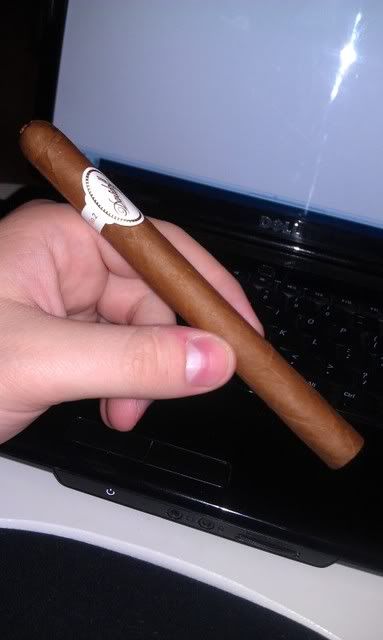 A truly classic size, in the classic Davidoff line, and apparently Zino Davidoff's vitola of choice. One of the original sizes, originally a Cuban Puro, Davidoff moved to the Dominican Republic, and stopped using Cuban tobacco in 1991. Davidoff represents, as a brand, the finer things in life. Davidoff does not make inexpensive cigars, but they also don't make cigars of low quality. Davidoff, and the other brands made at Tabadom, their factory, are well known for their quality control, which is extremely meticulous. Davidoff also does not make large ring cigars. They make cigars in classic, traditional Cuban sizes, Lanceros, Rothschilds, Coronas, and of course, the descendent of the famous Davidoff Dom Perignon, in a Churchill size. This classic panetela is a prime example of the kind of cigars Davidoff makes... thin, elegant cigars.
This particular cigar, which came packaged in a cedar lined aluminum tube, featured a delicate, medium brown Ecuador grown Connecticut seed wrapper, around Dominican filler and binder. The construction is impeccable, with tight, even seams, a balanced, firm, but not too firm pack, and a tightly rolled pigtail cap. Not to mention the band, that famous white band, with its simple gold script. The aroma from the body and foot offer the musk that Henke Kelner (master blender at Tabadom) is known for blending into his cigars. There is also a delicate oily leather scent, and a touch of wood. The cold draw offers a similar musky, aged tobacco, with a wood and leather core. While the wrapper doesn't appear particularly oily, it feels very oily on the lips. Pre-light, the draw is a little snug. I will cut more off later if this proves to be an issue at any point.
Lit at 10:28, with cedar spills.
I only really take the time to light with cedar spills when a cigar is something special, and as my experience with Davidoff has been great (and the pricetag is... big), it seemed appropriate to light this slender, elegant cigar in the most elegant way possible. Right away, the flavor profile is smooth, and delicate, a mild sweet wood flavor making up the core, with a musky "old" flavor/aroma through the nose. There is no pepper or spice to speak of at this point, and I would be surprised if any appears. Davidoff generally produces mild to medium bodied cigars, of lighter strength, and initially here, the Classic blend is sticking to that. The blend is so gentle in fact, that I am able to cycle all of the smoke from a draw through my nose, with no harshness or burning sensation. Don't get me wrong though, just because the cigar is mild, and I keep using adjectives like delicate and gentle, the flavor profile is big, and bold... but smooth.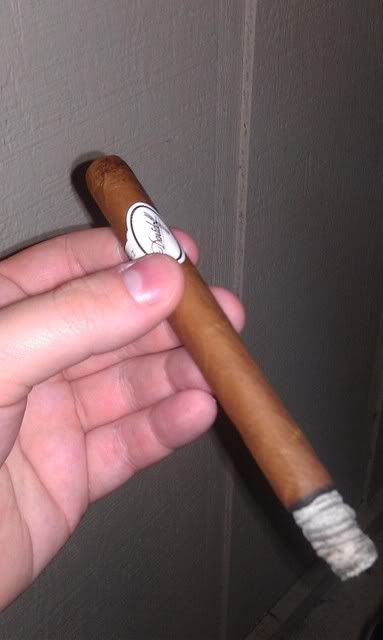 The ash holds for surprisingly long given the small ring gauge, over an inch before falling in my ashtray. The burnline is straight, and relatively slow. Smoke production is great, despite a firm draw. In fact, the smoke is quite thick, and oily in the mouth, and linger beautifully in the air. The flavor profile towards the end of the first third starts to change a bit adding a substantial sweetness, though it is still a wood flavor at its core. The wood flavor is cedar, very sweet cedar. Through the nose things remain musky, and now slightly floral. The ash is a gorgeous dark gray color, with a great stacked... well, dimes appearance (not quarters, given the ring gauge)
The body has gradually increased over the last two inches, moving towards the final third, moving well into the medium range. Still no nicotine strength to speak of, but the general mouth feel and profile has gotten a bit darker, and heavier, with a touch of black pepper becoming apparent in the finish, towards the back of the throat. This increase in body is kind of a surprise, but an interesting and pleasant one.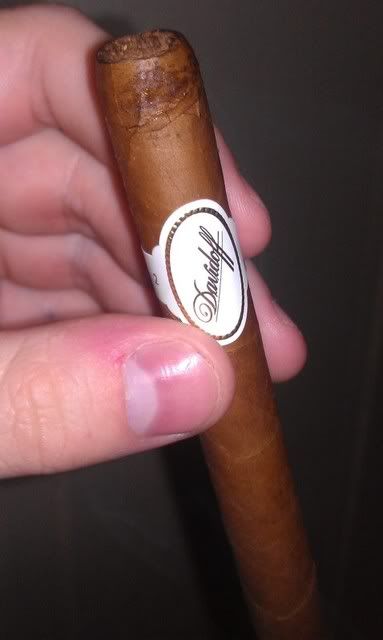 In the final third, the flavor continues to progress similarly, getting a bit earthy, and with the black pepper becoming stronger. The musky aged tobacco remains, but the sweet cedar has pretty much disappeared. Nothing else really changes though through the final third.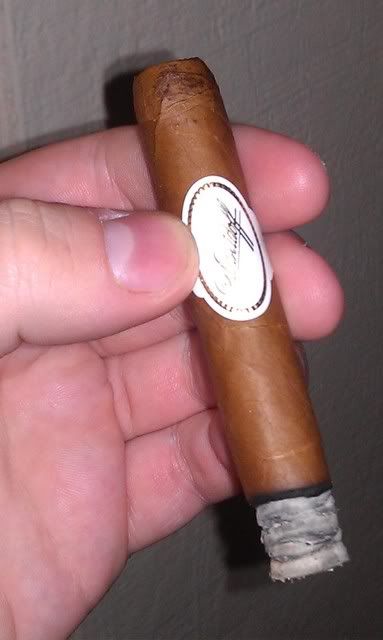 Ended at 11:38 for a total burn time of one hour ten minutes. For the size, this is about how long I expected. What a cigar! Delicacy, elegance, and complexity all are fit to describe this cigar. I see why Zino Davidoff smoked this cigar personally. The length and ring gauge offer a complex, flavorful experience from the beautiful Ecuadoran Connecticut wrapper. I highly recommend this cigar to fans of small rings, mild cigars, and big flavors. I also think this would be a fantastic cigar for those who have any preconceived notions about either Davidoff or mild cigars.