COHIBA BEHIKE BHK 52
4.7 x 52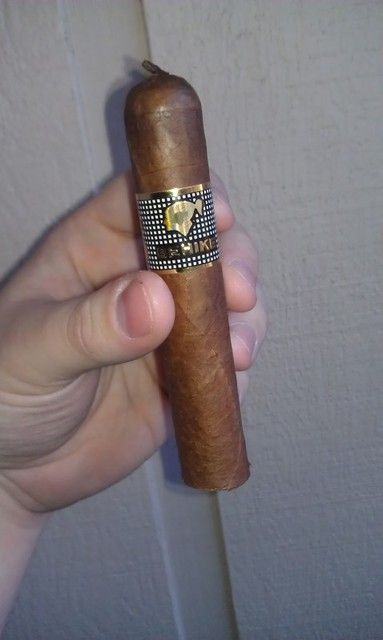 The Cohiba Behike... Ahh... the name rings true with prestige, scarcity, quality. Originally the Behike name was used for the Cohiba 40th anniversary cigar, a 7.6x52 mammoth, rolled entirely by one roller, packaged in gorgeous custom humidors of 40 cigars, with only 100 humidors total being made. These cigars fetch well over $1,000 US EACH today. Starting in 2010 however, Habanos released an entirely new line of regular (albeit annually limited) production cigars under the Cohiba marca, the Behike BHK series. Available in three sizes, the BHK line makes use of the Medio Tiempo leaf, a small pair of leaves that sometimes (and not always) appear at the very top of a tobacco plant, apparently imbuing the BHK with a unique flavor element. The Medio Tiempo is a component that had fallen out of use in Cuban cigar production, often sorted in with the rest of the ligero, or discarded entirely, because it is small, and only occasionally appears on a plant. The folks responsible for the BHK came upon the medio tiempo in old blend books, and decided to reinstate it, and thus the Behike BHK was born. The BHK 52, the smallest size, was named Cigar Aficionado's cigar of the year for 2010, and has received great praise (or hype?) since coming to market in early 2010. Having just celebrated a birthday, I figured it was as good an excuse as any to light one, and give it a really close, in depth look.
This particular example of the BHK 52 features a caramel brown wrapper, with a dusting of tooth, and almost no visible veins. The flag tailed cap is beautifully, evenly applied, and the general construction, as Cohiba should be, is pretty much flawless to look at. In the hand it is fully packed, but light, firm to squeeze, but not hard. The aroma from the foot is a gentle toasty tobacco, with just a slight hay and dirt to it. The draw offers just a slight snug resistance, and tastes of hay, cream, almonds, and a very slight honey. A quick bit about the band, which is absolutely gorgeous, in its intense contrasting black and white, with beautiful gold accents and lettering, as well as the holograms which not only serve as aesthetic embellishment, but also as a counterfeiting deterrent.
Lit at 2:40pm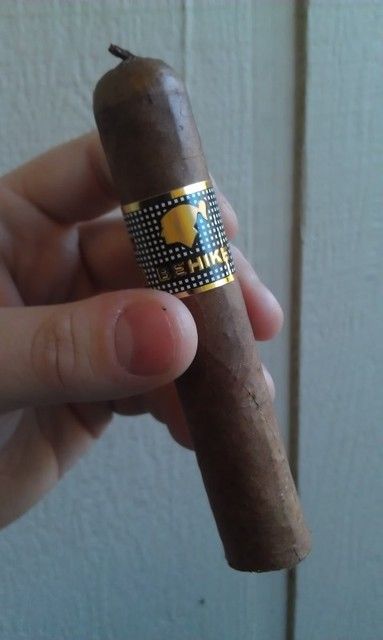 Right away the flavors explode on the palate, though it is not an overly strong cigar, or full in body, the tastebuds are greeted with a dark caramel and sweet hay, followed by leather, and finally a little cinnamon spice, that lingers through a long, cedar and almond finish. This particular stick may be just a TOUCH under humidified, as the wrapper seems a little delicate. The burn ran a touch for the first few draws but within about 10 minutes everything has sorted itself out to an even line. The draw is great, and smoke production is... voluminous. The finish seems to have actually gotten spicier, more heat involved, just over the course of the first third. The ash is dark, mostly black, and dense. It has held already for over an inch, and not yet fallen.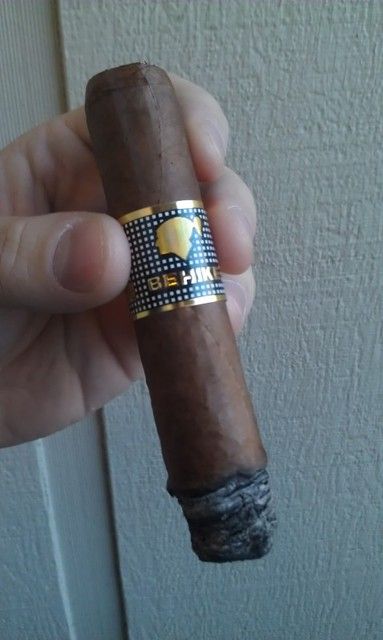 Getting near the halfway mark the mouthfeel has gotten thicker, like a fresh, whipped cream. The flavor profile has also taken on a woodier, nuttier character than was present at the beginning. There is still a sweet cream and honey on the draw, but they quickly move into a slightly tangy cedar, and roasted almond, with a cinnamon and pepper on the finish that is maybe just a little rougher around the edges than I expected. That said, these are still not very old cigars (September 2010), and Cohiba as a rule seems to benefit from at least two or three years, so I would say this is actually performing wonderfully.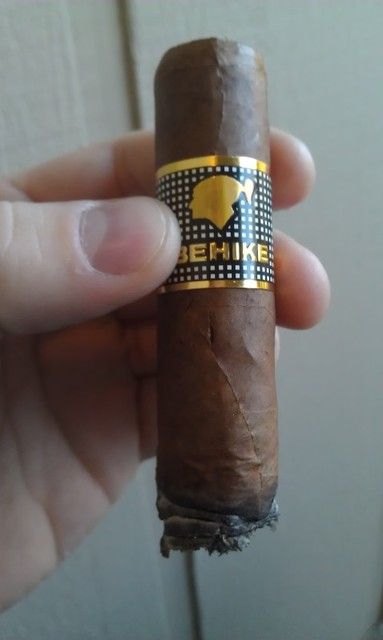 Moving to the final third, things sort of ramp up a bit. The flavor profile gets darker, with caramel getting a touch burnt, the cream and honey fading, a bit of leather becoming more apparent, and the almonds getting roasted a little darker. A little dark chocolate also joins the mix for good measure seemingly, which is a nice addition, and adds some certain complexity to things. The draw remains open but firm, and smoke production continues to be outstanding. The burn line throughout the cigar has wavered at times, getting crazy for a few draws before eventually evening back out. The ash continues to hold for pretty much an entire third of the cigar at a time. The finish has gotten significantly spicier, a little bit of hot pepper, balanced by cinnamon and/or nutmeg at times, really bringing everything together.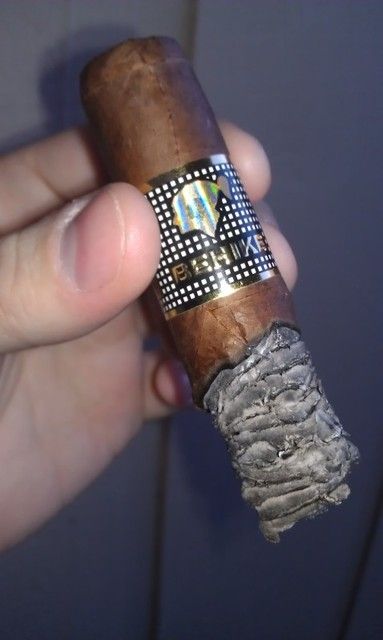 In the end the only thing I can think is that I wish I had more of these on hand, to really be able to see where they go in a year, or three, or five. The BHK 52 is smoking beautifully right now, with a touch of youth popping up here and there, but ultimately, it already has achieved a phenomenal balance of flavor, body, and feel, and in my opinion has the potential to only get better from here. I only pray that they continue to maintain this level of quality in the future. Ended at 4pm on the dot, for a total smoke time of one hour twenty minutes. I wish that maybe it had burned slower, but it is also a little cold out today, so my finger tips are glad it is a shorter vitola.