DON CARLOS EDICION DE ANNIVERSARIO
5.2x50 Robusto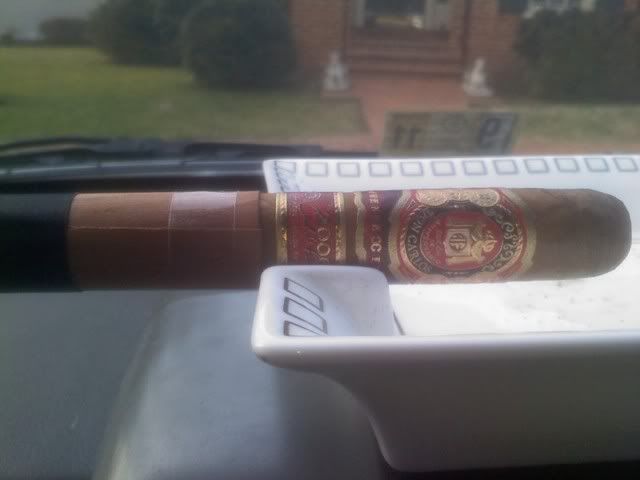 A very rare cigar, produced to celebrate the 30th anniversary of the Don Carlos line of Arturo Fuente cigars. Has to be special right? Certainly looks like it! Double banded, cedar and ribbon wrapped, this cigar has all the trimmings of a high end Fuente special release. It has the pedigree too. I can't find much info on the internal blend, but the cigar uses an aged Opus X wrapper, that Sungrown habano seed, Dominican wrapper that the Fuentes are so famous for. Taking off the sleeve and ribbon, this really is an impressive looking cigar, aside from the fancy dressings. The wrapper is a golden honey color, with an impressive amount of tooth to it. The construction is also flawless, in typical Fuente fashion. Triple cap, almost no visible veins, and invisible seams. The filler looks well bunched, and the overall heft of the cigar is impressive despite being the smallest size in the line. The cold aroma reminds me of the most pungent, aromatic Opus X cigars, leather and dried fruit, with a touch of cinnamon, but it has something else, a musty funk to it, manure/farm notes that sort of creep up after the punchy fruit and leather. Very impressive cold aroma. The cold draw is great, offering those same leather and fruit characteristics, as well as a bit of spice, and musty aged tobacco. This cigar is, afterall, around 5 years old now (initially released in 2006, then aged a further two years and released in smaller boxes in 2008) Really impressive before lighting. Lets see how she does once lit...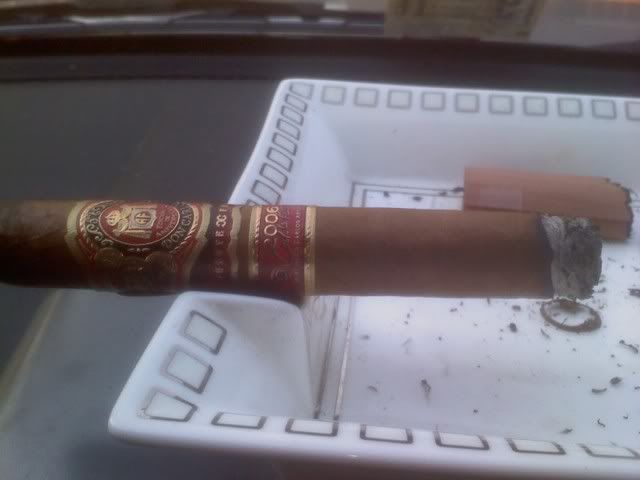 Lit at 3:15pm.
Wow. Takes a second to really get going, but once properly lit, and a few draws are down, it really has built into something impressive already. Powerful spice washes over the palate. The mouthfeel is dense, and oily, almost syrup-like. Only a few draws in that the ash looks awesome, with TONS of little oil pockets, or tooth, becoming visible. Smoke production is out of this world. Even when sitting in the ash tray, big tufts of white smoke are pouring out of the lit end. Good start!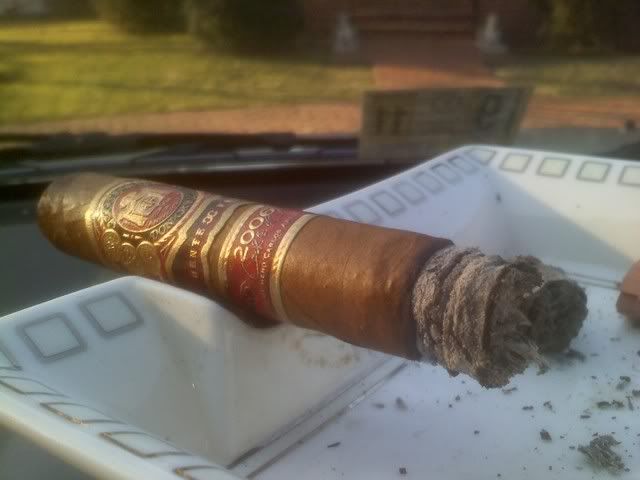 Throughout the first third, the flavor profile does not change a whole lot. The draw initially offers a bit of peppery spice, followed by a smooth, really oily leather flavor, followed by a few assorted notes of vanilla bean, cinnamon sweetness, and raisins. These three flavors are not present on every draw, but sort of move around from draw to draw. Through the nose there is a prominent, well... I would call it dessert spice. Like vanilla bean, and cinnamon, but hot and spicy. A note on how well made this cigar is... my neighbor came over and was chatting me up for a few minutes, and unfortunately, the cigar went out. Within a few minutes, I was able to roll the ash, purge, and relight, and it was as if nothing had happened (what a relief). The burn and draw have also been perfect the whole time. I have seen this cigar labeled as one of those cigars that is essentially a tweaked Opus X blend (like the Casa Fuente, God of Fire, and other high-end Fuente made cigars), and this certainly, at this point, is apparent. It lacks the in your face strength that the Opus often has, but flavor wise, it is similar, but smoother, and a bit more subdued maybe. The strength is no-where above medium at this time. It does offer a good bit of that musty, aged tobacco flavor that I think of as being a key element of the regular Don Carlos line, which is a time tie in, given that this cigar was produced to celebrate the anniversary of that blend.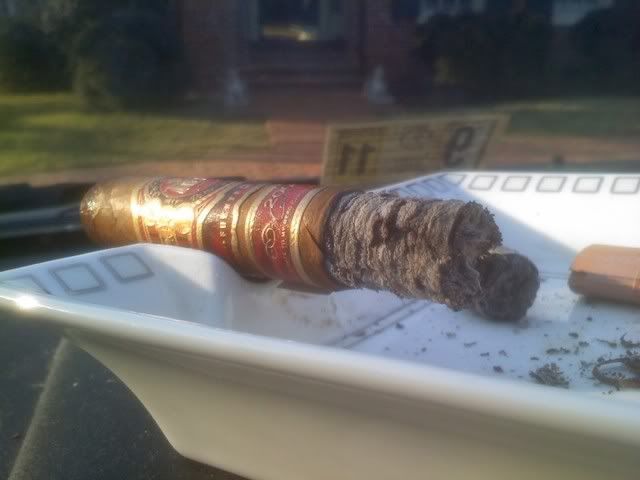 Impressively, the second ash (had to roll it the first time at about the one inch mark to re-light), holds all the way until the band point (admittedly, the band point comes at just past the halfway point. But regardless, the ash is firm, and bright white in color. Not a single burn issue so far. No draw issues either. Just the right amount of a tug required, and it produces more than enough smoke. Flavor profile has gotten slightly darker around the half point. Earthy dark. No distinct dark flavors. Still oily leather, with hints of musty tobacco, cinnamon, vanilla, and now even some cream flavor.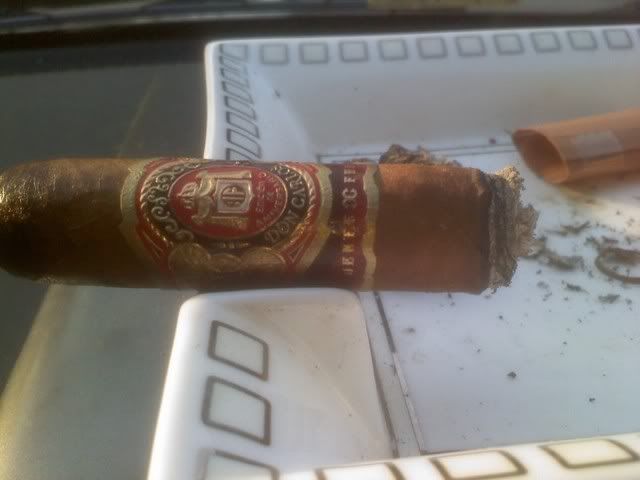 Upon removing the main band... finally something negative I can say. Fuente tends, in my experience, to be pretty liberal with their glue usage when applying bands, and the removal of this one takes a bit of wrapper with it, and leaves a sizeable flap of tobacco. Not a huge issue though, as a little yanking removes this piece, and the remainder burns through without issue.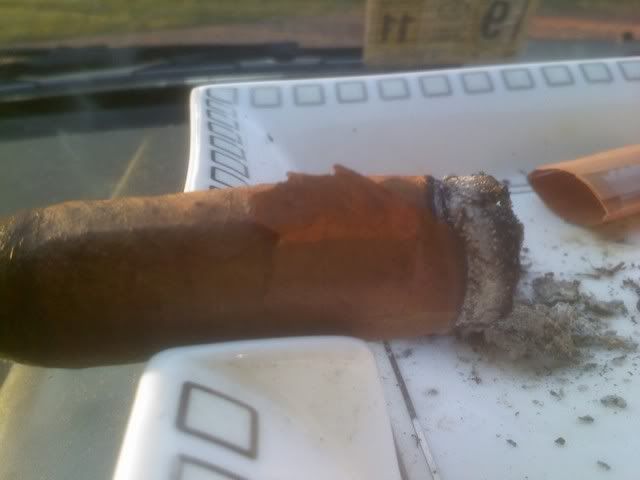 In this final third, things sort of ramp up in strength, as I am now feeling it a bit in my head. Not stomach churning strength like the Opus X sometimes has, but it certainly has a fuller kick to it now that it did initially. Flavors remain similar, with maybe a slight shift from the oily leather and sweet fruit and spice, towards the darker, earthy character mentioned earlier. Complexity has its own form in this cigar... all at once, but not a lot of transition as it burns down.
Ended around 5pm, for a total burn time of one hour forty five minutes. Overall, I think this is an interesting cigar, falling somewhere right between the Don Carlos blend, and the Opus X blend. It has a smooth, musty, and laid back character, but has a lot of the flavors that the Opus X is known for, which I guess comes from the use of the Opus wrapper leaf. I'm not sure how I feel about the price of this cigar, as it truly does fetch a pretty penny(high 20$ range) even in this smaller size. The price, and relatively small production numbers on this stick would seem to dictate this as a special occasion type cigar, and while it certainly is a fine blend, I just think that if it sounds worth it to you, then yes, this is a cigar to have on hand. If nothing else, the fact that these probably won't be around forever is reason enough to pick some up if you see them. Performance is flawless, and flavor is great.