CRUZADO AVALITOS
4x46 'Petite Robusto'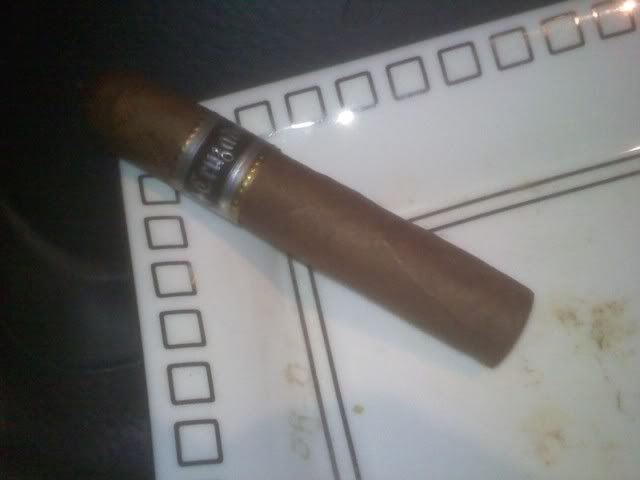 This small robusto (petite corona gorda?) is my first experience with this line from Illusione mastermind, Dion Giolito. The Cruzado line makes use of seco filler rather than ligero, for a full flavored, but lighter bodied experience than the Illusione line. Cruzado uses primarily Criollo '98 seed, with one part Corojo 2006, according to the brand website. The Cruzado is available in six sizes, ranging from this petite robusto to a 7x47 Churchill (called Marios). The entire line features flagged triple caps, for a certainly special look. The band is gold and silver, without being overly flashy. It actually has a somewhat gothic appearance to it, which fits with the Cruzado name, and artwork. The wrapper on this particular example is a slightly reddish brown, like wet, muddy clay. It has a dry, matte look to it (though it is certainly not underhumidified). The filler appears well bunched, and the overall construction, including the seams, appears tight, and professional. The aroma from the foot is mild, not offering much other than a medium, wet tobacco aroma, maybe a little sweetness. Removal of the cap allows for a free draw, offering a bold pre-light profile of pungent burning cedar and a leather character, oily and rich.
Lit at 10:15 pm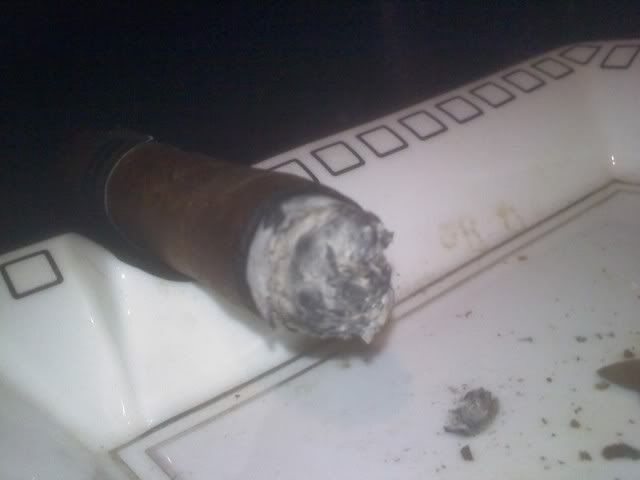 First impression is of a heavy spice character, with a woody core flavor. Not overly complex. I have a feeling, based on the way this blend is billed, that this spice will diminish rather quickly. Within a few draws, just as I suspect, the spice tones itself down pretty significantly. There is a flavor that I cannot quite describe perfectly, but I am leaning towards licorice right now. Very interesting. Still a woody profile overall. Maybe raisin, but not that sweet cinnamon raisin pastry profile that I get from certain Dominican cigars... Incidentally, we are getting hit with freezing rain right now, so this small format is perfect for a smoke tonight. By the time I finish smoking it, I figure I will just be starting to get too cold to continue hanging out outside.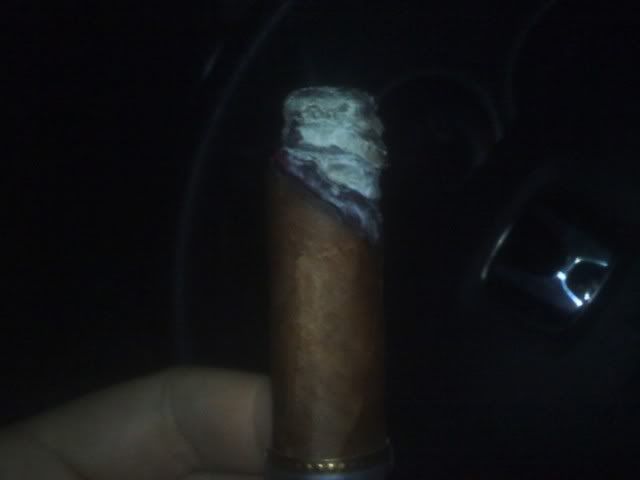 Cigar is starting to run on one side a little bit, getting down to the end of the first third (on one side, only about 1/3 of the first third burned on the other side.) Not sure of the cause here, but unless if doesn't catch up, I'm not overly worried given the somewhat funny size of the cigar. Flavor profile is as follows at this point: Slight spice on the draw, with a tangy cedar flavor, tasting like the aroma of burnt cedar spills, followed by a big oily leather flavor that coats the palate, and remains present through the smooth, slightly peppery finish. It is a toasty, medium bodied and flavored cigar. Not overly complex on the palate, but certainly is rich, and satisfying. In a small format, I like this sort of profile. Good, solid, well defined flavors, that deliver with very little subtlety, and maintain their vigor throughout. A small cigar like this doesn't really have time to be overly complex, and this cigar is a perfect example so far, of what a small cigar should do.
Just past the halfway point and things are taking a heavier turn on the palate, earthy coffee notes, slightly bitter and even musty are moving in, along with the oily leather. The strength is basically non-existent in this cigar, but flavor, and overall feel is heavier than it started. The burn has been great aside from the slight canoe in the first third, which corrected itself within probably 10-15 minutes. The smoke production on this cigar has been phenomenal, big clouds of white smoke, which is a sign of good construction and combustion in my mind.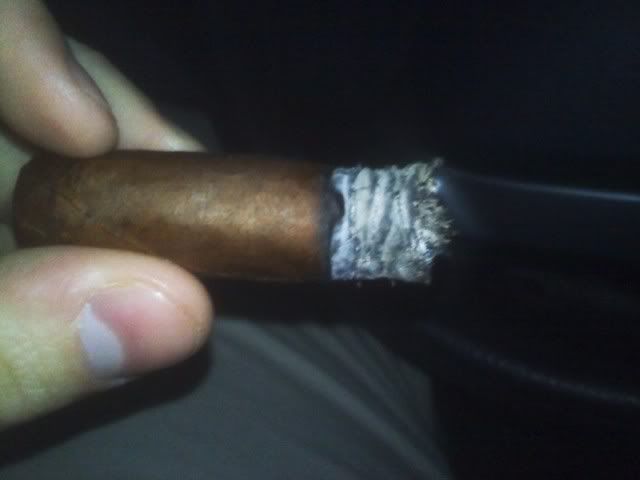 Ended at 11:35 for a total smoke time of one hour twenty minutes. Probably could have gotten another 5 or 10 minutes from it, but left my nubber at home. This is a killer flavor bomb of a little cigar. Because of the lack of nicotine strength in this cigar, it would make one hell of a morning coffee smoke, but really I could see it being enjoyable any time, due to the richness.