ALEC BRADLEY AMERICAN CLASSIC BLEND
5x50 Robusto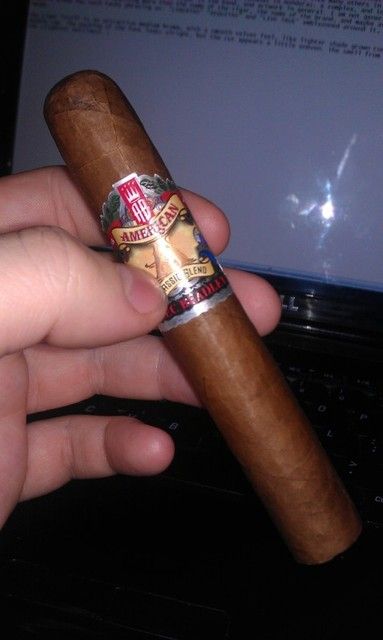 Not actually using any American grown tobacco, the American Classic Blend seems to be an attempt to create an old school, American "style" blend, in this case, probably considered as such due to the use of a Connecticut seed wrapper (albeit, a dark Connecticut, grown in Honduras), around Nicaraguan fillers from Esteli and Condega, and a Nicaraguan binder. Conceived also as a bit of a budget cigar, like many others in this price range, it is made at the Plascencia factory, in Esteli, where most of Alec Bradley's cigars are made at Raices Cubanas in Honduras. A complex, and interesting combination of tobaccos, hopefully it will deliver. The only thing that turns me off about this cigar is the band, and artwork in general. I am not generally a fan of overly stylized bands, and especially those with catch phrases on them... Anything more than the name of the cigar, the name of the brand, and maybe at most the name of the factory location... fine... but the American Classic blend has such tacky phrasing as: "LIBERTAS" "AEQUITAS" and "LIVE TRUE" emblazoned around it, along with an American pastoral scene, and a mountainous Southwestern image.
The cigar itself is an attractive medium brown, with a smooth velvet feel, like lighter shade grown Connecticut, a moderate vein structure, and a good looking, even double cap. The packing of the foot looks alright, but the cut appears a little uneven. The smell from the foot is a simple wood character primarily, along with just the slightest nuttiness. The cold draw is just a touch firm, not tight, just a little snug, and offers a rustic, earthy core, with a peanut butter element that, actually, I associate with Honduran tobacco more than anything else. Underneath that, there is just a little bit of a sour funk, like rotten fruit. Hopefully that will not come through once lit.
Lit at 8:57pm
There is considerably less MMph! behind this blend than I expected, given the Nicaraguan guts, and Honduran wrapper, and heavy, earthy prelight flavors. In fact, once lit it goes straight into... mild. Core flavors are a delicate cedar, a toasty tobacco, and just the slightest black pepper through the finish. Mostly, a straight forward, medium, toasty tobacco dominates. There is a very little bit of earthy character, but nothing near what I expected. Burn, draw, and smoke production are all satisfactory here at the beginning, so to be honest... I have no complaints. Just straight forward as can be...
Ash holds well, through most of the first third. The flavor profile remains much the same except that as the burn progresses, the peppery spice gradually builds a bit more, leaving some heat in the back of the throat through the finish, likely a symptom of the Nicaraguan fillers in this blend. The mouthfeel is a touch oily, maybe a little harsh at times as well. The balance of flavor though, from a soft cedar, gradually getting heavier to the spice on the finish is a nice progression with each draw.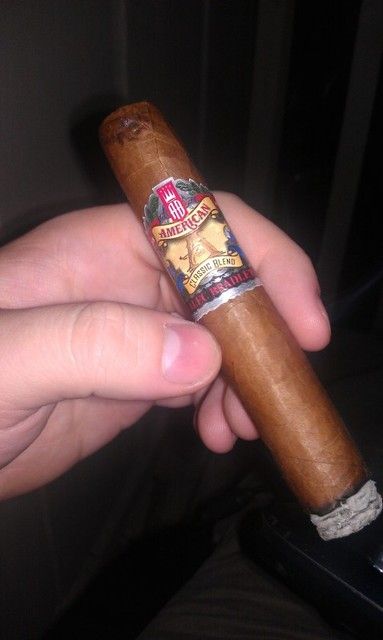 A little beyond the halfway point a leathery character, as well as what I can only describe as the musty old lady's handbag (maybe a touch of mothball) jumps in here and there. The leathery note is good, and fits perfectly with the generally earth and wood profile... but the mothball is not cool. Not cool at all. The burn and draw however continue to be great. The construction seems just fantastic on this stick, which is awesome for such a budget priced cigar.
Not much happens through the end of the cigar. I know this is a pretty short review, but this just isn't an overly complex cigar. It has a straight forward, earthy, woody flavor profile, that aside from a few additions and subtractions of notes here and there, is pretty consistent from start to finish. Ended at 10:26, so the robusto lasted me an hour and a half, which is about normal for me and a well built 5x50. I will be smoking more of these in the future, and look forward to seeing if the slight harshness dissipates with time. I definitely think this is a great, wonderfully priced cigar for guys looking to get that earthy flavor, in a mild/medium bodied smoke that they can enjoy while doing something else. Definitely not a yard 'gar, or maybe the best yard 'gar... Box worthy? Maybe. For me there are a few other similarly priced cigars I would buy a box of first, but these are definitely worth trying.