La Gloria Cubana Medaille D'or No. 1
7.3x36 Delicados Extra
Code: OSU JUL 02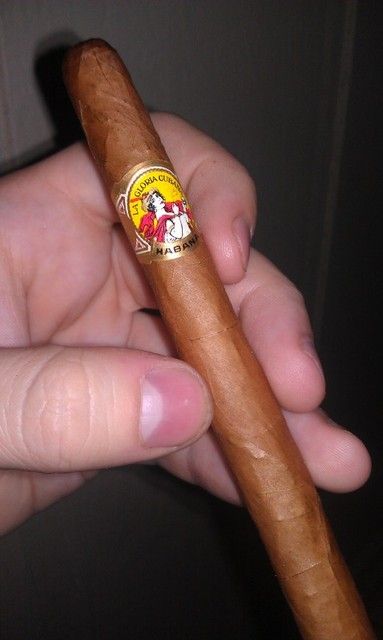 Alright, I'll be the first to admit that any cigar with this kind of age on it is a treat, regardless of origin, blend, brand, etc. For a cigar to survive, properly stored, and cared for, without being smoked, for almost a decade is awesome. When that cigar is one of my favorite sizes (or close to it at least), from one of my favorite Marcas, it becomes something exciting every time I light one. This cigar is one of those cigars. La Gloria Cubana is a brand established in Cuba in the 1880's, and sadly, is one of the many smaller Marcas in the Habanos S.A. portfolio which seems to be suffering more and more cuts every year. In fact, La Gloria Cubana consists of only two cigars as of 2011, The M.D.O. no. 2 and the M.D.O. no. 4. (The churchill sized Tainos was recently announced as a deletion for this year, tragically, and the other Medaille D'or sizes were cut in 2010). To me, the removal of these cigars represents two negative trends in Habanos marketing strategy... the cutting of classic sizes from classic marcas, and the cutting of long or thin cigars from any marca, in favor of a move towards the Americanized, short and fat is better, who cares if you can taste the wrapper, and who cares if it burns well, as long as it is an 85 ring gauge behemoth attitude.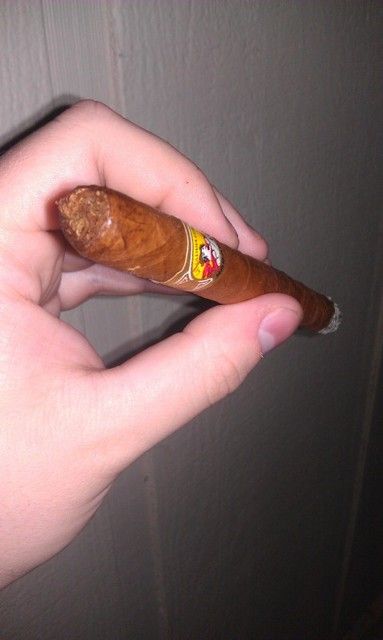 Anyway, enough about the politics of cigars, and on to this excellent example of an aged Cuban long and skinny... The first thing I notice is obviously the size. At 7.3 by 36 ring, this is a little shorter, and a little thinner than a classic lancero, a size that has fortunately gotten a fair amount of attention among connoisseurs lately. It features a lightly toothed, butterscotch colored wrapper, with no large veins, but what I would consider a fairly visible vein structure. The construction is great, though when squeezed, it is a touch spongy (a common occurrence among cigars of this size). The seams are tight, the wrapper does not appear to have been stretched at all, and the triple cap is well applied. The aroma from the body of the cigar is just a mild earthy note, while the foot gives a strong nutty character, with a touch of a floral scent, like rose blossoms. The cold draw reveals just a slight resistance, which is a relief, since this cigar was rolled coming right beyond the time period when Cuban cigars were notoriously poorly constructed, with some smokers anecdotally referring to boxes in which half of the cigars contained within would be plugged too tight to draw from at all. The flavors present on the cold draw are more robust than I would have first expected, given the mild reputation that the LGC marca has, presenting a combination of citrus peel, cedar, wet earth, roasted almonds, and again that rose blossom/wet garden note.
Lit at 9:30pm.
Right away the flavor profile is a smooth, heavily creamed coffee core, with roasted nuts and a tart citrus peel on the outside, and a sweet cedar that runs through the finish. I will admit that the burn is wild. It is wavy as can be. I'd say choppy waves even. That said, from draw to draw, each area that is behind catches up, so with each draw it kind of keeps pace with itself. The smoke production is great, not overwhelming, and between draws it doesn't continue like a chimney, which is a good thing (I hate nothing more than setting my cigar down, only to choke on an inadvertently inhaled gulp of smoke coming from a cigar sitting two feet away on the table!). There is a sweetness that sort of coats the mouth, and lingers. The ash holds on for about 3/4 of an inch, which is fine for so small a ring gauge, you just have to be attentive. With flavor like this though, it is hard NOT to pay attention.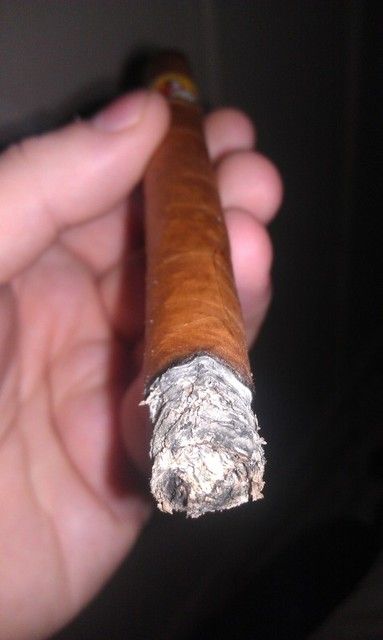 Around the two inch mark, maybe a little past, the profile starts to transition, with the creamy coffee lessening, and a burnt wood taking over as the core flavor on the draw. Citrus, sweet cedar, and roasted nuts continue to make themselves known here and there, but they are notes on the edges. On the finish a long, syrupy caramel (and I mean the kind you get from actually burning raw sugar in a pan at home) lingers long after each draw. This is a solid, medium bodied smoke. No strength, but the robust flavors and heavy mouth feel serve to bolster it.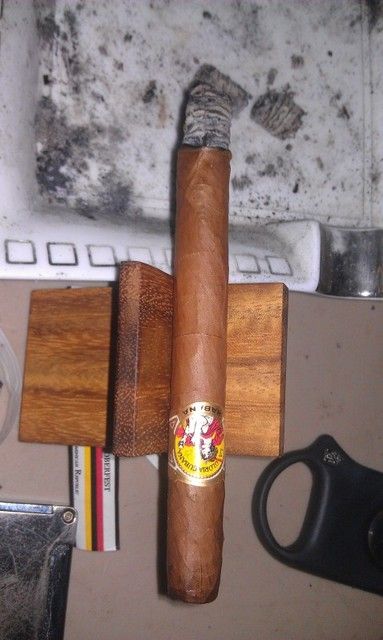 Even at this point, maybe 3 inches in, I am impressed by the legs I think this cigar has left to age into. Often, by this point in the aging process, a cigar has gone beyond its peak, or is close to it, but frankly, for a brand generally billed as mild, this cigar still has years left in it before I think it will have really mellowed out beyond its prime, and I am not even half way through smoking it. The flavor profile continues much the same, burnt, wet, smokey wood on the draw, followed by a dazzling array of floral, citrus, and nutty notes, with a thick, caramel sweet finish, and maybe a touch of twang and spice in the back of the throat now. The wild burn line has also sorted itself out after an inch or two, now staying relatively even all the way around.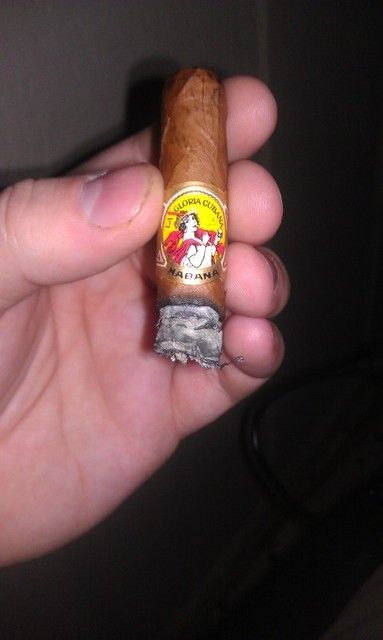 On to about the band point nothing further changes, but the complex intermingling of various flavors just continues to keep this a very interesting smoke. I typically watch a film, or read a book while smoking, even when reviewing cigars like this, stopping now and then to take note of further developments, but in the hour and a half I have been smoking this cigar, I have only watched 37 minutes of the film I have on (Kurosawa's late masterpiece, KAGEMUSHA), which serves as a testament to how engaging this blend is. Perhaps the only downside is that when cigars of this size get hot, they do so quickly, and are hard to save. A short way past the band, it becomes hard to keep this one from getting hot, and alas, it is time to set her down and let her die with dignity.
One thing is for sure, this stick still has potential to age for years to come, and what I hope will happen is that the floral, nutty, and citrus type notes will continue to develop, while the dark burnt earth and wood mellows out, and the caramel syrup sweetness maybe becomes more delicate and refined, but sweeter. This is just what I hope, and I am glad I was fortunate enough to get a full box of these when I did, because I very much look forward to seeing where they are in another 3, 5, 9, or more years. Also, haters be damned, Rob Ayala is on to something when he says that cigars of this size just make him "feel smarter". Maybe he feels smarter for having learned just what phenomenal complexity and richness of flavor these tiny ring gauge cigars can offer! If you come across these, grab as many as you can, send me some, smoke a few for yourself, and lay the remainder down for a few more years. They are something special!