PADRON FAMILY RESERVE 45 YEARS NATURAL
6x52
"The Little Hammer"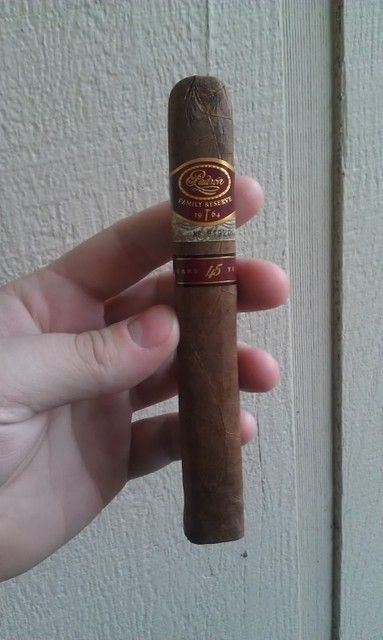 The Padron Family Reserve series was originally conceived of and produced as a cigar to be smoked at Padron hosted dinners, and special events that members of the Padron family attended. This is actually how the Padron Family Reserve 44th came to be, and was originally distributed. Eventually, I think the family realized how special the cigar was that they had created, and decided that they had to share it with the public, so the 44th was born, and sold in Humidors containing the cigar, and eventually also in boxes. Annually since then, the Padrons have released another size in this line commemorating another year in the industry. These cigars have gotten some serious praise, being named in the Top 5 cigars of the year by the Lifestyle magazine, and being among the top cigars of the year on a lot of the big blogs. Today we are looking at the 45th, released in late 2009, in a box pressed (as all Padron cigars are) toro, in two different wrappers (again as the Padrons do), a Natural and a Maduro. The tobaccos used in this Nicaraguan puro are said to have been aged 10 years before being rolled, which is a pretty impressive length of time.
The 45th Natural features a caramel brown colored wrapper, with a very small, fine vein structure, and a few wrinkles here and there (as is typical of the Padron box press for whatever reason). The seams are tight, nearly invisible, and the pack is dense and firm. Frankly the only complaint I have about the appearance or construction of this cigar is the same complaint I have about all Padrons... the single cap. Why on earth they would make such a flawless looking (and expensive cigar) without giving it at least a double cap (though I would prefer even more, a triple cap please), is beyond me. But they do it that way, and it works I guess. The aroma from the body of the cigar is a tangy cedar and earthiness, while the foot offers the addition of a sweet creamy coffee with that tangy cedar. The cold draw offers a concentrated blast of Nicaraguan tobacco... dark, bitter coffee and cocoa, and dirty earthiness, and on top of that a musty, musky, old leather (that truly aged tobacco flavor). The draw is not as free as many Padrons, but this thing is jam packed with tobacco... and it isn't problematically tight at all. As expected the cutting of the cap was precarious, given its singularity, but the resulting mess should hold.
Lit at 1:22pm.
The cigar opens with a big blast of pepper heat across the tongue, accompanying a core of chewy, oily leather, and a touch of cedar. I mean a serious layer of spiciness. It just coats the tongue, and lays there. After about 1/4 inch this heat dials back a few notches, and becomes a long, low finish. I can't help but make note of the fact that the ambient smoke in the air smells strongly of raisins. I know that sounds like BS, but I assure it is not. The flavor profile at this point, now that it has calmed down from the light, consists of a stiff black coffee, that mingles in and out with some bitter dark chocolate, followed by a really oily, musty leather, and finally a finish that combines that low and slow pepper heat, with a sweet wooden (cedar I think) note. Really great complexity, and definition of flavor.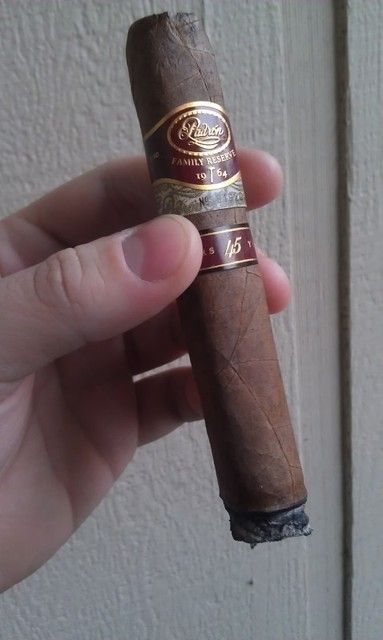 The burn line, as is my luck with box pressed cigars, is a little uneven, favoring one side more than the other. A quick touch up fixes this, but also causes the ash to fall for the first time (no problem, held solid for over an inch). Getting a little further in, into the second third, the retrohale takes on a sweet, milk chocolate aroma/flavor, and the flavors across the palate become noticeably sweeter. At a recent seminar I attended that included tasting this cigar, the speaker noted that he felt the natural wrapped version was actually sweeter than the maduro. I'm not sure I agree with this, but there is definitely more sweetness than I expected from a version of this cigar that lacks the natural sugar the maduro process produces.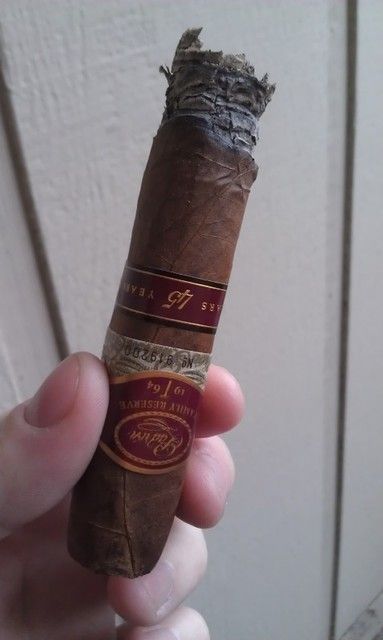 By the halfway mark, the burn line is completely sorted out, razor sharp. The ash holds solid for a little over an inch at a time. The flavor continues to just be a really well defined series of bold coffee, chocolate, and pepper/wood finish. To mix things up, right around the time it burned to the first band, I poured a small dram of Highland Park 12 year old Scotch, to see how the two work together, and was pleasantly surprised. Well, not surprised so much, as I had a sneaking suspicion the two would be great together, but pleased for sure. The Scotch has a bit more body than many Highlanders, and certainly more than the Speysiders I drink so much of, with a bit more peat and smoke, and earthy character to it, that really hold up well to, and compliments the earthy character in the Padron. Unfortunately there seems to be a bit much glue applied to this smaller, first band, and removing it takes a little wrapper with it. I am kind of surprised how thin the wrapper seems to be, something I hadn't noticed until now, almost like Shade grown tobacco, rather than the hearty sungrown stuff it seemed to be. Not a problem though, and no smoke is leaking or anything as a result of the small tear.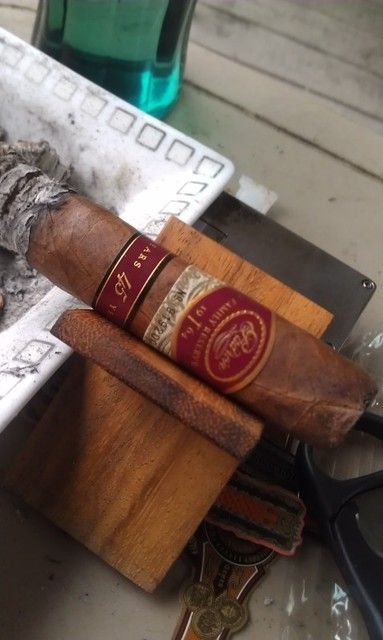 Getting down towards the nub, the strength and body starts to kick up, and I am starting to feel it in my gut, despite having eaten a decent lunch before lighting up. There are no two ways about it, this ten year old tobacco still has balls, or rather has me by the balls. The flavor has started to fall off a little bit with about an inch and a half left, turning towards a sort of muted leather, and not much else. Symptoms of it being time to let this one go gracefully in the ashtray. Ended at 3:18pm, so just shy of two hours of smoking enjoyment from this one. I think balance is the key here. There weren't a ton of different flavors present, but the handful that were presented themselves in such a way that they were bold, defined, and balanced. They played together well, and in the end made this a fantastic cigar.