ROCKY PATEL FIFTY
6 1/2 x 52 Toro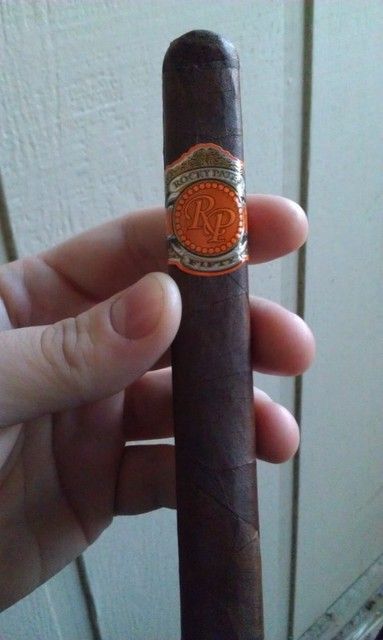 Anyone who knows me knows that I talk a lot of trash. I probably also talk a lot of trash about Rocky Patel. What I cannot, no matter what, deny is his success. The guy is a beast in the industry. He makes a million cigars, sells a million cigars, and makes millions in revenue. No matter what I think or say, people dig Rocky Patel. I recently had the pleasure of attending the CA Big Smoke in Las Vegas, and a lunch hosted by Rocky Patel and family was a part of that trip. As a part of that lunch, we were given a gorgeous box containing four cigars from the Rocky Patel co. world, including this newest cigar, the FIFTY, which is being produced to commemorate Mr. Patel's fiftieth birthday (where the 15th and Decade were made to commemorate years in the industry... no, Rocky has not been in the cigar biz since he was a neonate). According to the info received there, the cigar is made up of Nicaraguan filler, Nicaraguan binder, contained within an Ecuador Habano Oscuro wrapper, all made at Rocky's newest facility, in Nicaragua.
It really is a great looking cigar. The wrapper has a great oil sheen, a dark reddish chocolate brown color, and almost no visible veins. The cigar has a fairly extreme box press to it ("Nimish sat on the mold"). The bands are complex pieces of orange, gold, and silver artwork. It is a fairly firm cigar when squeezed, with no soft spots whatsoever, though just a tiny bit of give to it here and there. The cold aroma from the body of the cigar is just a touch of coffee and wood, while to foot has a touch of burned cedar (that specifically pungent tang), along with some black coffee. The cold draw... WOW. I would almost swear this cigar was in some way infused. It has such a strong milk chocolate flavor to it. It might have just a touch of ammonia to it as well unfortunately. There is something chemical underneath. Hopefully that is just a hint that will fade once lit. The draw itself is a touch firmer than I usually think of Rocky Patel cigars as being. He claims that literally every single cigar they make is draw tested, where most factories only draw test cigars randomly... Who knows, but if true, that is an impressive claim.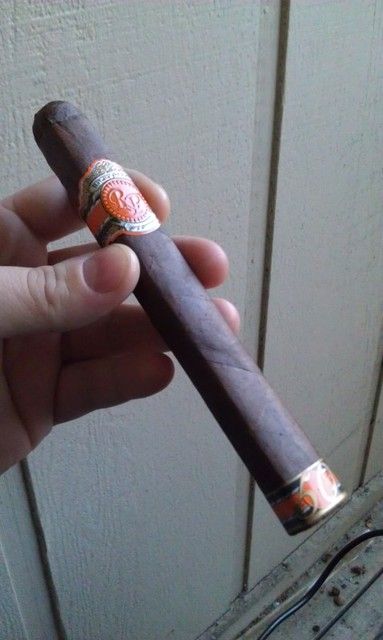 Lit at 4:28pm.
The Rocky Patel Fifty lights up easily, and produces a ton of smoke right off the bat, though the burn line almost instantly goes wonky on the underside of the cigar. I kind of attribute this to the box press, which in my experience tends to cause funny burn lines more often than not. Nothing that has any negative effect on smoking experience though. The flavor profile is right away a medium to full bodied, rich, and dark animal. There is a milk chocolate sweetness with a mildly floral perfume to it that dominates, with some wet burnt wood not far behind, and a pretty heavily peppered finish that lingers for a few minutes across the palate.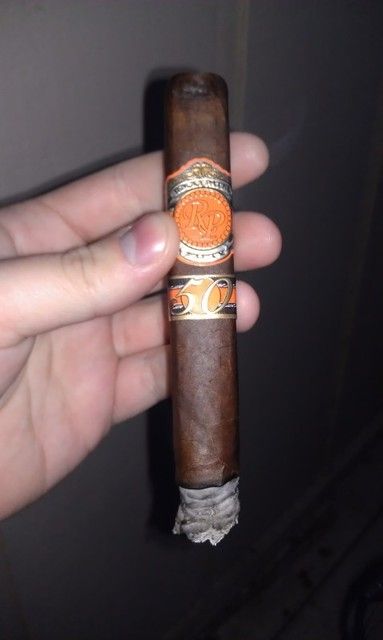 Interestingly, by about the one inch mark, all of the spice has faded away, and what is left is a sort of syrupy thick, bittersweet, wet, dark wood flavor. The burn line moves very slowly though, which is a plus for anyone who pays MSRP for these cigars ($21.00 for the Toro...). I'm kind of disappointed that things fell off so quickly from a start that was so intense and bold. Hopefully it comes back.
The ash is a little flakey, and falls for the first time at around an inch and a bit. The flavor profile by the two inch range has turned to what I associate with cigars that are just downright too wet from rolling. It is a bitterness that I associate with my job (in a pharmaceutical compounding lab, where I often get tiny particles of substances like quinine in my mouth, which for those who are unaware, is palate-ruiningly bitter) actually. It is not that great bitterness you get from coffee, it is not a coffee flavor... it is a wet, green flavor, and it has taken over this cigar that started with such great promise. It is a damned shame, but for science, I smoke on!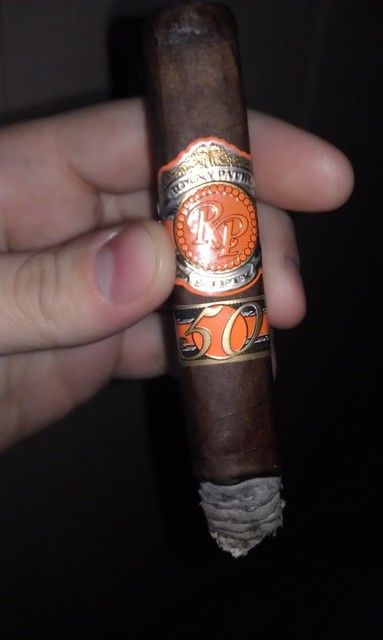 I am happy to report that the intensity of the bitterness fades past the halfway mark, and things take a turn towards dark coffee and that same old burnt, wet wood. So the transitional complexity comes just from the arrival and departure of a horrible bitterness, but at least it includes a departure. At this point, flavors are just what I think of a solid, core Nicaraguan tobacco flavors. Earthy, dirty, and dark. The hot finish has made a return of sorts... in a slow, mellow heat that lingers after each draw.
And things really don't change again, at all, through the end. This cigar was a bit of a roller coaster, and unfortunately, I can't report that it was one of the great thrill rides of my cigar smoking experience... it was more like jumping off the top of the highest point of a roller coaster with no bungee cord or anything to pull you back up. It started wonderfully, big, strong, concentrated, bold flavors, complexity and exciting... and then it quickly turned into a soft, bitter, muddy mess, and stayed that way for an hour and a half.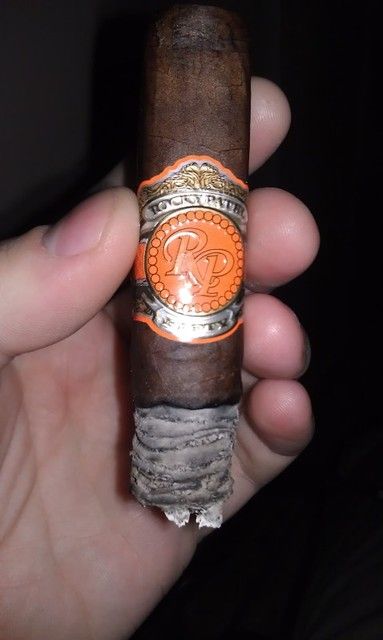 Ended at 6:10pm, and honestly, for $21.00 I will be passing on these in the future. I still have another single in the humidor that will smoke at some time in the future, just to make sure this wasn't some fluke. I feel like I gave this cigar a fair shot, especially since I will admit that I am no Rocky Patel fan... It just did not deliver what it promises. In the future when I want to spend more than twenty dollars on a box pressed Nicaraguan toro, there is a cigar with a hammer on the band that will be getting my hard earned dollars.