FUENTE FUENTE OPUS X PETITE LANCERO
6 1/4x39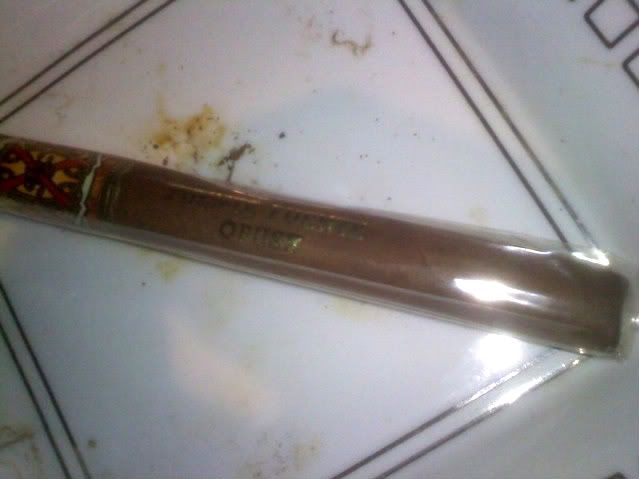 It is a well known fact that I love Arturo Fuente cigars, and of the Fuente cigars I have smoked, the Opus X is certainly the crowning achievement. With the right amount of sleep, and in a good size, they are unmatched, for my palette, in complexity and pure flavor, in my experience. Adorned in the famous Dominican Rosado wrapper grown at Chateau de la Fuente, the Opus X was the cigar that set off alarms across the cigar community upon its release, and since then has continued to be one of, if not THE, single most sought after cigars. And boy do they carry a price tag. With an MSRP in the $12-$16, these should be perfectly priced cigars, but most vendors mark the prices up almost two fold (going well into the high 20's into the 30's for singles). This particular example of the petite lancero, which is a figurado and a fattish panatela at the same time, is cloaked in a gorgeous caramel brown wrapper with just a slight reddish hue to it. The seams look great, not too tight, but tight enough. The cap is expertly applied, one thing that I am very picky about in figurados. There is a fair amount of tooth to the wrapper, and a light oil sheen. The pack is great, even from head to foot, with no soft spots, and just that perfect amount of give when squeezed gently. The aroma from the foot is spicy, tickling my nose hairs, and gives a strong aroma of raisins, and pastry, Slightly sweet as well. The cold draw is slightly restricted, but not really in a bad way. The flavor profile pre-light is a little spicy on the palette, white pepper, with cinnamon, raisins, and a little earthy character. Let's light...
Lit at 11:20pm.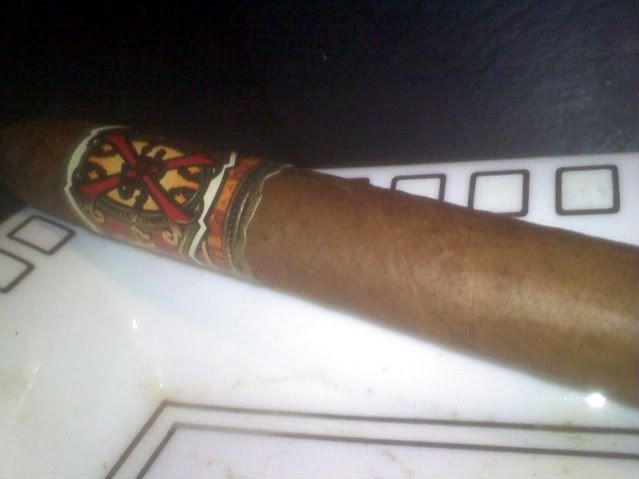 The Opus X Petite Lancero lights easily, toasting up within a few short seconds. The flavor profile initially is heavy on hot spicy pepper, and an earthy leather character. Maybe a little sweet cedar in there, but it is quickly overwhelmed by pepper. Very strong start.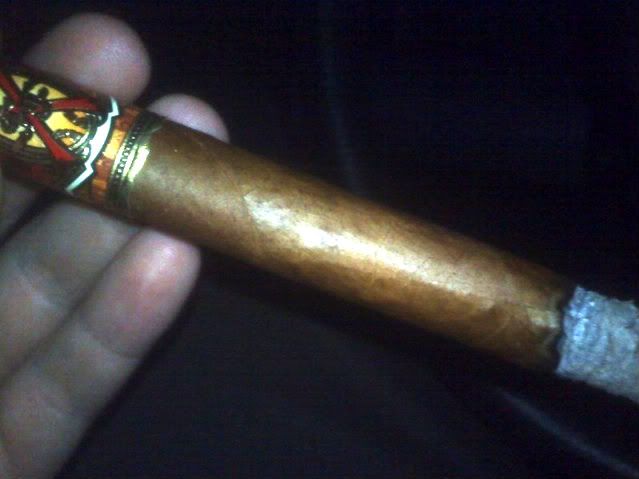 In the first third, the burn line is a little... wavy. Just ups and downs, consistently around the ring. Not a big deal though, as none of them get out of hand, and withing a few draws, they have fixed themselves, only to dip a little bit somewhere else. As far as age on this cigar, it is from the winter 2009 release, so it has close to a year, if not a year of age on it, which by all accounts is about when these cigars start to settle into a good smoking rhythm. The draw is still kind of tight, and is kind of getting on my nerves, as I prefer a little more open of a draw. If it becomes an actual problem I have plenty of room to give it another clip. The flavor profile at the 3/4 inch mark is very pleasant. Full bodied on the palette, with a high medium strength at this point. Flavors run from fruit and leather on the draw, to cedar and pepper on the finish. Not a pepper flavor, more a spicy sensation with a wood flavored accompaniment. The ambient smoke, incidentally, has an awesome, sweet almond kind of smell to it, which is very nice, and pleasant to be surrounded by. We are going to get hit by a massive rain storm here in a few hours, based on the radar, so I'm hoping this cigar lasts just long enough, and it doesn't start raining. The ash is also super toothy, and a bright white color. Very good looking, and shows signs of good nutrient delivery in the soil. Ash falls for the first time just over an inch in, which is not a surprise given the small ring gauge of this cigar. Perfectly respectable ash length for a 39 ring.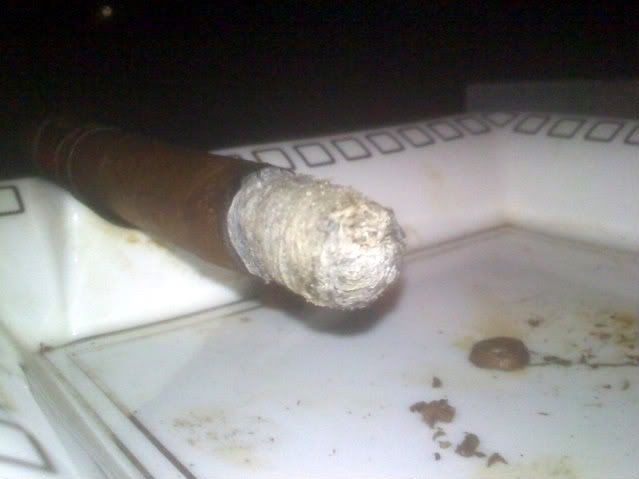 Burn line is getting a little crooked, causing the ash to lean funny, as I reach the end of the first third. Not a real problem though. A quick touch up from the lighter seems to sort the line out. The flavor profile is starting to take a darker turn at this point as well, giving more leathery, earthy notes, with a continuation of cinnamon spice and wood on the finish. Not sweet cedar any more though, more oaky. This profile is one that I have gotten in the past with the Petite Lancero, and a few other smaller ring gauge Opus X cigars. The larger ring Opuses tend to have a lighter, fruitier character, while the little guys are dark, leathery powerhouses. Very nice profile though. Strength is not yet really anything noticeable. It is present, but not above medium-full at most. And like clockwork, marking another inch and a quarter-inch and a half... my lap, and even my laptop get nailed with a big clump of ash. Damnit! Looking at the cherry, things seem to be burning well, and evenly though, despite the waves, and one touch up. No tunneling, or canoeing. Things have REALLLY slowed down in terms of burn speed here just past the halfway marker. This is where the Opus really gives you some bang for your buck if you ask me. Something in the blending allows a smaller ring like this one to still burn at the slower rate of a larger cigar. Boy I am having ZERO luck with ash on this cigar though. I have officially been hit by it twice in a row now. I'm 1 and 3 for getting the ash in the tray. This time, just as I move to roll it in the tray... BAM... right on my lap. Gonna have to do laundry tonight...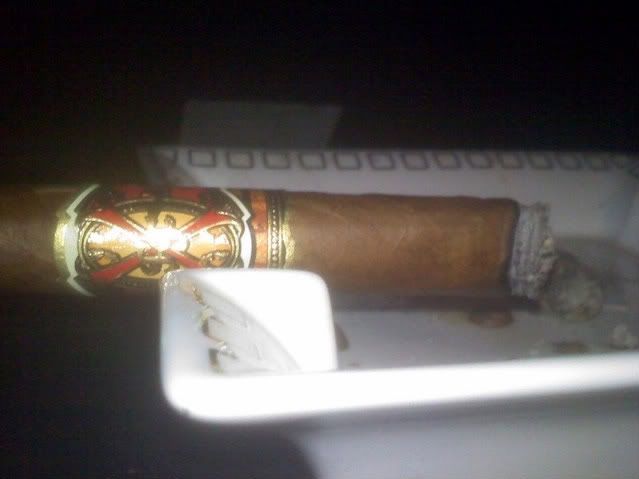 Just getting to the start of the final third, and the spice is really coming on strong again. Hot pepper feel, with a leathery, black pepper taste on the draw. Earthy and dark continues to be the overall feel. Very nice, powerful blend. Also get a cinnamon, and now raisin flavor through the nose, which is a cool development reminiscent of a lot of high end Fuente cigars. Such complexity! Just removed the band... and a good piece of wrapper too, unfortunately. This is one complaint I have about Fuente as a whole... their band application team seems to get a little over-zealous with the glue sometimes. Not a big deal though, as the binder is doing its job just fine. Still getting lots of spicy heat. And here comes the strength. At the one hour and 40 minute mark, I am really getting kicked in the head by the nicotine. I don't really mind though, as there is about an inch and 3/4 remaining, so I got off easy for a good 4 and a half inches. For the entire cigar, smoke production has been fantastic. Lots of thick, creamy, white smoke. Very nice. And as with my few previous Opus X experiences, the strength sort of disproportionately ramps up in the last inch and a half, to, for me, an unpleasant level. I don't smoke many cigars with this kind of strength, and for me, the huge dose of nicotine at the end isn't my favorite way to end things. That said, everything up to that point is an absolute joy.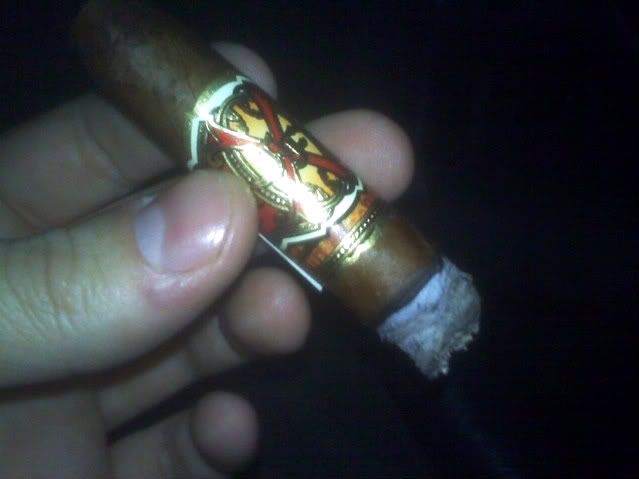 Ended at 1:08am, for a total smoke time of one hour and 48 minutes, which is outstanding given the size of this cigar. Even if the flavor profile was just good, not great as it is, there would be some great value in these cigars, given the price, because of the exorbitant smoke times you can get from them. That amount of time would be fine from a Churchill sized cigar, much less a panatela of any kind. Overall, the complexity, with multiple transitions, and bold flavors, plus pretty great performance from start to finish make the Fuente Fuente Opus X a favorite of mine, and even better when you can get them close to MSRP. As it stands, for the high prices, these are among the best "special occasion" or "once in a while" cigars on the market. Highly recommended.