TATUAJE COJONU 2003
6 1/2 x 52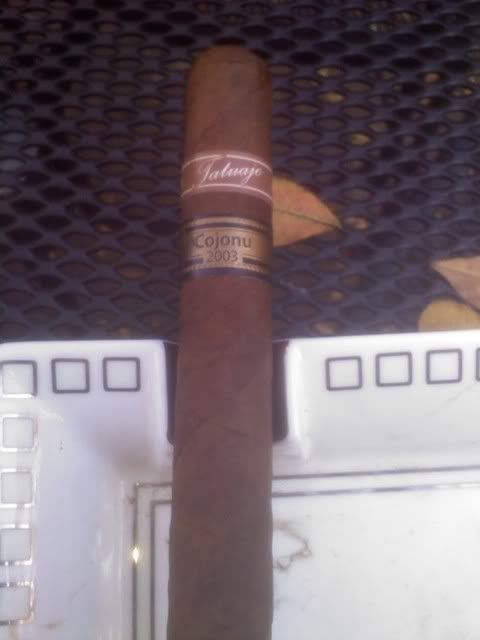 This big ass toro was the first cigar released in Tatuaje's "Cojonu" line, which is a series of cigars started in 2003, with a new addition to the line every 3 years ('06 and '09 are here, '12 will be next). The concept seems to be power (Cojonu... cojones... ballsy...) So I am expecting a bit of a punch from this big ***. I'm not a huge fan of larger format cigars, but when I smoke them, I prefer that they not be much fatter than this, and instead make up for size in length, so for a huge smoke, this is right up my alley. The appearance is very nice. It has a molten milk chocolate wrapper, with a fair amount of mottling (which in my experience, while not even and aesthetically great, tends to mean amazing wrapper flavor) like a bunch of oil has soaked into the wrapper. The seams are tight, and the cap is perfectly applied. The pack feels a little light near the foot, but otherwise is even with just a slight give to it. The foot gives an aroma of earthy dark chocolate with a very slight black cherry aroma, that is pretty cool. Honestly, this cigar LOOKS ballsy, so I am going to be surprised if it doesn't deliver. The cold draw has just a slight tug of resistance, and gives an explosive dose of hot pepper flavor, like Serrano or Jalapeno peppers, and even leaves a tingle across the palette. There is also a good earthy tobacco flavor that lingers after the pepper is gone.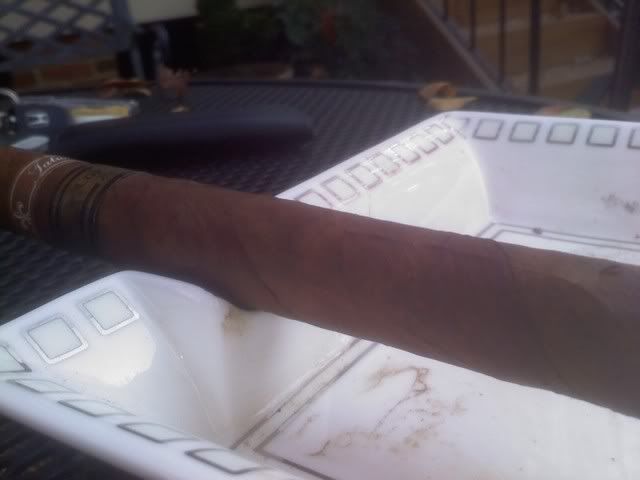 Lit at 3:30
Right away there is a burst of hot black pepper, and a dry leathery character on the draw. The finish is long and peppery... black pepper. The burn line isn't perfect, but I had a heck of a time getting this cigar lit (beautiful day, too windy for a soft flame, too bright to see my torch haha) It seems to want to burn better on one side than the other, so we'll see if it corrects itself.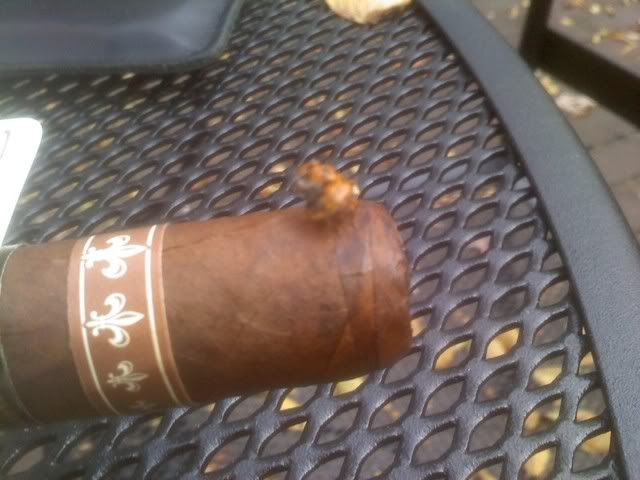 (ladybug)
Something sweet has started to develop in the first third, like a bitter dark chocolate which is nice, and brings some complexity to the earlier pepper and leather combo. The ash is flaky, and showing a lot of tooth, which is interesting, since there wasn't an outright toothy quality to the wrapper before lighting (though it did have the appearance of leaf that had soaked up a lot of oil) The wrapper is still burning unevenly on one side, so it's looking like I may need to give it a hit from the touchup-torch. The ash is flaky, but hasn't fallen by the one inch mark. We shall see how long it holds... And in one of those awesome Nature moments, a ladybug just landed on the stick while it was sitting in the ashtray. Going to try to snap a quick photo before it runs off... Despite the size, this cigar seems to need a draw fairly often to keep from wanting to go out, at least once a minute, if not more often, which is a little fast for my normal smoking pace. Ash just fell... all over my lap. Looks like there might be a small tunnel shaping up in one spot, which isn't great. Hit it with a touch up after the ash fell, and everything seems to be going well now. The breeze out here might be affecting the burn as well.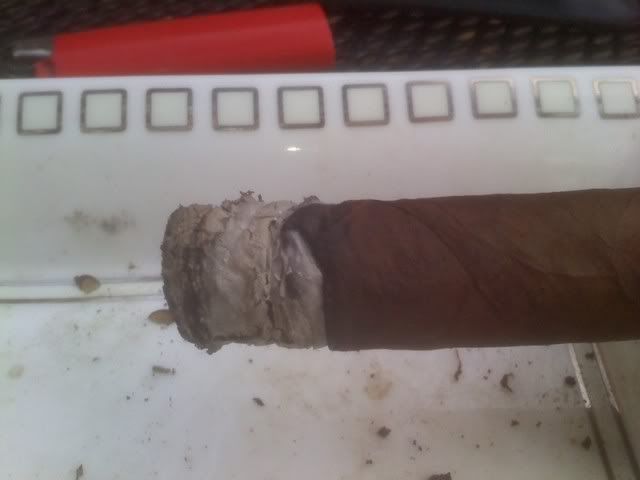 Getting into the second third, things have settled nicely, and the burn has sorted itself out (for now). The flavor profile is big and bold, mixing leather and coffee on the draw, followed by sweet chocolate, and a black pepper finish, with what I can only describe as a light fruit flavor, like cherry, through the nose. The pepper finish is black pepper, and lasts a good long while, but isn't overpowering in terms of palette zing. Burn has definitely fixed itself, and it was definitely my fault that I was having problems. This cigar just needs more attention than most. Drawing more often definitely keeps things in check. My bad.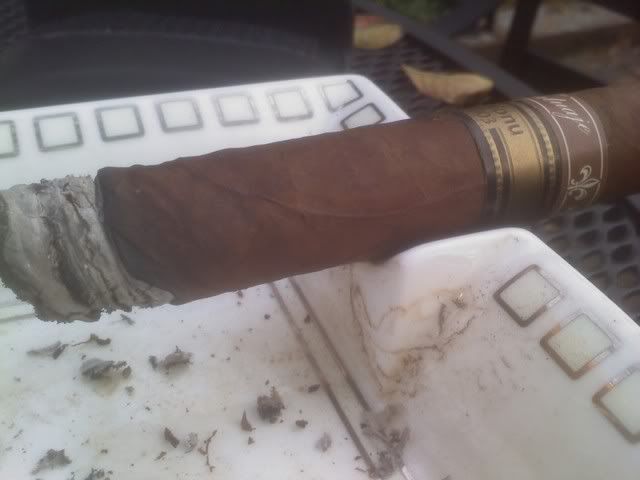 In the final third, just getting there, the sweetness is back in a big way, cedary in character, with continuing leather and bigger pepper. The body has also come up a bit. For the first half or so I couldn't feel any strength from this "ballsy" cigar, but here in the last third, the Ligero is starting to have a bit of an effect. Pepper is really ramping up as well, from black pepper to hot red pepper, burning like a wildfire across my tongue. Ouch.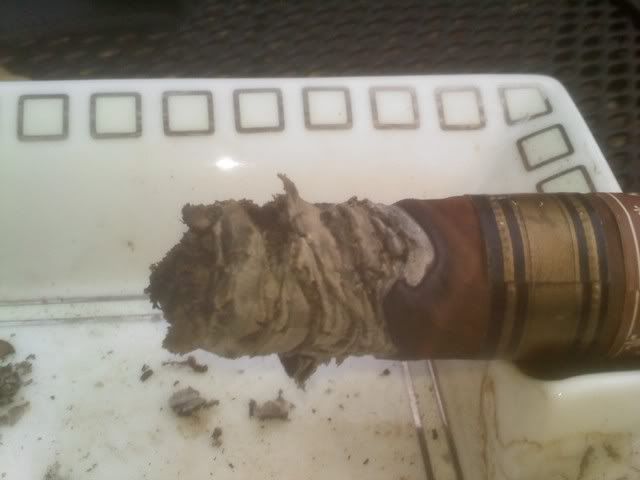 Finished and let this bad boy go out around 5:15, for a total time of an hour and 45 minutes. Probably would have lasted a good while longer if not for the somewhat brisk pace this cigar required me to smoke at. It happens, and seems likely that it was just an example of inconsistency within a given blend. Not really anything to worry about. Overall, this didn't quite live up to the strength I was expecting to get, but it did deliver in the flavor and overall size of experience (in terms of having thick, round flavors, and great smoke production).