2006 FUENTE GOD OF FIRE BY CARLITO
5 3/4x50 Double Robusto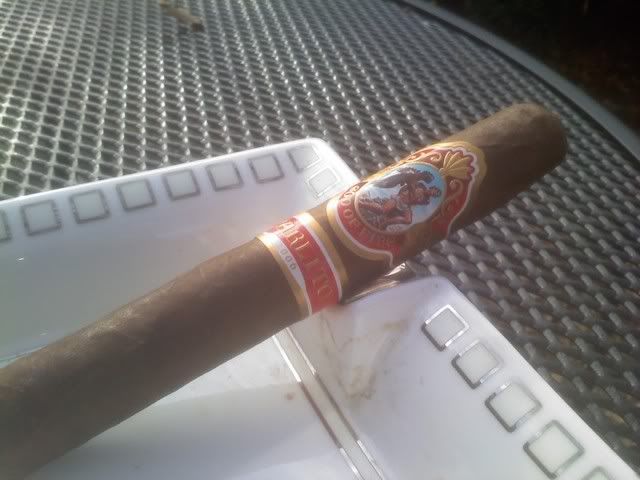 Smoke Into Oblivion... The Birthday edition! I am 23 years old today, and am smoking a cigar I have hidden in the bottom of my aging humidor for almost a year now. I am not positive how the aging on the God of Fire cigars work, but I am going to assume that this cigar was rolled in 2006, making it at least 4 years old. The wrapper shows evidence of this, with a slight pluming having crystallized, which is a real treat. The construction on this cigar is absolutely flawless, like most of the high end Fuente made products. The Carlito blend, one of two God of Fire blends, the other by his father, Don Carlos Fuente, uses a Cameroon wrapper, around a high quality filler of Dominican tobacco. I cannot find information regarding the binder at the moment, but if and when I do, I will update this entry. The wrapper has a golden brown hue to it, and, as I said, is actually showing a little plume. The seams are tight, and the triple cap is perfectly applied. There appears to be a bit of excess glue near the joints of the bands, which I find on a lot of Fuente cigars, so I'm going to leave those alone for fear of damaging this awesome wrapper leaf. Veins are almost non-existent. Color is basically Colorado/Colorado Maduro. The aroma at cold is rich, floral, and spicy (like cinnamon and nutmeg). The cold draw is just above medium, towards firm, and gives a blast of sweet fruit, like apple and raisins, with a touch of cinnamon spice. This is a cigar that even at cold, reminds me of French Apple Pie, or good Strudel.
Lit at 2:20pm.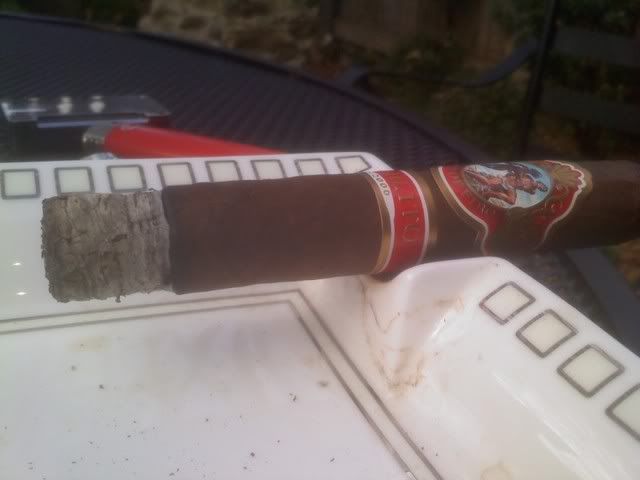 It turns out to be a bit windy today to use my soft flame, so I have to resort to the torch, which quickly lights this cigar. Right from the start the flavor profile moves from cedar, slightly sweet, on the draw, to a leathery body, and a peppery finish. The leather reminds me of the leather character that the Opus X is famous for. Smoke production is awesome, despite a slightly tight draw. The burn line also looks good at this point.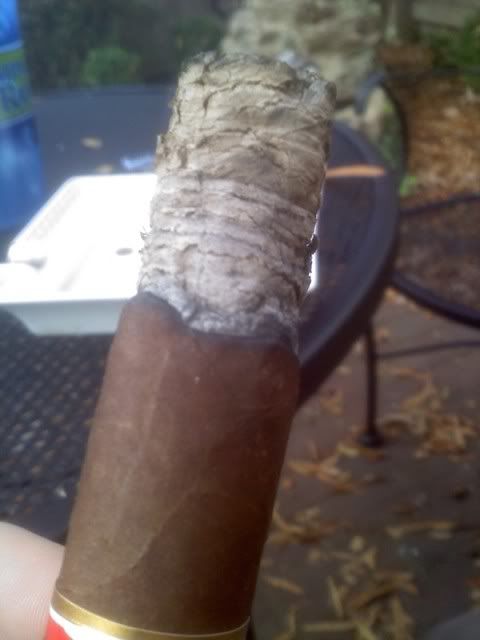 In the first third, I am not about 3/4 of an inch in, and the ash looks gorgeous. It is a solid white, not even any rings, and looks tough, like it will hold well. Flavors have settled nicely. On the draw there is a sweet cedar, followed by a little bit of leather, and quickly moves into a sweetly spicy finish, like cinnamon sugar on toast. Nice complexity for so early in the cigar. The burn is performing great as well, just slight waves. One thing worth noting is how easy this smoke is so far. It requires little to no attention. There is a slight breeze out today, but I am sitting this cigar down for MINUTES at a time without drawing sometimes, and when I come back to it, it behaves as if I just set it down. Definitely a sign of great construction. Ash is still holding well at an inch and a half, so that's good.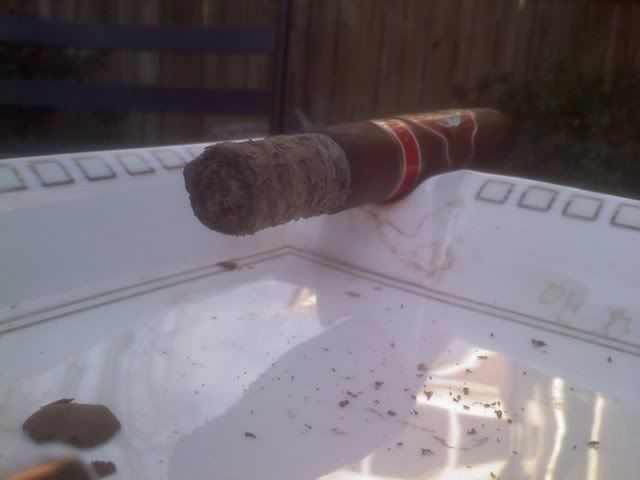 The smoke is very creamy, and rich on the palette, which only lends to the dessert like element. Woody to dessert like, is a great transition for me. Starting to get a little nutty flavor too, like almond, which continues to be in line with the constantly evolving profile. The only surprise is that I have not gotten any fruit flavors, which I tend to get from good Dominican/Cameroon cigars. Regardless, this is shaping up to be a wonderful smoke. Just before hitting the first band, a dark espresso note hits right before the finish, and it hits hard. Slightly bitter, but rich and earthy. Very interesting change, not quite in line with the sweet nutty flavors that have dominated up until now.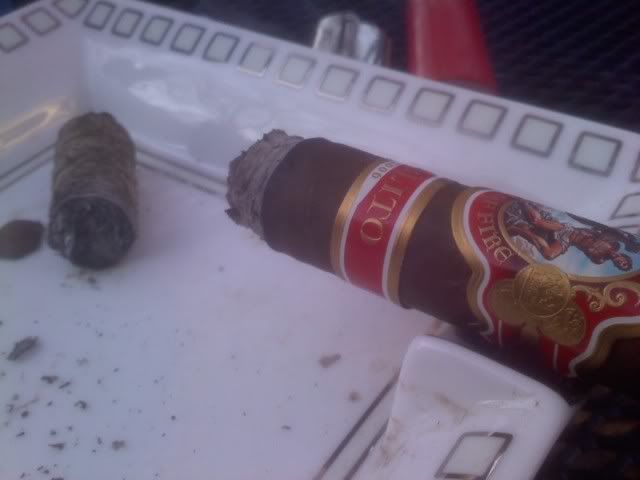 Just removed the main band, and have found something that is a potential bummer. There is a hole in the wrapper, likely from a glue happy band applier, with a crack about 1/4 of an inch coming off each side of it. Drawing normally though, it does not seem to be leaking, so the binder is doing its job. And ladies and gentlemen... We have tar. Great oozing, BP oil spill going on at the foot right now. Wiped it away, and took a small cut from the foot, and everything seems clean and clear again, and the flavor profile has actually cleaned up immediately. Now I am getting nuts, cinnamon, pepper, leather, and even a hint of that Cameroon fruitiness I was hoping to get. Really interesting how bitter and dark a little tar can make a cigar. Surprised I had this problem with this particular stick, but it seems to have been easy to clear up, so I'm not too worried about it. The draw has also opened up quite a bit, which leads me to believe I may not have cut off enough on the first go around. Oh well. Too late to worry about that now.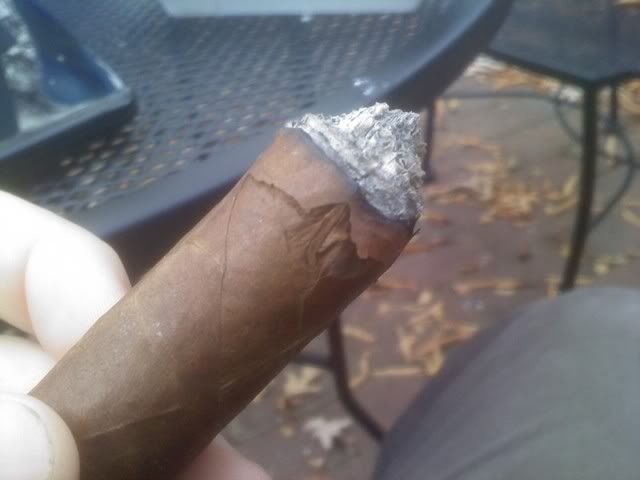 Ended at 4:16, for just shy of two hours of smoking, which is awesome, and appropriately long for such an expensive cigar. As I see it, the price is the ONLY drawback to these sticks, and even that is debatable. As a special cigar, to have a couple of for celebratory purposes, I think these really fit the bill perfectly. Just a great, complex, slow burning, perfectly performing cigar. Highly recommended, especially for fans of other high end Fuente product.