FONSECA KDT CADETES
4.5x36 Short Panetela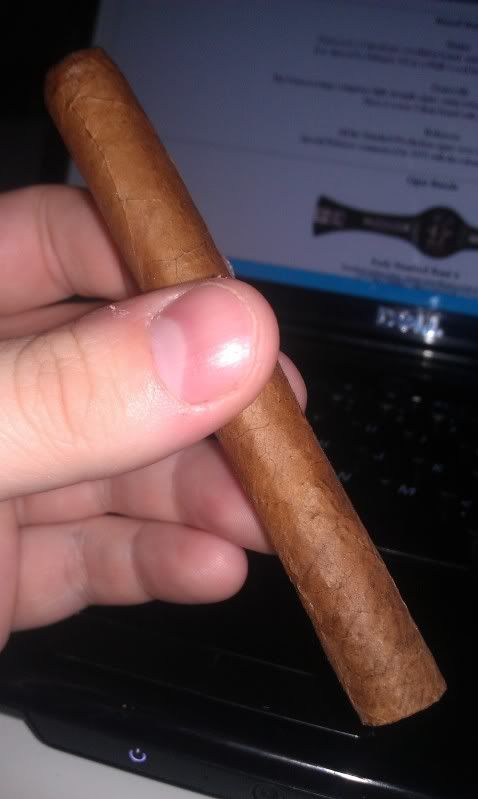 The KDT Cadetes (which is a name that I don't really understand... if anyone knows what the KDT means, please tell me!) is a tiny little cigar, packaged wrapped in white tissue paper, with the band holding it in place. It is a handmade, longfiller cigar (the other cigar in the Fonseca line of a similar size, the Delicias, is a shortfiller cigar), billed as being mild, as is the rest of the line. Fonseca is not a cigar I have any experience with, so this will be a report of my first experience with the brand.
This particular cigar, after removing the tissue paper, which frankly feels more like the material dryer sheets are made of, reveals a caramel brown wrapper that has a slightly ugly, somewhat veiny wrapper. The seams look good though, and the triple cap is actually great looking. The foot reveals a great looking construction, and the pack feels even, if a bit firm. In fact, the entire cigar feels just a touch hard. The cold draw is firm and reveals just a light, toasty tobacco, with a touch of barnyard hay. The aroma from the foot is just a very faint, sweet tobacco.
Lit at 7:30pm.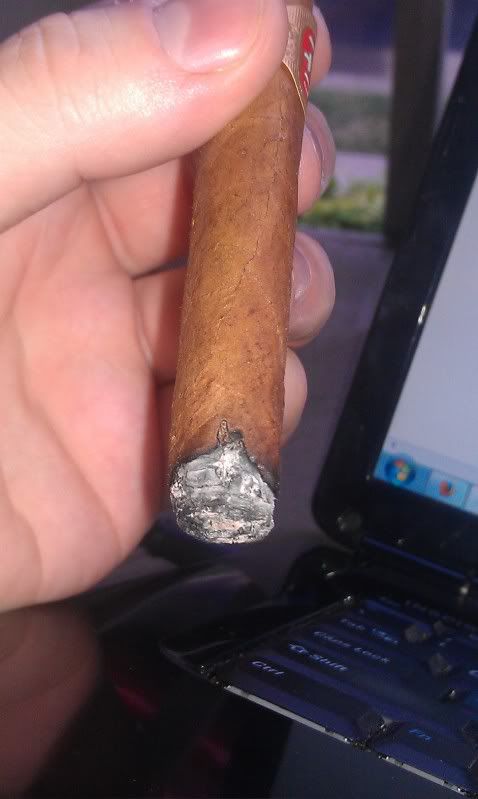 Flavors present at the beginning are a straight forward oily old leather core, with a dry toasty tobacco. It is definitely smooth, and subtle, and I say this in a good way. The burn line, only a short bit in is acting up a little, running in one spot in particular.
Settling into the first third a little ways, the flavor profile is starting to remind me of a few specific, high priced Dominican made mild cigars, with a musty, toasted tobacco and hay flavor dominating, with oily leather continuing to present itself through the finish, which produces just a touch of spice. The burn line continues to act wild, but keeps up with itself every few draws, not requiring a touch up or anything. Just a delicate, mild to medium little smoke so far. Nothing to go wild over, but certainly pleasant and enjoyable. The draw has improved since lighting, dramatically. It was not problematic initially, but definitely tighter than I prefer. It now features just the right amount of thickness to it. The smoke production is great, putting out great billows of white smoke with little effort.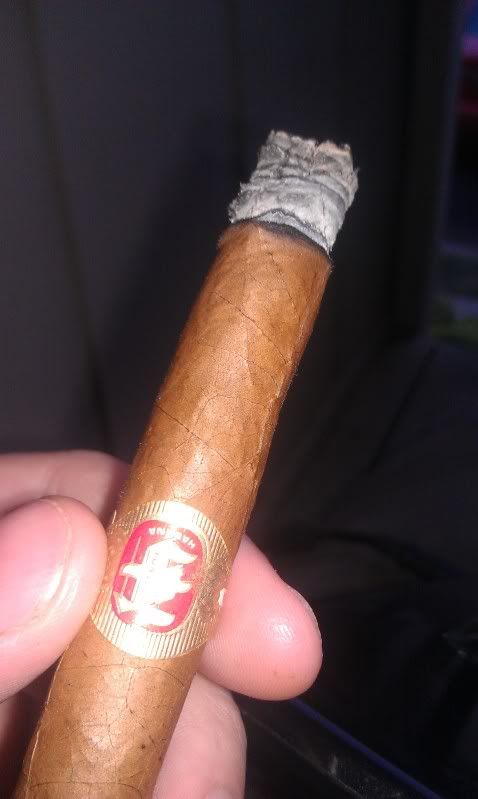 Given the size of this cigar breaking it down into thirds (which is afterall the only way to review cigars, obviously) isn't really worth bothering with. Passing the halfway mark, not much of anything has changed. On one draw I got a touch of tar on my lips, kind of gross, but it has only happened once, so I call fluke. The ash holds for about 3/4 of an inch before needing to be rolled, or falling on its own.
Finally put this one down for the last time at 8:40pm, meaning that it lasted a hair over an hour, and about 30 minutes longer than I ever expected it to last. Not complex. Not bold. Not exciting. No. However, the Fonseca KDT Cadetes IS a cigar I very much look forward to enjoying again in the future, because it tastes good, performs great, and has that smooth, oily, delicious, subtle combination where everything works together to make an enjoyable smoking experience without having to be earth shatteringly complex, bold, powerful, whatever. Recommended smoking, indeed.