TATUAJE BORIS
7 1/8 x 49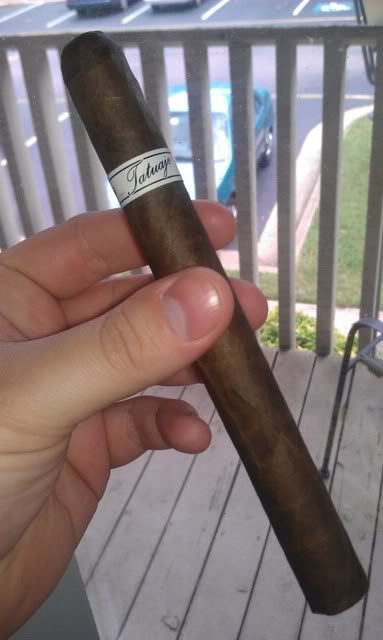 The first, and to date, only cigar to be released in the Monster series "Out of costume" line, the Boris has gained some notoriety, and popularity, and is currently a highly sought after, much loved, much hyped, now virtually impossible to find rarity, in the world of limited, special, holiday, single store release, region edition, whatever... cigars. As a horror movie fanatic (the classic stuff, not SAW, but that is a different entry for a different blog...) I love the concept behind both the Monsters and the Actor cigars. I hope that Pete does more of these monster out of costume cigars (which now could be Bela Lugosi, or Gunnar Hansen) sometime, based just on the concept. The Boris, name for Boris Karloff, the actor who probably most famously portrayed Frankenstein's monster in the 1931 Universal classic Frankenstein, features an Ecuador grown Sumatra Rosado wrapper around Nicaraguan fillers and binder. It is a slightly fat Churchill vitola, with a simple white version of the classic Tatuaje band.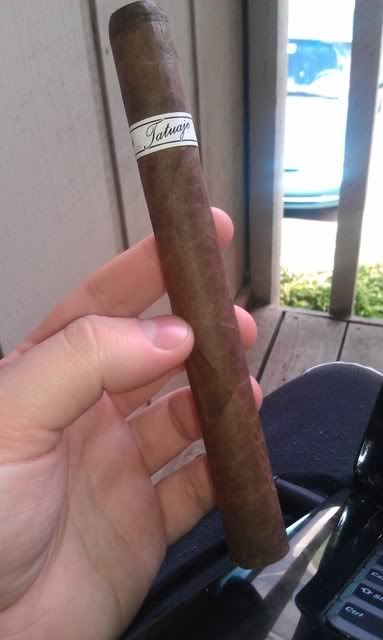 This particular stick has a slightly more vein-heavy wrapper than I would have expected, that is sort of a medium chocolate brown, almost a Cameroon wrapper color actually, despite being Ecuador Sumatra. As with most everything Pepin makes, the construction is spot on, triple cap, tight, straight, even seams, even pack, not too full, not underfilled. The aroma from the foot is a sweet, floral tobacco. I have heard this cigar described as having a very specific minty flavor and aroma to it, but at the moment, I'm not getting that, at least from the cold aroma. Cold draw... ah, there it is, that gentle hint of mint. Not the dominant flavor, though, as some reviewers would have you believe. Certainly present, but delicate, not dominant. The cold draw offers, primarily, a floral, mild tobacco, with a round, oily, nutty core flavor, with just a touch of mint on the tongue. the cold draw is perfect, by the way, offering just a touch of resistance.
Lit at 2:15pm.
Interesting. Smoke production isn't great here at the beginning. The flavor profile is surprisingly delicate as well. Light, and floral tobacco, still that touch of mint, almost no pepper, which is a big surprise from a Pepin/Tatuaje/Pete Johnson cigar. Some of this subdued character may be a result of age, as these cigars were released in 2009, making them well over a year old now.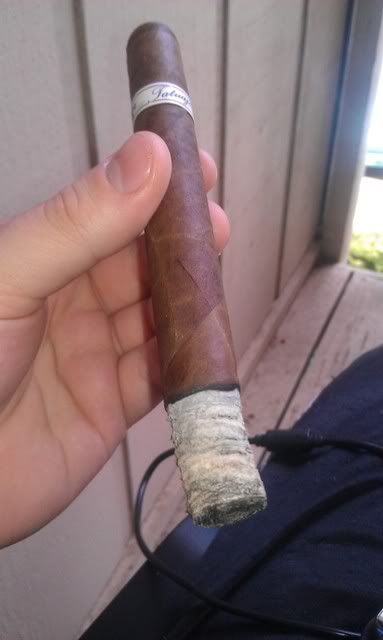 By about the half inch mark, the smoke production has picked up to what I would consider normal. I am unsure of the cause for the early lack of smoke, but it is fine now, so no worries. The flavor profile hasn't changed any yet though, still a gentle, floral tobacco, maybe a little herbal even, with that sweet minty note, and just the slightest pepper on the otherwise gentle finish. I am frankly... downright shocked at the personality of this cigar. I have long heard about how good it is, but never really about how smooth and refined it is. Body at this point is right smack dab in the middle of medium. The smoke is oily, and thick on the palate, but there isn't a ton of strength behind it. I'm already sad that this isn't a regular production cigar, and that finding more of these would both be quite a task, and cost a pretty penny.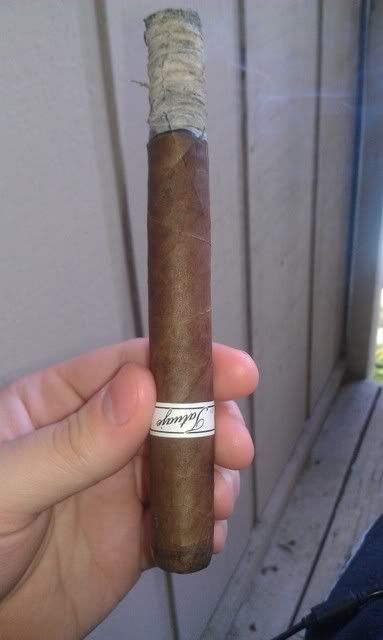 The ash is thick, and firm, holding for a good bit over an inch so far. The pepper blast I expected at the beginning, as is characteristic of Tatuaje, has sort of gradually built up, to a smooth, rounded pepper tingle and flavor over the course of this first third, now taking a seat as the primary flavor and sensation lasting through the finish, following the still smooth, delicate, floral tobacco core, with that sweet, herbal, mint dancing around in the middle. What a combination!
Not a huge deal, but worth mentioning due to how it reflects on construction... the ash has now held on firm for the entire first third, which on a 7 1/8" cigar, is a big ash! Had to hit it with a touch up at about the halfway point to get it burning properly again (wanted to go out), but that may have been a result of my slow pace today. The progression of flavor through this cigar so far hasn't been one of dramatic change, but rather just a slow, subtle darkening, with the light floral tobacco flavor taking on a gradually more earthy, and rich flavor, still floral, but less delicate, less subtle. The burn itself has also slowed down as it has progressed, which to me is a sign of quality construction and perfectly cured tobacco. At a time when limited release cigars are a dime a dozen, with many of them seeming rushed, and not particularly special, this cigar definitely is showing the high-end quality that one would expect from a truly "special" cigar.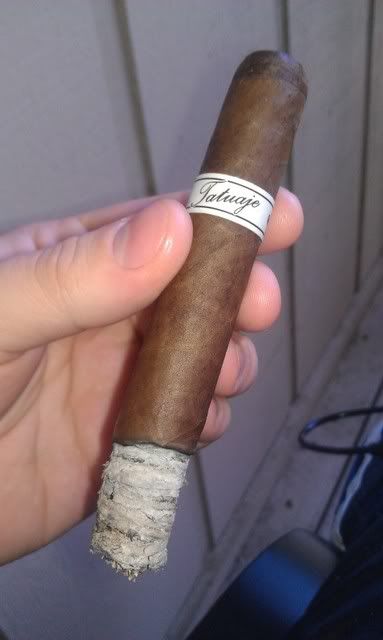 The construction and performance continue to be fantastic, with the ash holding on basically for 1/3 of the cigar at a time. The flavors remain phenomenal as well. Complex, subtle, smooth, and delicious. One thing I will admit, that could potentially be seen as a flaw, is the attention that the cigar now seems to demand. If not drawn on at least one per minute it seems to want to try to go out. That said, it tastes great, so it isn't like I don't want to draw more often!
As the flavor profile gradually gets heavier, and darker, so does the strength, which has now moved into more of the medium-full area. More pepper, and even a little coffee start to dominate, as the earthy tobacco just gets richer, and darker. Still a fantastic combination, and profile as a whole. Sweetness has gradually subsided throughout the cigar.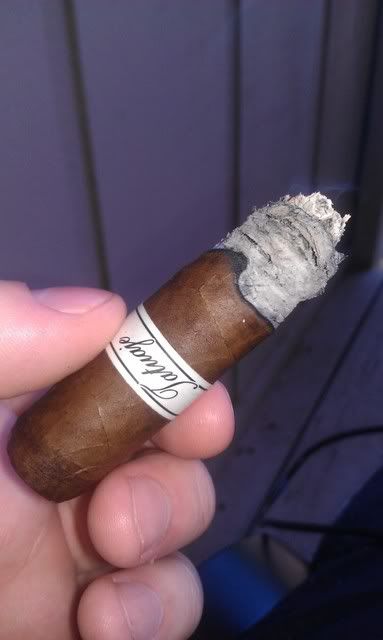 Ended at 4:20 for a total smoke time of 2 hours 5 minutes, which for a cigar this size is great, and admittedly was pleasant, and enjoyable the entire time. I cannot stress how enjoyable this cigar was. It has some of the characteristics that one thinks of as being typical of Tatuaje cigars (especially further into the stick), with the addition of a lot of subtlety and smoothness not normally present from the typically bold and strong brand. It is a damned shame that this was a limited release, because it is by far my favorite cigar I have had from this brand. Highly, highly recommended. If you see them, buy them... for me.