ARTURO FUENTE FLOR FINA 8-5-8 CANDELA
6x47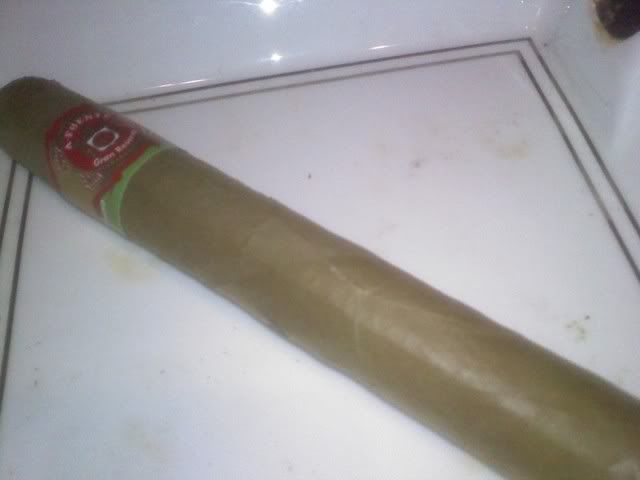 This is a first for me. A candela wrapped cigar. I have never smoked one myself, and have honestly not read much about them either. I know that at one point in time the Candela wrapper was enormously popular in America, but today only a very select few manufacturers even offer a cigar with a Candela wrapper. Recently there has been a little buzz about this unique leaf, so I decided to give one a shot. The AF FF 8-5-8 Candela is a fairly inexpensive cigar, weighing in at just over $5.00 US at my local, and on many websites. It features a fantastic olive green wrapper, with a slick velvet feel to it, reminiscent of many Connecticut shade wrappers in terms of feel, but ultimately very different. There are almost no veins on the entire length of this cigar. The filler seems perfectly bunched, and is even from one end to the other. The body of the cigar has a somewhat fruit like smell, while the foot gives off a grassy, mild tobacco aroma. The cold draw is just slightly loose, evidence of that great Fuente construction we all know and love. There is a heavy grass flavor, with a mild peppery finish present on the pre-light draw. It reminds me of very young tobacco, but without any "sick" qualities, and an added pepper complexity. Very interesting.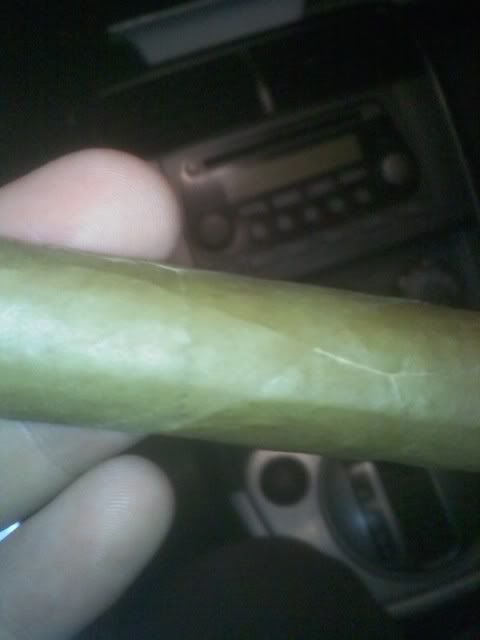 Lit at 10:55pm.
Right away there is a grassy tobacco flavor that also has a hint of wood in it. There is a flavor that sort of flies through the palette quickly that I can't quite pin down yet as well... Something herbal. There is also a surprisingly potent black pepper finish that is pretty nice.
About 3/4 of an inch into this cigar, and it is really showing its unique profile. The flavor is still grassy, mild tobacco, with a peppery finish, but I have determined that the unknown element present from the beginning was, and still is, an herbal tea like flavor. Very interesting. Hope this profile keeps up. The pepper has mellowed slightly, and everything is just smooth sailing at this point. The ambient smoke coming from the foot is sweet and grassy, slightly biting (not harsh, just a sharp aroma), while, to borrow a term usually applied to alcoholic beverages, the actual palette smoke and flavor is very dry. No sweetness to be found here. Ash falls for the first time at about one inch.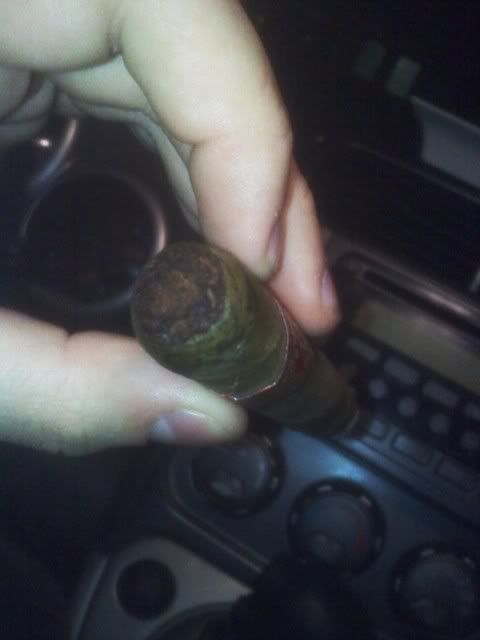 Really getting into the swing of things, and everything is smooth, and mild, but flavorful. This is definitely a mild cigar, and an interesting one at that. The wrapper seems to add such a unique element... The grassy flavor is very interesting. Normally a grassy flavor isn't something I enjoy, and it is also usually accompanied by a good deal of bitterness. Instead this is a dry, earthy grass flavor, that is unlike any other I have had before, and shows no signs of poor treatment of tobacco.
Just two draws before the ash falls for a second time, there is the addition of an earthy, wood flavor, not sweet like cedar, more moist, and almost oak like. This slight fortification of flavor is certainly a welcome addition. Unfortunately, a split has developed in the wrapper, in the shape of a Y, from the burn line down about 1/4 of an inch. Hopefully it will just burn through without issue.
At the halfway point I have given it a little touch up with my torch to help it burn neatly past the crack in the wrapper. Flavor remains the same, grassy on the draw, followed by an herbal/tea flavor briefly, with a drawn out oak wood flavor, and a smooth black pepper finish. All of these elements combine very nicely to make a great mild smoke so far.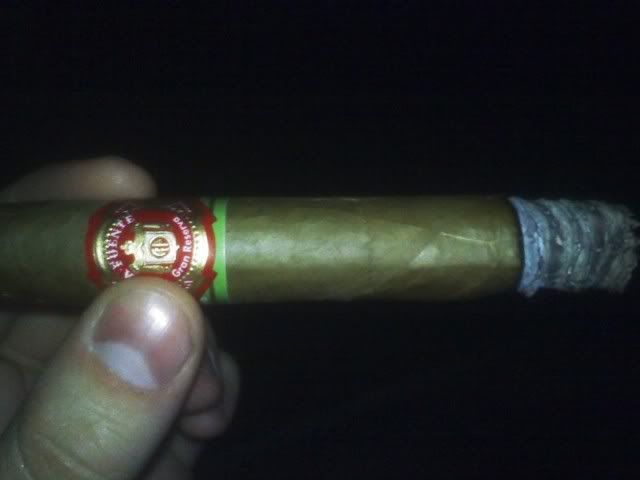 In the final third I am starting to get a little sweetness becoming apparent. Not like a maduro, but just a faint, floral sweetness. It is nice with the grass and tea flavors. The oak flavor is still here as well, and rounds things out nicely, giving a little more depth to the feel of this smoke.
Ended at 12:45am. Pretty long smoke. I'm going to just say this in summary... Don't be afraid of the green wrapper. At least in the case of the Fuente candela, it makes for a fantastic alternative for a mild smoke. Dry, earthy, and floral. Great smoke.