TATUAJE THE 7TH RESERVA
5 5/8 x 46
This is the corona gorda that everyone has been waiting for. Corona Gordas have done very well in the other Tatuaje lines (The Hermosos in the Havana VI line, the Serie P P1, the La Riqueza and El Triunfador No. 3s, etc.) I, and certainly others, have been waiting with baited breath for a Corona Gorda from the Brown Label (La Seleccion de Cazador) line. For me, the Corona Gorda is a fantastic size because it has a smaller ring gauge than a Robusto, giving you a little more wrapper flavor, and a greater length, allowing you cooler smoke, among other benefits. The Robusto will probably always be the benchmark size in any line, but for me, the Corona Gorda usually ends up being my personal favorite vitola. On top of the pleasure of getting a Corona Gorda Brown Label, we get a Reserva version, with the always flavorful Connecticut Broadleaf wrapper, which is much loved on several sticks made by Pepin Garcia, and the My Father/DPG crew, including the famed and much sought after Noella Reserva, The Jaime Garcia Reserva Especial, and of course the super rare Frank Monster series cigar. To say that the Broadleaf Reserva Tatuajes hold a special place in the hearts and humidors of many smokers would be an understatement. So here we go...
The wrapper on this 7th Reserva is a dark chocolate color, not completely even in tone, but slightly splotchy, and extremely oily. There is a fine toothiness to the wrapper that you can't quite feel, but can certainly see. There are a few veins, only one of which is in any way pronounced. The seams are tight, straight, and even. The pack feels fantastic, having just the right amount of give to it, even from one end to the other, and showing no soft or hard spots. The triple cap, in obvious Garcia fashion, and perfect. I have yet to see a genuine Cuban cigar with a triple cap applied as well, flawlessly even, as most Garcia made cigars. The raw aroma is of sweet tobacco, with a slight hint of wood. Not particularly spicy or powerful on the nose. The cold draw is sweet, and earthy, with a slight mocha flavor. Mostly there is just a good earthy tobacco core. Maybe a very slight spice on the tongue and lips.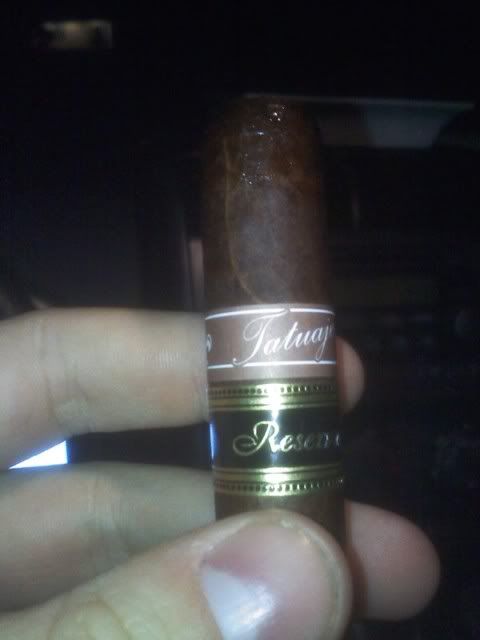 Lit at 11:35pm.
My initial impression is of a rich peppery spice, followed by an earthy tobacco. There is then a slight espresso, black as night, flavor that sort of dances around the palette, mostly to the rear, and the throat. A creeping, smooth pepper creeps up from the back of the throat and gradually, very slowly moves into the palette, lending itself to a very long, spicy finish. Great, complex start. Lets see how the rest goes...
The draw through the entire first third has been fantastic, almost no resistance, but producing massive amounts of smoke. If only everything smoked this easily. Ash is sort of flowering at the very foot, but not more than the first 1/4 inch, so I can't explain the cause. The rest of the ash holding is firm, tight even, and bright white in color, displaying tons of little tooth bumps. Burn line is straight and even. Flavor in the first third remains much the same as the initial profile. Pepper up front, followed by sweet earthy tobacco, a little black coffee, and then a smooth peppery spice that lingers. Through the nose I pick up just a little chocolate, as well as more pepper.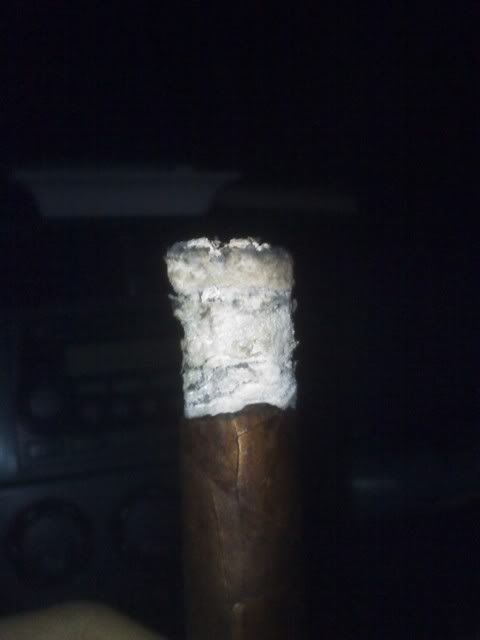 Getting a little way into the second third, the coffee flavor still is present in the middle, but a stronger cocoa has moved in on the finish. The pepper is mellowed a bit, which is not atypical when black pepper flavors are present. It is still here, just less powerful and biting. Overall I would describe the only changes in the second third as a mellowing, and smoothing of flavor, plus the addition of a cocoa note that is very nice. The burn line, and general performance continues to be flawless. The body is medium to full at present. Not feeling much in terms of nicotine right now, but the overall experience is fairly deep hitting, earthy and round.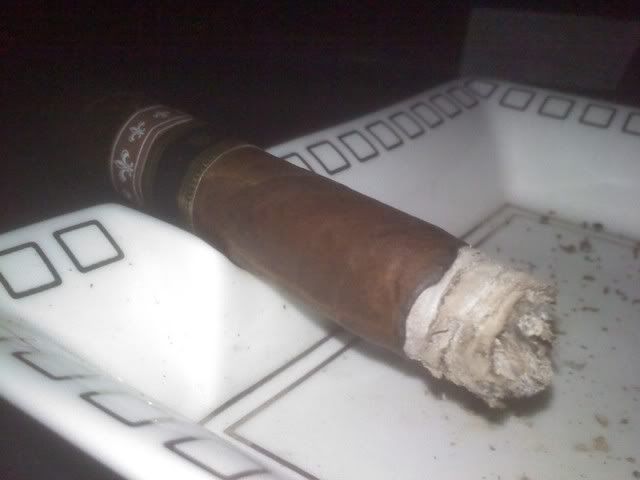 Just prior to the start of the final third the smoke becomes suddenly, over the course of one of two draws, much bolder. The strength has come up a bit as well. Nothing unpleasant or a poor transition. The flavor remains mostly cocoa and coffee, with an earthy overall tone to it. Deep and powerful, but now bolder and more biting on the palette, the cocoa is sweeter, and coffee more bitter, and the pepper, still smooth but a little more... tingling. Performance remains flawless. Pete has said before that he doesn't care how a cigar burns, as long as it tastes great, well I for one am glad that Pepin and his rollers care, because a burn this perfect makes for a very laid back, relaxing smoke. I haven't had to touch my lighter once since the initial toasting and lighting, which is rare, even among the most high end cigars I have had.
With about an inch and a quarter remaining, I would call the sudden change... buttery, with a slight nuttiness. Coffee and cocoa are still present, but only in a sort of flighty, brief manner, followed by a creamy flavor, with a hot pepper on the finish.
Ended at 1:10am for a total smoke time of one hour and 35 minutes. I have to say, I am a fan of Tatuaje cigars in general, but this one is just so consistent, flavorful, and balanced that it certainly counts among my favorites. I am just glad I have some more in the humidor. Very good. I think this is a perfect example of a well blended cigar. Complex, not overwhelming, strong, but not too strong, and with a distinct, delicious flavor profile. Oh, and the PERFECT performance doesn't hurt either. As you can see, I smoked this one down to the very end.