CAO LA TRAVIATA
5x50 "Divino"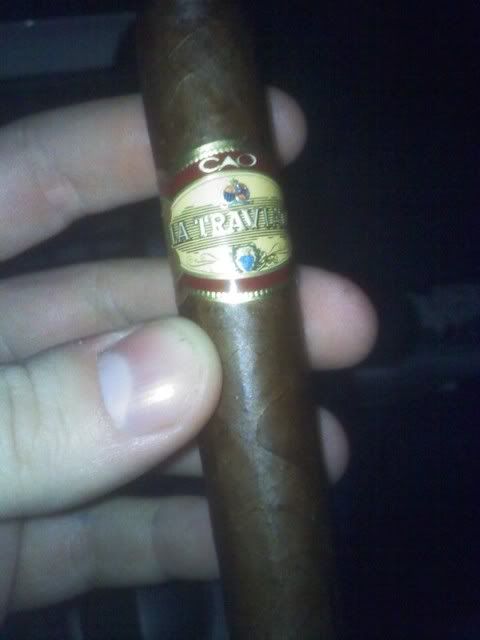 A CAO cigar. Not something you'll likely see that many of here on Smoke Into Oblivion. I love a few of CAO's smokes, but for the most part, the majority of their cigars are not favorites of mine, and I spend my smoking time elsewhere. That said, the La Traviata is one cigar that has gotten a lot of positive press, that I have been looking forward to trying for a while now. lcpleel at the Cigar.com forums hooked me up with a Divino in a PIF package a short time back, and I figured that tonight would be as good of a time as any to kill it with fire. The La Traviata is a newer line from CAO, released in 2009 at IPCPR, with a really low price point ($5-$6 range) and an interesting "anatomy" (Ecuadoran grown Habano see wrapper, a Cameroon binder, and a mix of Nicaraguan and Dominican filler). What a combination. Can't wait to see what that wide variety of tobacco tastes like together. In much the same fashion as Pete Johnson's resurrection of El Triunfador and El Fausto, La Traviata began life as a Cuban brand, a century ago. The La Traviata features a slightly reddish Colorado shade wrapper, heavy and slick with oil (no tooth to speak of though, just shiny and oily). The veins are visible basically all over the wrapper leaf, but there is only one that I can really feel, and it is only tangible for a small length of the cigar. The seams and cap both look great, and the packing seems even from head to foot. The aroma off the foot reminds of vaguely of smelling a Chai latte from across the room. Very faint, but a distinct aroma. The cold draw gives a decent resistance, but seems to be drawing well enough, and has a flavor of earthy spice, and black pepper.
Lit at 1:25am.
The immediate flavors present are a cedar, a slightly funky barnyard hay flavor, and a distinct black pepper. It has a good bite to it. Nice tingle, and a distinct flavor of black pepper, not just a sensation. Very nice start.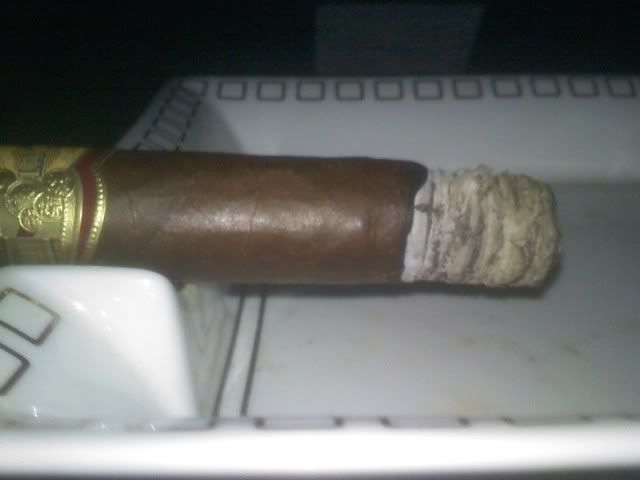 Despite a firm draw, smoke production is not a problem at all. Quite the contrary actually. It is impressive. Burn line is not straight, but not anything more than a little wavy. Flavor a little way into the first third has developed a sweet cocoa on the draw that mingles nicely with a leathery earth, and the great black pepper finish, which is fairly lengthy.
In the second third the entire profile shifts, becoming heavy on oily, fresh leather, with a loss of the sweet cocoa, leaving things dry and earthy. The pepper has mellowed, not so much in flavor as in bite. Not a sharp hot sensation with it anymore, just a smooth tingle.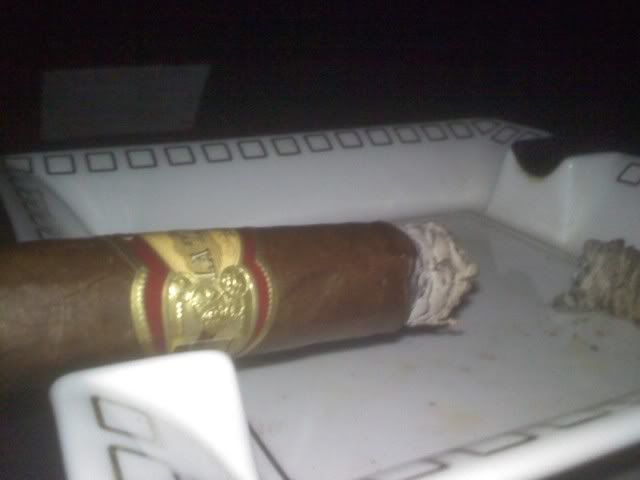 Getting into the final third there is a resurgence of the cedar flavor I got initially, sweet, but not the same as the cocoa sweetness present in the latter half of the first third. This is a rich wood flavor, with that tangy sweetness that cedar offers. Very nice. Mouth feel has been, and continues to be oily and heavy. Smoke production, despite a consistently tight draw remains fantastic. Burn is also maintenance free, requiring no touch ups so far. Any dips and waves have been completely self correcting within a handful of draws. This smoke also requires very little fuss, allowing up to several minutes of ambient time without a draw, and no threat of going out.
Ended at 2:55am for a total time of one hour and thirty minutes exactly, which personally, is pretty much right on target for what I want out of a good robusto sized cigar. Not a single complaint from my end. This is a great, inexpensive cigar with some interesting transitions and an interesting flavor profile. Not something I always comment on, but the band for the La Traviata is pretty nice. The design evokes images of early 1900s World's Fair type artwork. Vintage. Not vintage cigar vintage, but a distinct Art Nouveau style. Overall, this is a great smoke.