JOYA DE NICARAGUA CELEBRACION
6x50 Toro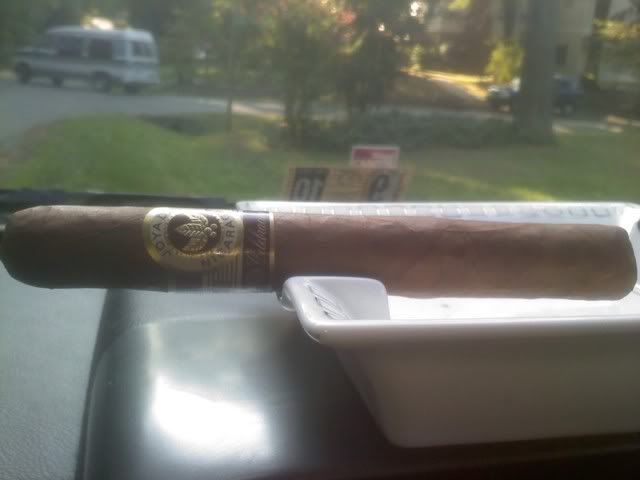 The Celebracion is a line extension from JdN, following the success of the Antano lines. It features a similar blend of Nicaraguan tobaccos in the binder and filler, and uses a great looking Criollo wrapper. It has a classic simplicity to its appearance that appeals to my personal taste. It is also flawlessly constructed though still very obviously hand made. It is slightly lumpy, but has invisible seams, literally undetectable. So much so that I am going to need a magnifying glass to properly cut the cap! The body of the cigar itself has a very good aroma to it, pungent and full of barnyard elements. I am impressed by the strength of this aroma coming from the length of the cigar, and not the foot! The foot has a smell reminiscent of spicy pastries, filled with fruit, cinnamon, and nutmeg. The cold draw has only a slight resistance, and it rich with sweet raisin and vanilla bean flavor, with a slight hint of cedar.
Lit at 6:00pm.
Initial flavors include a sweet tobacco, a light cedar, maybe a mild fruit note, and a smooth peppery finish. Took to flame wonderfully, etc. Good start.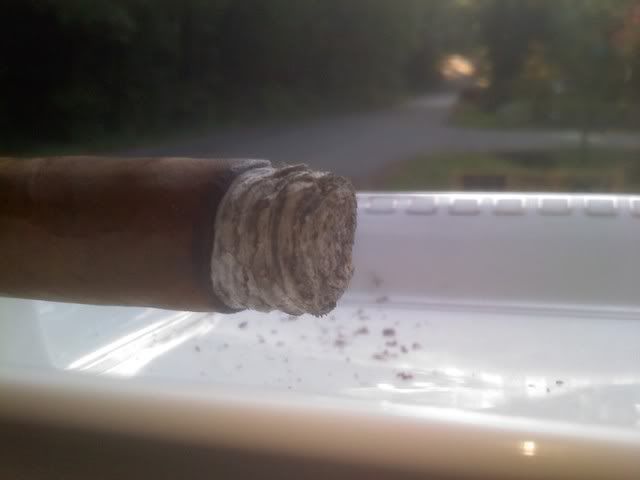 In the first third, the Celebracion performs wonderfully. The flavor is mostly of creamy, sweet tobacco, with a slight spice like nutmeg and raisins. There is a cedar element that follows. The flavor lingers on the front of the tongue. The smoke production is good, not overwhelming, but certainly not weak. The ash is holding firm over an inch at this point. The burn line has needed to attention, and while not razor sharp, it certainly corrects itself as it burns.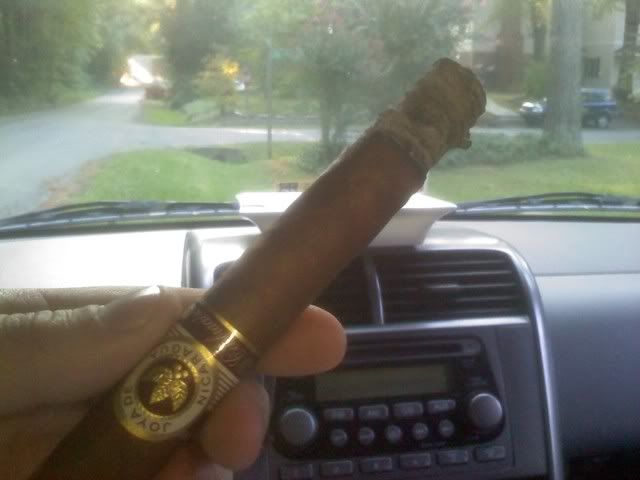 After rolling the ash for the first time a little over an inch in, a bold cinnamon flavor comes on the draw wonderfully, and compliments the raisin and nutmeg flavors that were (mildly) present already. This is certainly a cigar that I would call pastry like. It reminds me of french apple pie, or a good Strudel.
In the second third the flavors sort of move around on the palette. The sweet and spicy taste receptors on the palette continue to be the most heavily stimulated. The burn is also really slow, which is nice. It has been over 45 minutes now, and I am MAYBE an inch into the second third. Mouth feel has gotten increasingly smooth and creamy. It was always good and full feeling, but there is a decadent creamy element that is just very nice.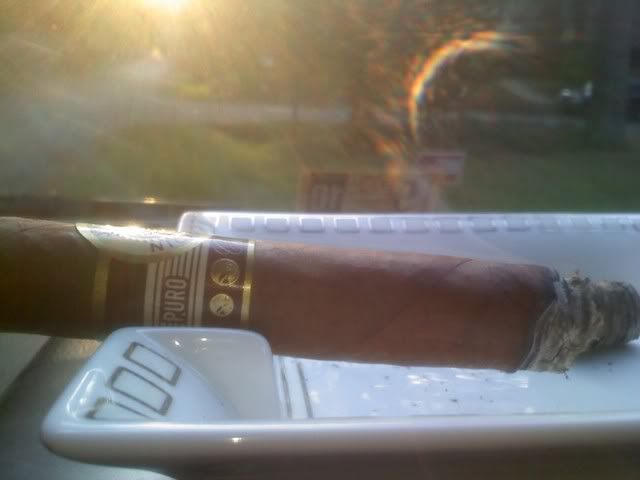 The strength has come up significantly, where it was not even noticeable up to this point. I'm starting to feel it a little bit in my stomach, so something sweet to drink might be necessary to quell the queasiness.
By the band point, things have turned a little bit spicier in terms of pepper heat on the palette. The finish consists now of a continuing creamy cinnamon sweetness and a peppery tingle on the tip of the tongue, moving in waves to the rear of the throat.
With about an inch and a half left, the flavor is getting a little bitter, and the physical body of the stick is getting kind of soft. I thought that the head end of the cigar felt a little squishy before I started smoking it, and now that it is getting so soft, I think that sort of confirms my suspicion that it wasn't perfectly packed at this end. No big deal. This thing has burned for so long so far that to just be having a construction issue now is sort of insignificant. Not keeping me from smoking though...
In the last inch and a half the wrapper has sort of split opened from the burn line down a little way. Binder is still doing its job though, so no leaking. Continues fine to the last nub.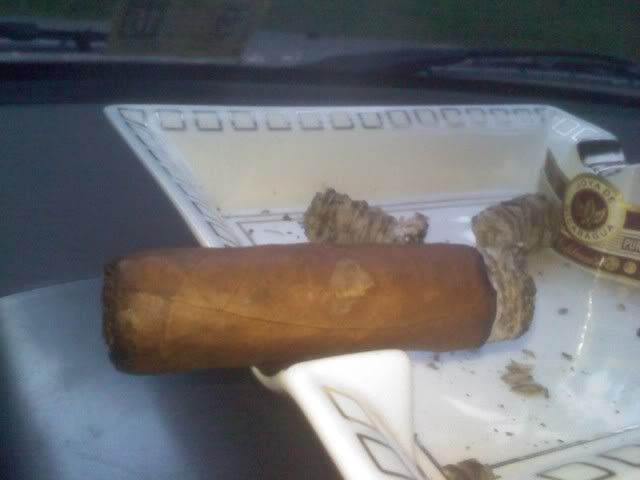 Ended at 8:00pm. because it was an even time. I could have probably smoked for another 5 minutes, but it was starting to get harsh and hot, so it seemed right to let it go ahead and die. Over all the flavor profile on this cigar was very unique, which I have found to be the case with a good number of JdN cigars I've had recently. Very pleased with how this one turned out. The price is also very low on these, so get them while and when you have a chance. Great smoke to have on hand to enjoy. I will be interested to see how these pair with different beverages in the future, I can imagine a lot of rums and bourbons would go well with the pastry like profile this cigar has for the majority of the length of burn. Good smoke!