LIGA PRIVADA T-52
6x52 TORO
I feel it is only fair to start by admitting that my past experiences with the Liga Privada world have not exactly blown my socks off. There is a lot of chatter about these sticks, and having smoked a few No. 9s in the last, I wasn't really impressed. Good cigars, yes. But not quite worthy of the hype. I has been a few months though, and the Ligas are back on the shelves at the moment, so I'm going to give them another fair shot. This is my first experience with the T-52 blend, and at first glance, this is a really nice looking cigar. It has a super oily, super toothy wrapper that is applied with such correct technique that I am tempted to just photograph it, and frame it, rather than smoke it. Now, when I say the wrapper is super toothy, that isn't quite fair. It is beyond toothy. It almost has a hairy appearance. It is pretty wild actually. The seams are really tight, and the pack feels dense, and even. The cap is applied so well that I have to look really closely to see where the shoulder begins. The aroma is very unique, almost aromatic. I'm not talking about the oils and what not that Drew Estate uses for their ACID lines, but rather, it has a strong, earthy, floral character that is downright herbal in nature, and very interesting. Off the foot there is an added element of cocoa and spice that really rounds everything off nicely. The cold draw is PERFECT. Just a slight tug of resistance, and it gives a heavy chocolate flavor, with a slight spice following behind that is downright delicious. Maybe I was too quick to write off these cigars... We'll see...
Lit at 6:10pm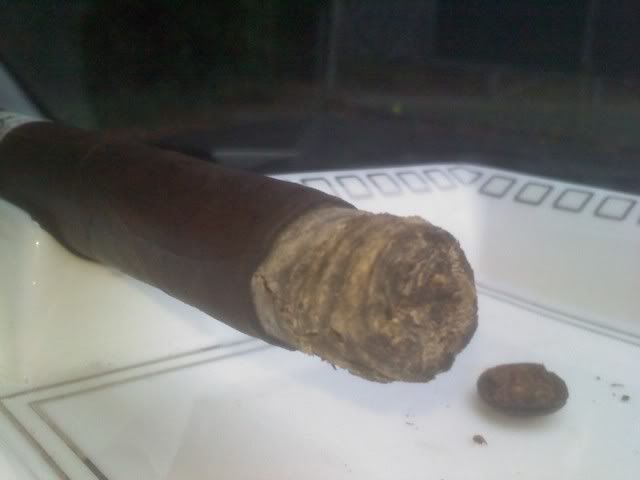 Initial flavors are a bold pepper and spice, followed by a smooth, steady lingering chocolate, sweet, not bitter. The finish is slow and smooth, leaving a tingling black pepper burn across the tongue, and down the throat. Definitely a powerful start. This thing also burns like a bonfire. Sitting on the edge of my ashtray, it burns steadily, giving off great tufts of blue smoke, as much as a minute and a half after the last draw taken.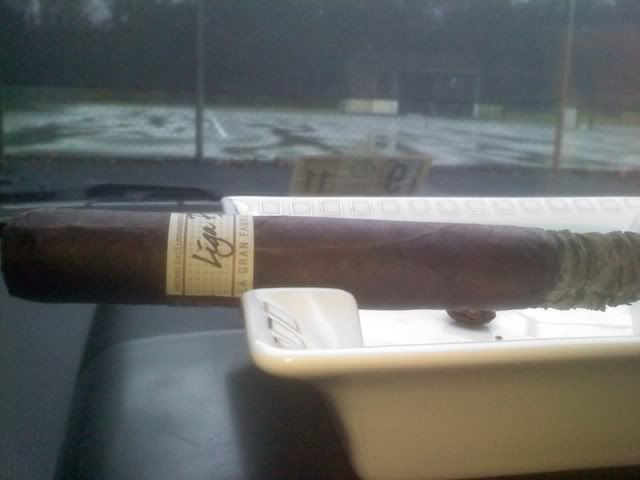 Settling into a good rhythm in the first third, the chocolate has mellowed out a bit, and the flavors have become very meaty and leathery. Pepper still is present on the long, smooth finish, tingling still. The ash is a dark gray and black, with a loose look to it. Not tight and firmly packed, but rather, each ring (the stacked quarters effect is present) seems to want to pull apart from the next. Not a problem though, as one inch in, it doesn't look like it's going to fall. Through the nose there is a big black coffee flavor. Meaty and leathery on the draw, coffee through the nose, and pepper on the finish. Very complex and delicious.
Rolled the ash in the tray at the one and one half inch mark, out of fear that it was about to crash into my lap. The burn is not RAZOR sharp, but it is definitely straight enough to call straight. Still giving off massive amounts of ambient smoke. The flavor remains bold, like steak au poivre. Meaty, with a black pepper bite. Through the second third to just about the halfway point I have started to get hints of that cocoa coming back, with a touch of sweetness. The leathery, meatiness is still the dominant flavor, but it dances into a pleasant touch of chocolate, then jumps headlong into the black pepper bite that mellows evenly through the course of the finish.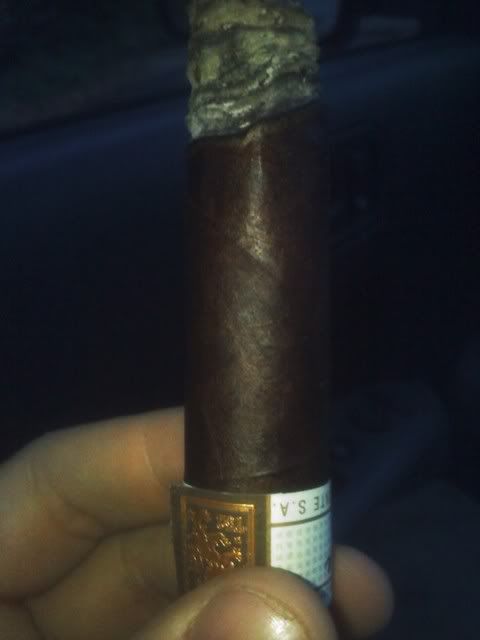 Starting to get a hint of musty aged tobacco flavor on the lips near the start of the final third that is just one more step towards the overt complexity of this blend. Very enjoyable so far, as a smoke to sit down and pay close attention to. The flavors are starting to swing to a more coffee based profile, roasted beans, slight bitterness, and a deep earthy feel. The black pepper on the finish has increased, having smoothed out in the second third, now ramping up with a bit more heat. The ash has gone from a dark gray and black to a dark brown and black color. Not something I have seen before. Pretty cool.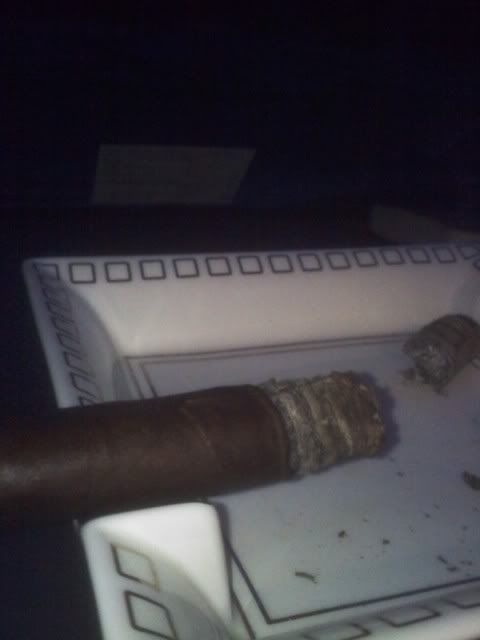 Starting to get a bit of strength from this cigar with about an inch and a half left. It has been gradually building, medium at first, but now approaching the fuller side of the medium-full spectrum for sure. Not unpleasant or anything, but noticeable. Everything has sort of come full circle, and I'm getting a little bit of everything, leather, pepper, cocoa, coffee, all of it at once, mingling together. Nothing muted, and as such, a little overwhelming.
Ended at 7:46pm, when the nub finally became too hot and harsh to keep smoking. This is definitely an impressive, very complex smoke. Call me a skeptic going into it, but I am definitely now a believer. Very highly recommended.