ARTURO FUENTE ANEJO
5 1/4 x 50 "No. 50"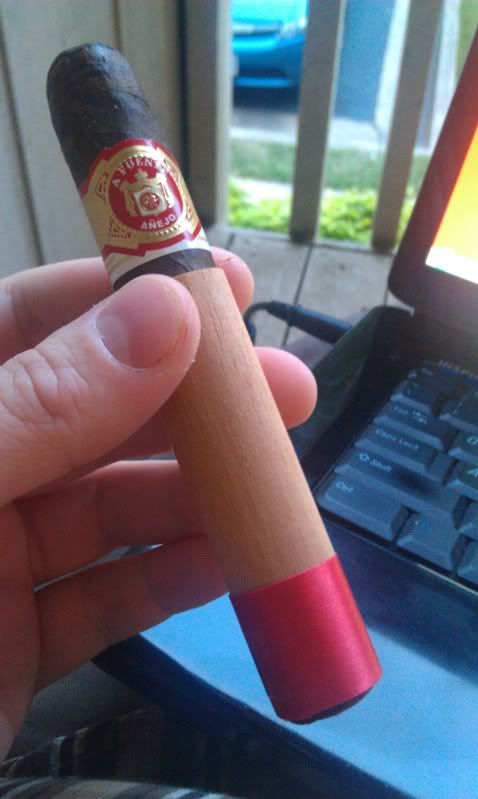 Tonight I am smoking a stick I have enjoyed on several occasions in the past, the Arturo Fuente Anejo. Tonight I am smoking the robusto sized Number 50. The story behind the Anejo is that a little over a decade ago a hurricane wiped out the crop for the Opus X wrappers. A few years later it resulted in a shortage, so Carlito used the extra Opus fillers, tweaked the blend, and wrapped it in a Connecticut Broadleaf maduro wrapper, aged five years, part of that in a Cognac barrel. It has a unique flavor profile, and an impressive lineage. The Anejo is not a regularly available line, released only a couple of times each year (I have read quarterly, and at father's day/Christmas, what is correct, I'm not positive). Regardless, they are something special, and are a cigar that some people have been known to age for years and years before smoking.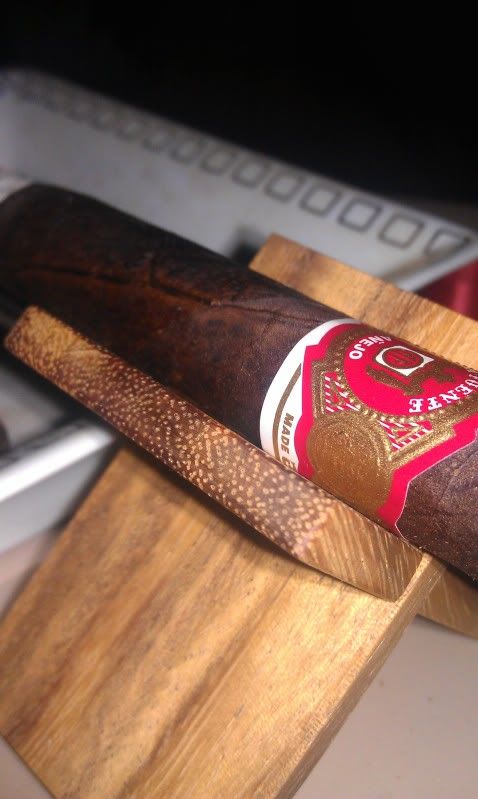 This particular example comes from the Winter 2010 release. I have had it for around 6 months now. This stick features a very dark, almost black wrapper with minimal veins, and a lot of tooth. The pack feels even, but very firm. The aroma from the foot has a very distinct combination of cinnamon and raisin, and is very sweet. The cold draw has a decent resistance (not quite firm though), and tastes of the same raisin/dried fruit, plus cinnamon sweetness, with just a touch of vanilla bean, and a hint of spice. Complex pre-light, let's hope it stays that way once burning. I have a feeling it will.
Lit at 8:07pm.
Once lit evenly, it has an even draw, with a good amount of cedar (not a huge surprise since these come wrapped in cedar), coffee sweetness, and a heavy hot pepper spice on the finish, which lingers for a good time. Smoke production is awesome. Great start.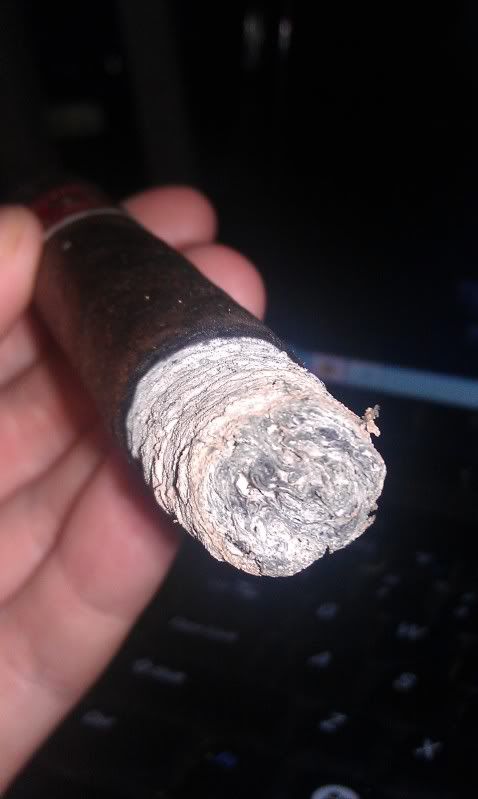 Getting about an inch in, the ash is a bright white color, showing tons of little bubbles from the toothy wrapper, and holds very firmly. The burn line is razor sharp. The flavor profile consists of a burnt wood sweetness, a very oaky flavor, followed by a touch of black coffee bitterness, and a long spicy finish. Through the nose there is a meaty quality, black pepper and, well, roasted meat. The performance is flawless, and the flavors are great. So far, so very, very good.
Approaching the halfway mark, the sweetness has subsided a bit, while the dark, coffee flavor has become more prominent. The black pepper remains strong, especially through the nose. The strength has been medium, maybe medium-full at most, but the body is definitely up there. Just a rich, dark, heaviness to this cigar overall.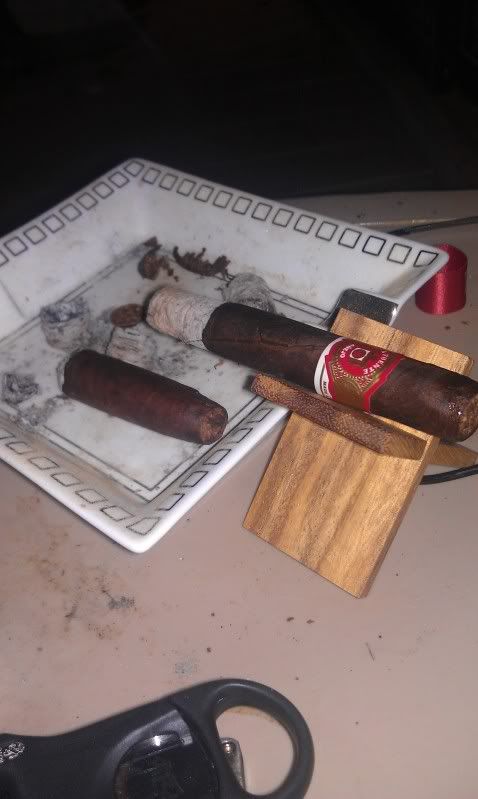 Closing in on the band point, the mouthfeel is downright syrupy. The smoke is chewy and rich. The flavor profile remains a combination of black coffee and peppery meat. The initial cinnamon flavor has also come back in a big way. The complexity of this flavor profile is really something special, and is, so far, one of the finest examples of a maduro wrapped cigar.
Ended at 9:45 for a total smoke time of one hour 38 minutes. This is a pretty typical length of time for a well built robusto in my experience. Through this time it performed nothing short of flawlessly. The burn line remained razor sharp, the draw was perfect, and the ash held for several inches before falling each time. The flavor profile is complex, and changes several times as it burns down.