CROMAGNON EMH
5x56 "Early Modern Human"
This evening I'm going to be lighting up the second vitola in the CroMagnon taxonomy... The EMH, or Early Modern Human. This cigar is a 5x56 Robusto Extra, a fat, stout beast indeed. It features, as I have previously noted with the CroMagnon cigars, a very very oily wrapper leaf. For a bit of info about the line itself, see my previous review or the CroMagnon Mandible (I see no point in repeating essentially the same paragraph...)
This particular example is part of a sampler I purchased from Hava Cigar shop. It features a somewhat lighter colored wrapper than some of the others that I have. That said, it lacks none of the slick oily appearance. It has a somewhat rustic, veiny appearance, appropriate for the theme that this line carries. The aroma from the wrapper is a simple dirty tobacco. The foot offers the same earthy character, with the addition of some cocoa sweetness, and a tangy spice, like cumin. The cold draw is free, and offers a heavy, dark earth core, with a significant amount of spice across the palate. One thing it does not have is any of the significant sweetness the other size I have smoked had.
Lit at 6:44pm.
Immediately the flavor profile has an earthy, charred wood core, and accompanying oak sweetness, with a significant blast of pepper spice that lingers through the finish. It's a good thing I at a @ChiefHava sized burger for lunch today, because the strength is already apparent within the first few draws. This is going to be a strong one.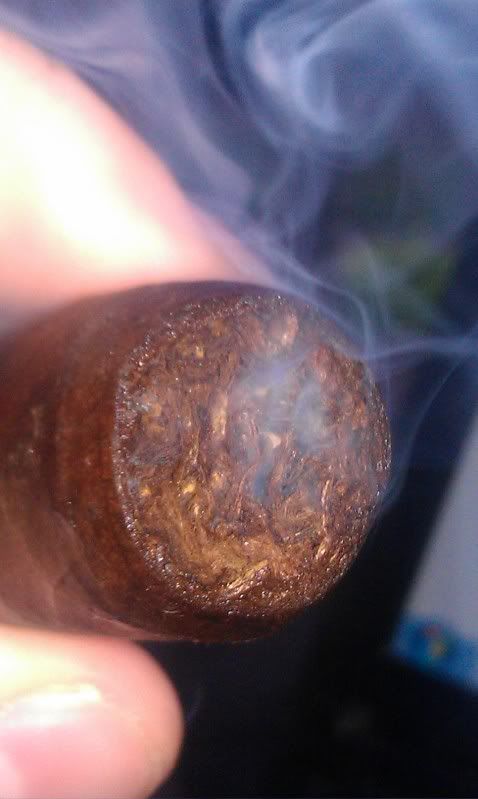 About 3/4 of an inch in, and things are progressing nicely on the flavor front. Continues to deliver a dark earthy core, with a great wood flavor, and a heavy pepper heat through the finish. The problem I am encountering, and this is something I noticed with the last one as well, is that the wrapper burns fairly unevenly, and has already required a pretty good touch up. Not something that is going to keep me from enjoying the cigar (I have a lighter with me afterall, thus, touch ups aren't some huge issue) but just a slight annoyance.
Just past the one inch mark, I'm starting to get a bitter, roasted coffee bean flavor, which is a nice development. It is one of those flavors that is interesting as it transitions into the hot pepper finish. The burn continues to be a little awkward, but the draw and smoke production are fantastic. I'm not sure if it is the humidity outside, or the cigar itself, but it takes a couple of puffs each time I draw to really get this one going. Given the similar issues I had with the last one, it may well be the cigar.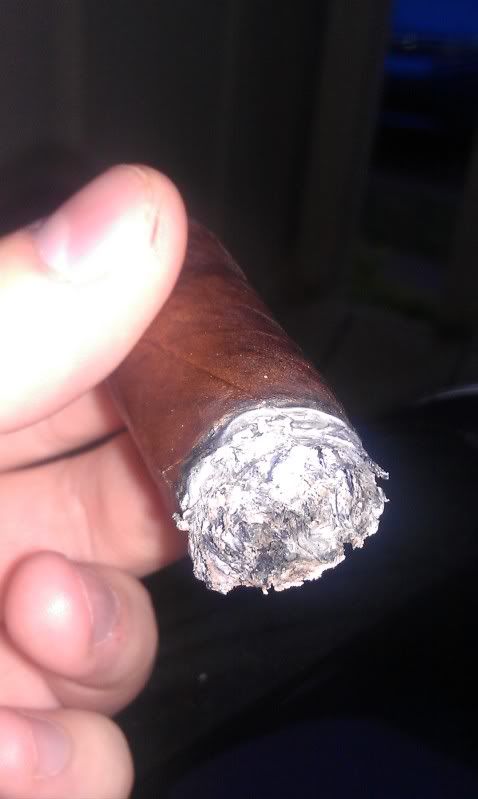 Regardless of burn issues, the flavors continue to be bold, and strong. The body and strength are pretty... bold as well. Feeling this one already at the halfway mark. Also starting to see some flavor shifts at this point, with the sweetness initially present dropping off almost completely. A musty, old leather character takes over though, and is nice with the bitter coffee, and peppery finish. The spicy finish is one thing that has me sort of impressed. Normally when cigars have a lot of spice up front early on, it drops off through the middle, and doesn't come back until the end. Not the EMH. It has been consistently hot (and I don't mean it is burning hot) all the way.
Getting down towards the end things are getting a little hot and muddled, and I have a little bit of tunneling going on. The flavor starts to become less defined as well. Not a huge issue though, and something that happens with plenty of sticks.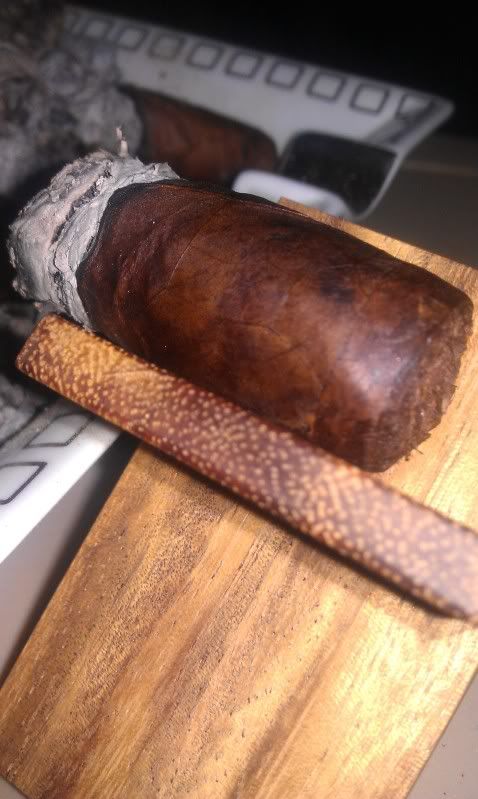 Ended at 8:15pm for a total smoke time of and hour and a half. Flavorwise, this is yet another example of complexity that is bold and in your face, with more than enough strength and body to back it up. I look forward, as with the Mandible, to seeing how these progress with some age. They certainly have the oil, body, and flavor to benefit from some serious down time.