CROMAGNON
4.5x60 "MANDIBLE"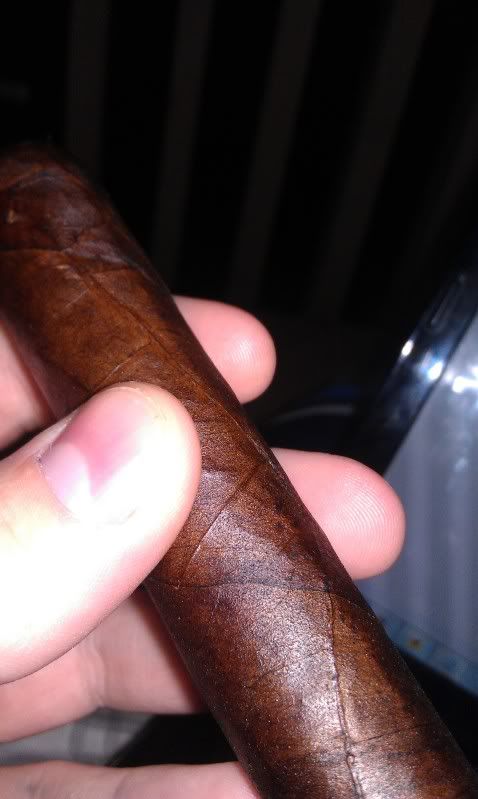 I don't really know the whole story behind the CroMagnon brand, other than the fact that Twitter cigar magnate Skip Martin aka. @ChiefHava and Adrian's have teamed up to produce a dark, rustic, powerful cigar that based on what I know of Skip's smoking habits, pretty much is a combination of the common elements in the cigars he seems to smoke a lot of. I recently picked up a sampler of the lineup (the "taxonomy", they call it), and while the vitolas are pretty far from what I normally smoke (mostly larger rings, where I smoke mostly coronas and lonsdales), this time the marketing got to me, and I had to give it a shot. Up first is the Mandible, the size I am least looking forward to, a so called "petite gordo", in other words, a NUB size, 4.5x60. The blend is interesting, using Nicaraguan filler, a Cameroon binder (which contributes a very specific flavor and even aroma in my experience), and a gorgeous Broadleaf wrapper.
The first thing I noticed when I took these sticks out of the box was the amazing wrappers. They are a dark chocolate brown maduro, with the heaviest, slickest oil sheen I have ever seen on a cigar. I mean these things look like they have been treated with Soul Glo, Afro Sheen, the works... And they smell great too. The wrapper gives off a musty, old barn smell, while the foot offers the same, with the addition of a sweet floral note, and a bit of a bready smell. The cold draw is a little tight, and offers a profile of dusty cocoa powder, medium tobacco, and just an overall earthy density. I just cannot get over the wrapper... The only thing that I can think of that is remotely similar is the wrapper on the LFD DL Maduros.
Lit at 9:33 pm.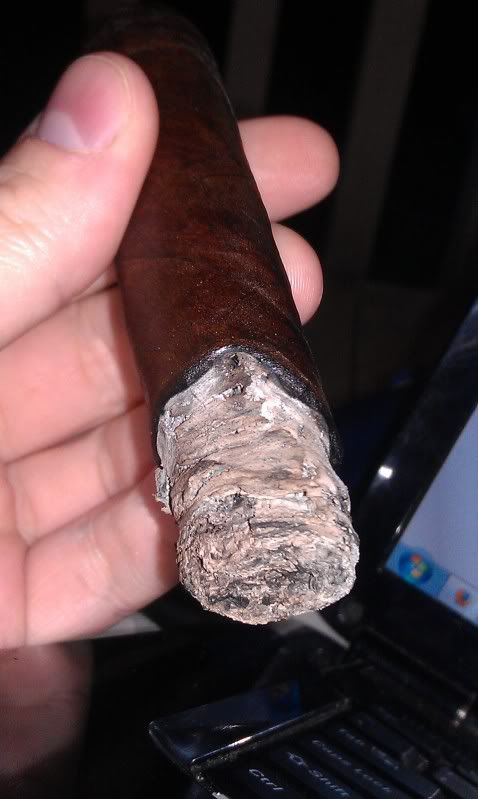 The initial flavor profile is rich, combining a sweet dark chocolate, with a slightly fruity note, like black cherry, and a dark, black pepper finish that lingers, and comes on slowly.... lumbering like a caveman even... Despite a tight draw, this thing is already smoking easily, producing plenty of oily, chewy, clinging smoke. Burn line is a little iffy... hoping it will straighten out. Good start.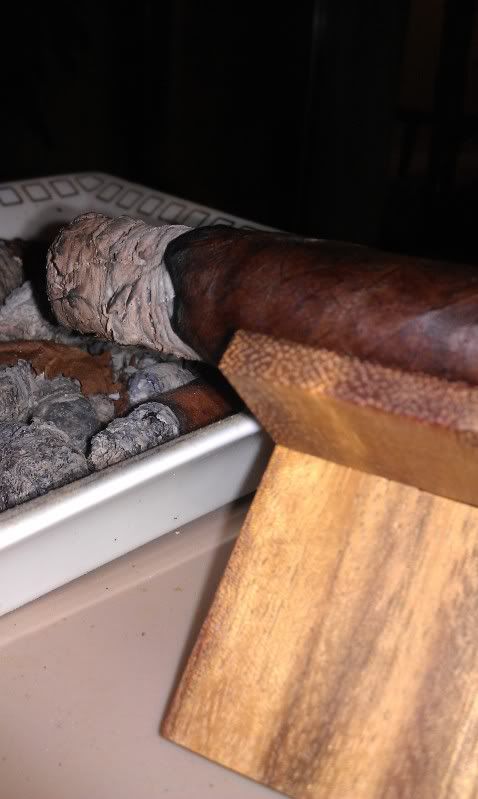 Progressing a little further, the flavor profile has changed a few times (or rather a few flavors have come and gone) including an oaky wood flavor, wet and sweet, and a bread flavor, like what I got on the cold draw. About 3/4 of an inch in, and things have pretty much settled into dusty cocoa on the draw, followed by a floral/fruit note, like cherry and... well something floral, and a long, black pepper finish. Already, the strength is noticeable. I am not a smoker of a lot of really strong cigars, so that may have something to do with it, but I also am somewhat aware of the smoking habits of the man who is responsible for this cigar, and well, he is a smoker of the full stuff. The fullest stuff even. This cigar is advertised as being rustic and strong... well, it is. I ate a good dinner maybe 30 minutes before lighting up, and my stomach is feeling it. The ash is flowering just a little bit. In all fairness, these just arrived in the mail today, but were only shipped the day before yesterday, and were shipped with a 69% Boveda pack (classy!) It's also possible that I am just not used to smoking a cigar in this massive ring gauge. I typically smoke stuff in the 38-46 range... not 60's. Takes a different pace just to keep this guy burning properly.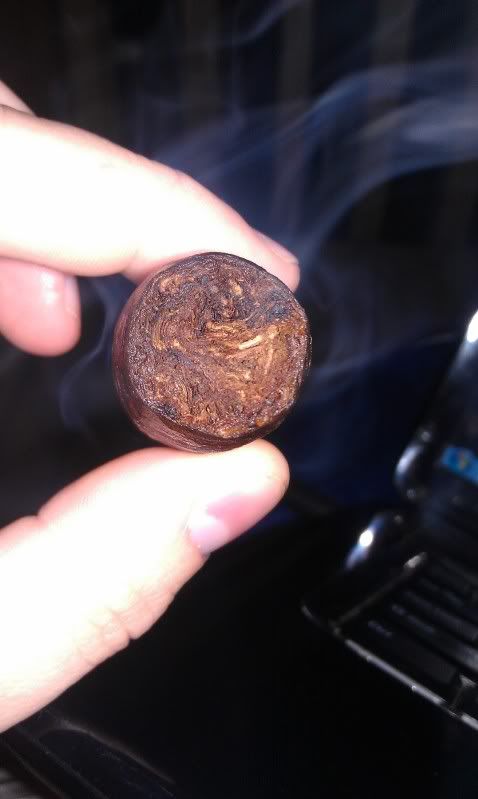 The mouthfeel is really something with this cigar, realllly heavy, and oily. Almost has a syrupy quality to it, like smoking maple syrup. Flavor profile hasn't changed for about an inch now, still cocoa powder and a long pepper finish.
By the halfway point the strength has continued to steadily rise, as has the body, while the flavor has really not changed much. It's heavy and dark, pretty straight forward sweetness and strong pepper finish. It's a good flavor, but doesn't really offer much in the way of complexity or subtlety. Through the nose, the fruity character still is present though, which is certainly a plus for me.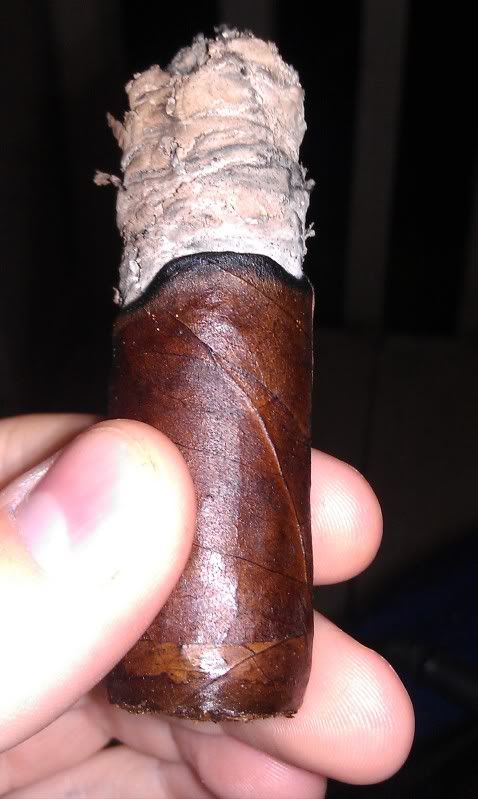 Getting into the final third, the flavor profile takes on a bit of a leathery character. The sweetness has also fallen off a bit. The spice is also a bit more pronounced, less of a slow black pepper, and more of a sharp, hot pepper burn, further forward on the palate. The finish remains long a spicy though.
In the last inch the flavor pretty much drops off entirely, turning into a hot... mess. The strength has ramped up more than I like, and the flavor is just a hot, burnt wood. Ended at 11:00 exactly.
Total smoke time was an hour and a half, which is about what I expected from this size. Aside from a troubled burn line, and the downward direction of the flavor in the last third or so, this was a really enjoyable cigar, far more enjoyable than I expected from a cigar in a vitola I generally don't care for, touting strength that normally would turn me off, and just not really being a cigar blended the way I typically like them. The fruity floral notes, and sweet cocoa, combined with the strong pepper finish, all of which remain pretty consistently through the entire cigar really make this one that I look forward to revisiting, and even allowing to age. I think this has the potential, in time, to become a much more balanced, hopefully more nuanced cigar. For now it remains an interesting, tasty entry in the full body/full strength realm. Definitely something worth checking out for you guys that like 'em potent.