SAN LOTANO MADURO
5x52 Box Pressed Robusto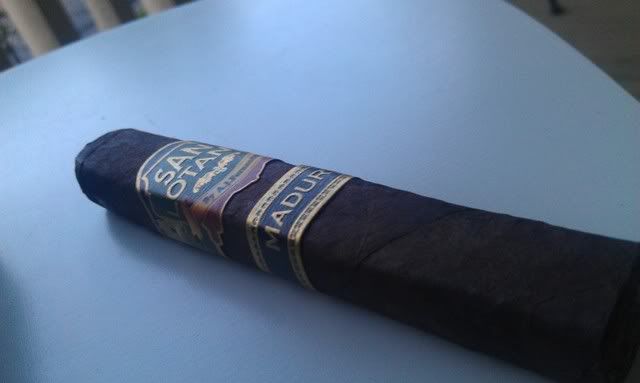 This first thing that anyone is gonna notice about this cigar is the box press. It isn't just a slight press, it isn't just a regular box press... it is REALLY box pressed. Like, this thing has SHARP corners. Anyway, San Lotano is A.J. Fernandez's first brand of his own, having made his name blending and producing cigars for other people (primarily online houses, CI in particular comes to mind). The San Lotano brand is a family brand, going back to his family in Cuba, back in the day, blah blah. Fernandez is a protege of Alejandro Robaina, the master of Cuban tobacco, God rest his soul, and has become known for his full bodied, Habano wrapped blends. The San Lotano brand comes in three wrapper variations, each available in 4 vitolas (Habano, Maduro, Connecticut). The Maduro I will be reviewing today is the robusto, which features a Mexican San Andreas Maduro wrapper, Honduran binder, and a mix of fillers from various countries.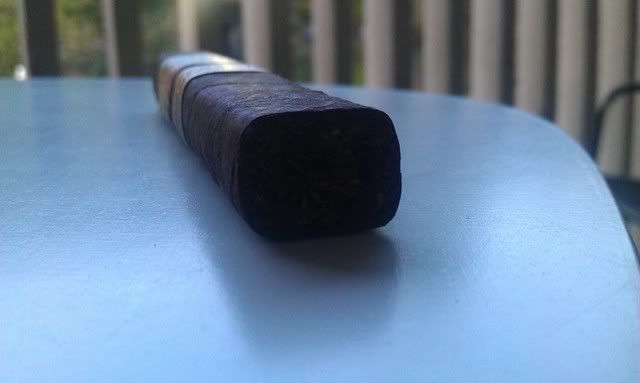 This particular example features a dark chocolate wrapper, with a slightly mottled color to it, and a toothy matte finish. The look of this cigar actually is somewhat reminiscent of the Padron x000 series. The band is something I have to *** about, as an artsy fartsy type myself... It looks like it was designed with MS Paint or something. No graphic designer should or would be proud to be responsible for this band. That said, I don't smoke cigar bands, so aside from looking weak, it doesn't matter... The cold aroma is wet, and earthy, with a touch of musty tobacco. The cold draw is sweet and creamy, and offers primarily a dark chocolate flavor, the source of the sweetness. The draw itself is a bit firm, likely owing to the ridiculous box pressing going on. The wrapper itself looks great, no veins (all smushed in the box pressing process, no doubt), and applied masterfully, with a good enough looking double cap and tight seams. The pack itself is full... this thing feels like a brick, and has almost no give to it when squeezed...
Lit at 7:47pm.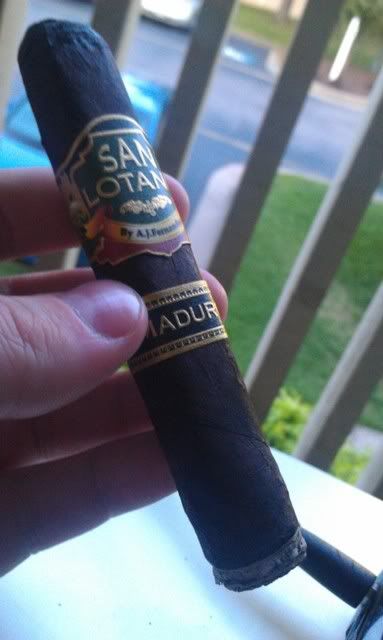 At first light, this is a somewhat lighter, softer smoke than I expected, offering a dry, soft mouthfeel, and a simple, sweet tobacco flavor, with just a touch of spice on the finish, that gradually builds as it moves across the palate. Smoke production is not great at this point, probably as a result of the slightly snug draw. The burn, after just a few draws is already a little wacky, due to the hard edges from the box pressing. Hoping these little nuisances will correct themselves as things progress.
The first third is going well, and the tight draw has actually probably kept my pace slow, which is good. The flavor profile offers a dark chocolate bitterness, and a creamy sweetness, which contrast nicely. The finish has a mild spice to it that moves around the mouth a bit, and lingers for a good length of time. There is a heaviness developing through the mouth-feel of this cigar. The smoke is dense, and oily, where it started much lighter. Burn line has also worked itself out, requiring only a pair of quick touch ups.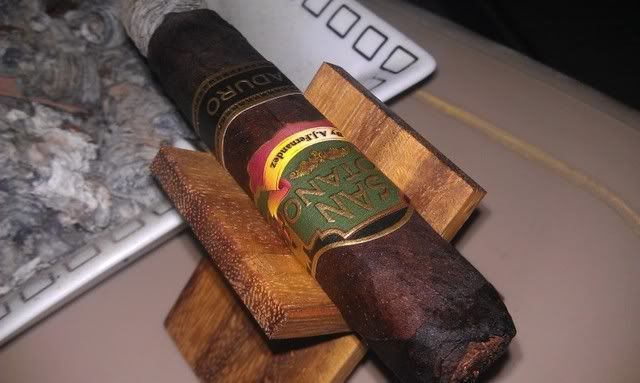 Ash falls for the first time just a bit into the second third. The flavor profile continues to contain a great spread of sweet, dark flavors, now with an almost oaky character mingling on on a few draws. This is not an overly strong cigar, like some of those that AJ Fernandez makes, and not as complex as some, but it offers great flavors so far, with no issues, and a balance that is superb on the palate.
Throughout the final third, unfortunately the only further development is a bit more bitterness that eventually becomes hot, and unpleasant... but only really at the end. From start to finish this is a great, inexpensive, sweet, rich, maybe not overly complex, but pleasant cigar that really delivers what I think of as the flavors I look for in a maduro wrapped cigar. Perhaps the only negative thing I could say about this cigar is that the draw remained a bit too tight the whole time, but that is something that can vary a good deal from stick to stick, so I don't put much stock in it. if this is what we can expect from AJ Fernandez in the future, I will certainly continue to pay attention. Lasted a total of 1 hour 35 minutes approximately.