ASHTON ESG
6 3/4 x 49 "20 Year Salute"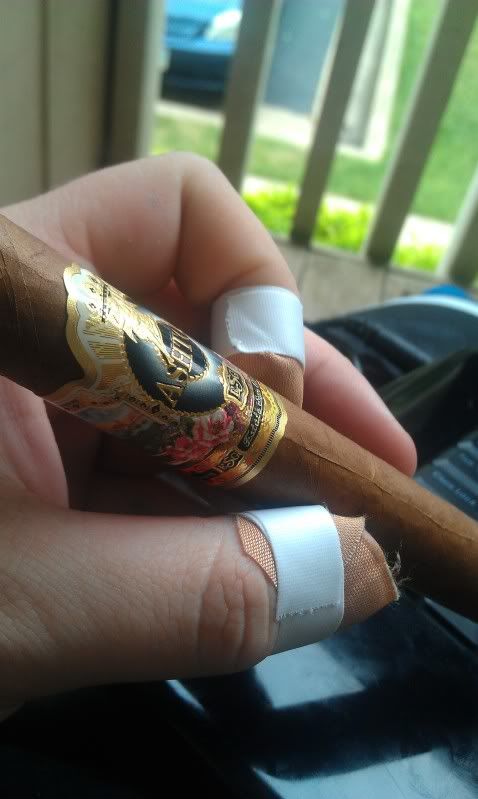 The Estate Sun Grown is the most expensive, supposedly hardest to find cigar in the regular Ashton portfolio. It represents a combined effort between Robert Levin, founder of Ashton, and Carlos Fuente Jr., the man behind Fuente's Opus X among other triumphs. This cigar was conceived as a celebration of 20 years in the industry for Ashton, and the pedigree that the blend carries certainly seems worthy of it. It features a tweaked VSG filler blend, contained within a sungrown variant of the Opus X Rosado wrapper. It is now available in 4 sizes, with one vitola being added to the line annually following the original release, the "20 Year Salute" (also available are a large robusto, a torpedo, and a toro).
The particular example I have today is the 20 Year Salute, which is close to a Churchill in dimensions, and features a gorgeous burnt caramel colored wrapper, with a slightly dusty tooh to it, and that soaked up oil look. The veins in the wrapper leaf are visible, but smooth to the touch, and as is typical of high end Fuente productions, the construction appears impeccable, triple cap, tight seams, even, full packing... And the band is a true work of art, that rivals the Opus X for intricacy. It features plenty of gold leaf work, flowers, and two painted scenes of tropical life. This is a Dominican puro, though the aroma from the wrapper and foot don't really suggest that. It has a smell that reminds me of shortbread from the wrapper, with an additional element of spice and toasty tobacco at the foot. Removing the cap reveals a snug draw full of spicy, earthy tobacco, a touch of floral sweetness, and a musty leather. Given the blend, and the MSRP on these, I have high expectations. So far they are being met...
Lit at 5:50pm.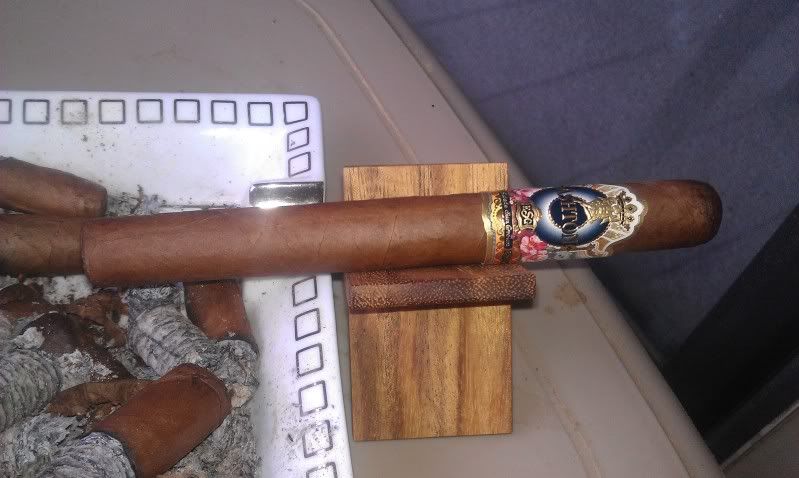 The initial profile is not really what I expected. It offers a mild, toasty tobacco, and just a touch of peppery spice that lingers gently on the finish. There is just a touch of a leather flavor on the draw as well. Despite having a ight draw, smoke production is great, and the burn seems to be moving evenly as well.
Getting about an inch in, I am still surprised by how smooth and honestly... mild this cigar has been. It has a musty leather core, with just a touch of pepper spice on the finish, and through the nose a delicate floral sweetness. These are all delicious flavors, perfectly blended, and absolutely not at all what I expected. The ash falls off for the first time after about an inch and a half, revealing a perfect burn underneath. The draw at this time remains tighter than I prefer.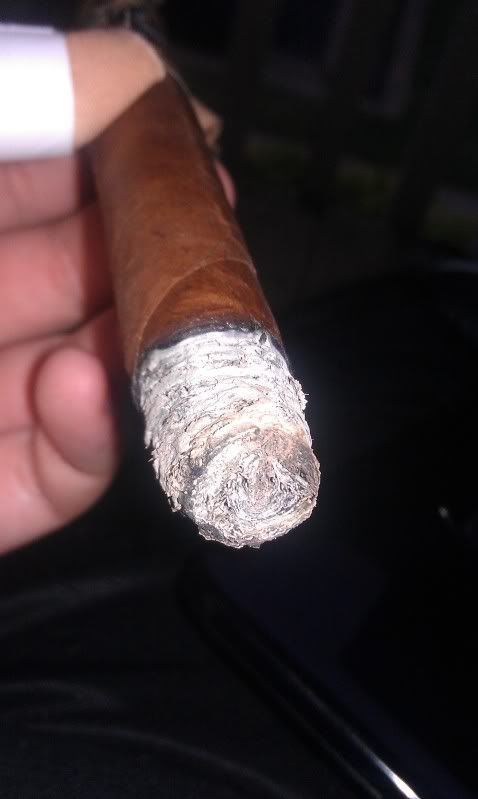 Around the halfway mark the body is starting to come up a bit, as is the strength, and flavor. Mouthfeel has gotten heavier as well. The draw is opening up too. Makes me wonder if there was something in the filler that I burned through... Anyway, flavor profile is now sweeter, and spicier. Sweeter on the draw, still a sweet woody flavor, with musty leather at the core, with a spicy finish that is a bit more substantial than before. At this point it is becoming a bit more like what I expected this cigar to be.
Smoking almost to the band point (granted the band is pretty large on this one) everything is starting to remind me more of the Opus X cigars that, in a way, this stick shares a wrapper with (albeit this is a sungrown version). It has a cinnamon spice with the sweet wood flavor, a musty old leather core that ties everything together, and finally a spicy, peppery finish. That said, despite the substantial increase in heavier flavor and overall feel, the nicotine strength has only increased marginally. I'm sort of taken aback by the dramatic change that this cigar has made. I one thing worth noting however is that this change occured gradually, over the course of maybe an inch or two, which makes it an interesting, positive development in my book. I'm not sure, as this is the only ESG I have ever smoked, if this transition is typical, or if I got an oddball stick. I sort of hope it is intentional though, as it makes this a unique, and interesting cigar in the portfolio of "Opus-related/wrapper sharing/whatever" cigars, which are personally some of my favorites, generally.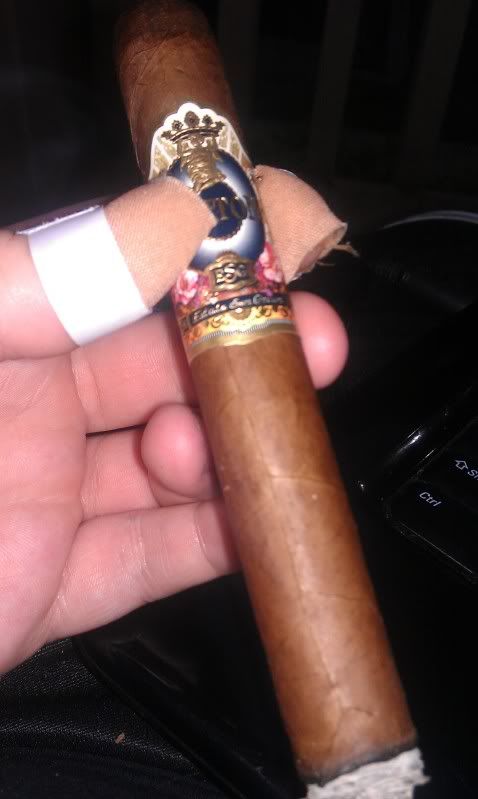 As the final third takes fire, the strength has started to come up, and I am feeling it in my empty stomach. Oops. The flavor profile continues to get richer, and heavier. The smoke itself is getting spicy, and chewy. As I get closer to the end the strength only continues to build, maybe a little bit too much in fact. By the end it is definitely a pretty full bodied smoke.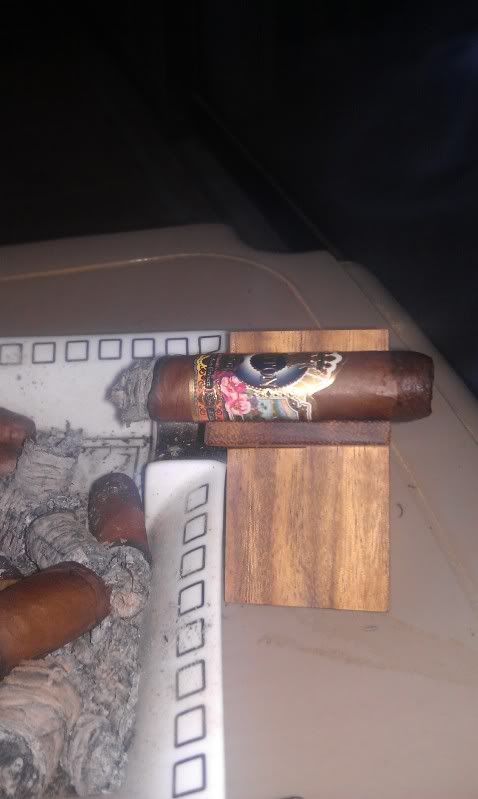 Ended at 8:00pm, for a total smoke time of just over 2 hours. Despite a sort of slow start, by the end this became a really impressive, complex smoke. The price is a bit high on these, compared to other, similar cigars, but it certainly performs just as well as any other high end cigars.