GRAYCLIFF G2 TURBO
6x60 Torpedo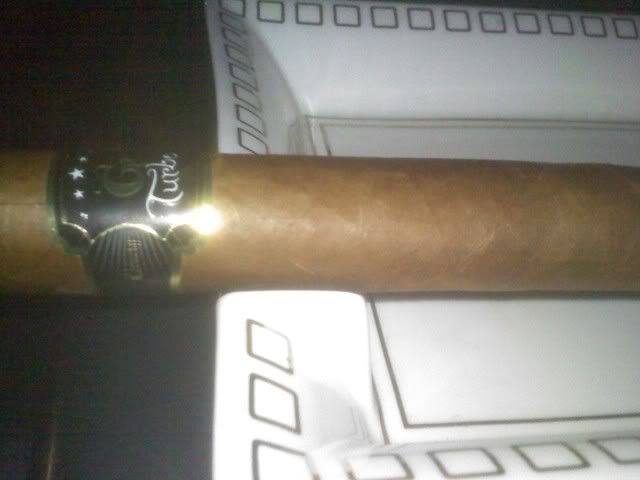 This big fat torp is a bit of a departure for Graycliff, as it was blended by, and is produced by A.J. Fernandez, and uses Nicaraguan tobacco, unlike the regular lines produced for the Graycliff company at the Graycliff resort in Nassau. The wrapper is billed as a maduro, which is mind boggling, as this cigar looks more like a light colored Cameroon wrapper. Maybe a Colorado Claro shade at most. Very strange... It has no heavy veins to it, and has a slick, velvety feel, that I most often associate with Connecticut Shade wrappers. The foot has a slightly barnyardy aroma, with a touch of cedar on top. The cold draw is slightly firm, and has a dry, woody flavor to it.
Lit at 1am.
The initial flavor is a powerful and very enjoyable cedar. It is fairly light on the palette, with no spice. It is a little on the sweet side. The finish has a slight pepper, red pepper.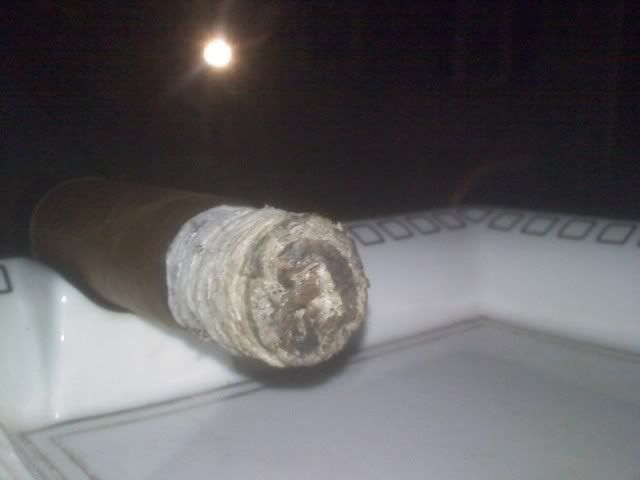 In the first third, the burn is wavy, but not uneven on any particular side. The flavor remains woody, with a mild pepper finish. This is a surprisingly mild start for a cigar blended by AJ Fernandez, who tends to have a somewhat heavy handed approach to ligero and heat in his smokes. The mouthfeel is generally smooth, and creamy. There is a slight cream flavor actually becoming apparent about one inch in. Very pleasant. The draw and smoke production aren't great. A little firm, and not a lot of smoke. Ash at this time is firm, solid even, and a bright white in color.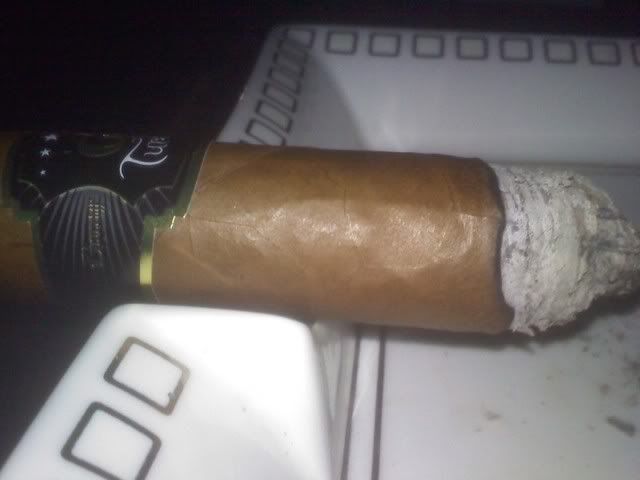 Rolled the ash off in the ashtray a little over an inch in. It stays together in one big chunk. I decided to stick a poker a little way into the head and see if I might open the draw a little bit. Sure enough, between smoking a little way in, and hitting it with a poker, the draw has opened up very well. The smoke production increases a bit, and the draw is well enough loosened that it is much better generally now. The flavor remains creamy, and woody. Cedar flavor has taken a turn for the sweet. What has me most impressed at this point is that fact that despite being a 60 ring gauge cigar, it continues to burn evenly, and without the need of a single touch up or any other maintenance.
A shirt way into the final third there is a sweet spiciness that comes up on the draw following a brief cedar flavor. It is not quite cinnamon, but more like nutmeg with a peppery heat to it. This is definitely a good development on an otherwise less than exciting (but good in its simplicity) cigar.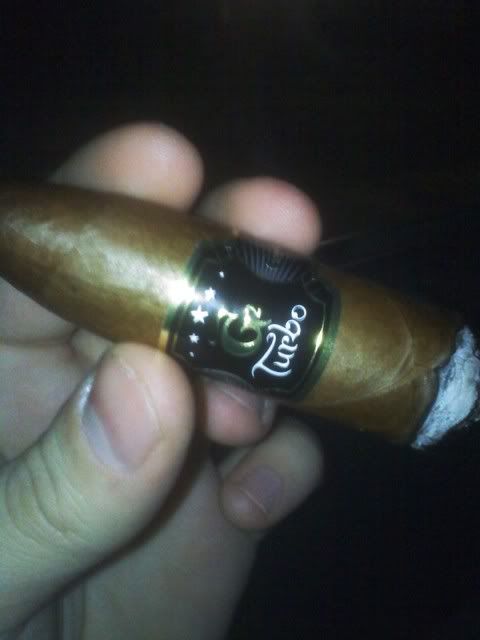 Starting to get pretty hot and a little bitter with about an inch and a half left. Going to go ahead an end it, because it is sort of becoming unpleasant in its bitterness.
Ended at 2:39am for a total smoke time of one hour 39 minutes. Overall, this was a milder smoke than I expected, and not overly complex, however it has a few favors that are present and deliver in spades. I am shocked that I never felt any strength from this cigar at any point, despite its use of Nicaraguan tobacco, blended by AJ Fernandez. Overall I had a pleasant experience with this cigar, and needed to basically pay it no attention to have it perform perfectly (once the draw opened up). Good smoke!