SOL CUBANO CUBAN CABINET
6 1/2x44 "No. 1"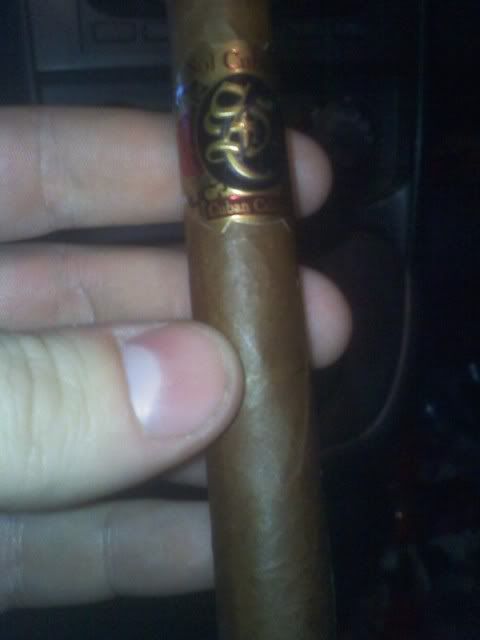 The Sol Cubano Cuban Cabinet was one of the first blends that Abdel "A.J." Fernandez worked on upon departing Cuba and setting out to create a name for himself as a blender and producer of cigars. The idea (as seems to be a pretty common one these days...) was to mimic the profile of Cuban cigars from the golden age of Habano production. Whether or not this cigar has anything in common with classic Habanos remains to be seen, but it is rolled in quite a few classic vitolas, including the massive 'A' and the squirrely Culebra. The No. 1 is a lonsdale, with a light caramel colored wrapper that has a silky smooth feel to it. The vein structure looks good, with only one good sized vein running the length of the wrapper leaf. Shouldn't be a problem hopefully. The foot has an aroma that I would call cedary, but otherwise is mostly just a medium tobacco smell, with a slight spice to it. The cold draw is spicy and woody, very similar to the aroma (cedar, medium tobacco flavor, and tingly spiciness)
Lit at 10:44pm.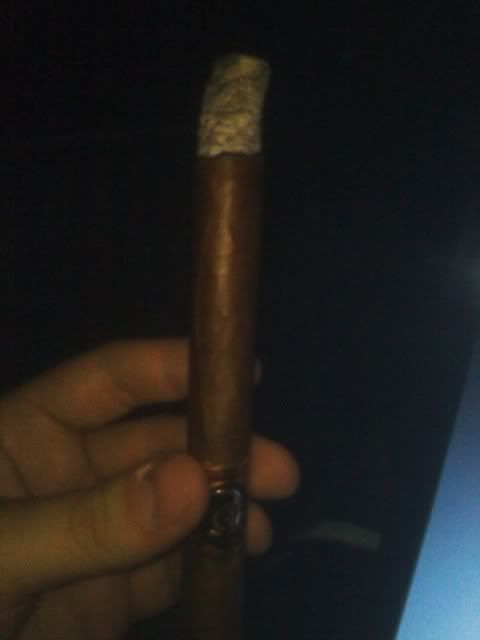 Immediately the flavors are strong and have a kick to them. There is a strong, sweet cedar flavor, followed by a good wash of hot pepper across the palette, finally resting and lingering on the back of the tongue. Lit without a hitch, though the burn line is a little wavy.
Through the majority of the first third, the flavor has remained consistently woody with a mellow pepper finish (after the first few draws, it fell back to a smoother pepper sensation and flavor). The burn line straightened out quickly, and has been pretty much straight ever since. Finish is not particularly long, but is satisfying enough. The draw is just fine, maybe a little tight. Overall, this stick is performing well, but just not blowing me away with flavor or anything. Ash holds just over and inch before falling. It is very tight and firm, and stays together after crashing into the glossy china tray. One interesting, though irrelevant note is that the ash seems to lean to one side as it burns. I'm not sure what causes this phenomenon, but it is certainly very obviously present in this cigar. Cedar flavor has really come up to the front, and has become very sweet just over two inches in.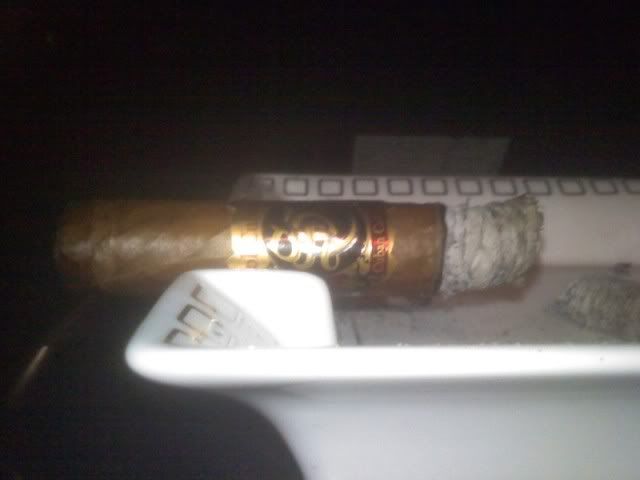 In the middle of the second third (so I guess the halfway point of the cigar) the cedar flavor takes on a slight floral note through the nose that is very pleasant and adds some welcome complexity to this otherwise good, but not very exciting smoke. This faintly floral perfume continues through the rest of the second third. Cedar and pepper continue unabated.
As the burn approaches the band (which is large, gaudy, and kind of flat out ugly in that it is entirely metallic and glossy) there is a little cinnamon, which is pleasant but not very powerful. The cinnamon flavor fades gradually, and eventually the flavor remaining is simply cedar and pepper, with a little sweet tobacco.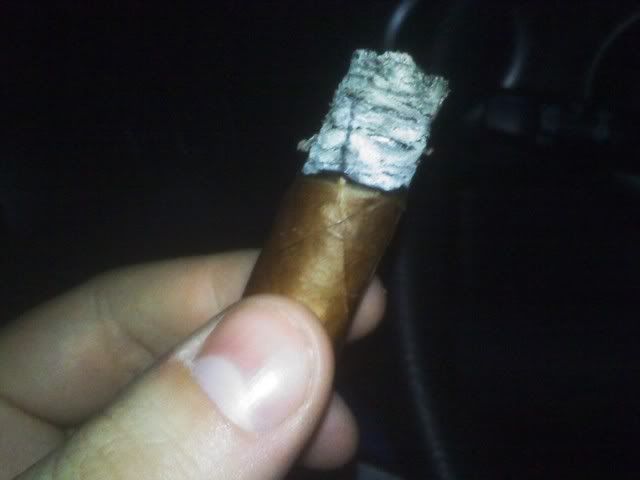 Ended at 12:26am for a total smoke time of one hour forty minutes, which is a perfectly good time for this size. My final thoughts on this cigar as as follows... While lacking in complexity, the flavors here are pleasant, and consistent, and the price is downright piddly, so these would make for an excellent every day, or social smoke. The strength is medium full at most, and in this particular stick, closer to medium. The one real saving grace, and notable plus to this cigar is how flawlessly it performed. I could set it down for two or three minutes, and almost forget about it, and the following draw would still be perfect, which again, is why I think these would make great party smokes, or yard smokes.