EL TRIUNFADOR
by Tatuaje
5x48 "#4"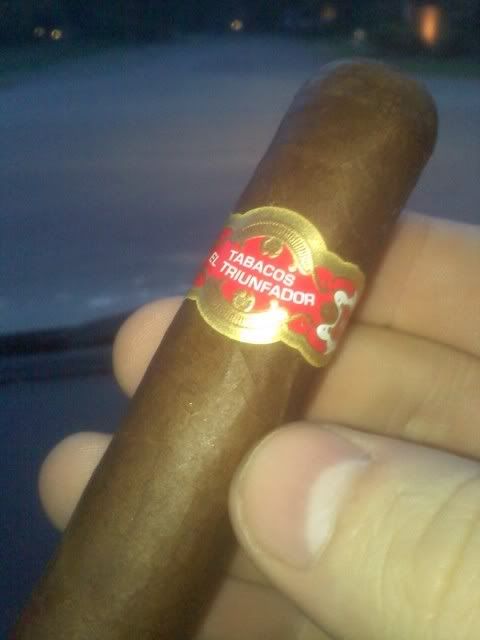 As I understand it, El Triunfador was at one time a Cuban cigar brand... long ago. Pete Johnson has purchased the right to produce under that name, and has blended, with Don Pepin Garcia, a Nicaraguan puro (like most of the Tatuaje lines) to release with the name and artwork from the original Cuban El Triunfadors. Originally this line was smaller, I believe maybe only available as a lancero vitola. Now there is a full range, of 6 sizes, including a lancero, along with 5 other, smaller vitolas. The largest is 6.5x42, which is not all that large compared to the massive rings that are so popular today.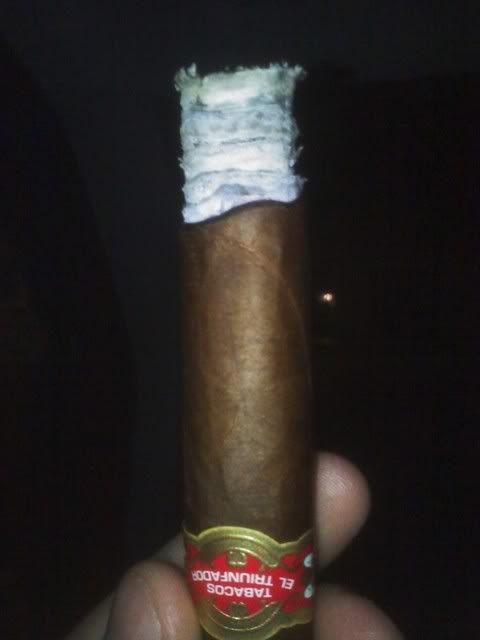 The El Triunfador #4 is a slightly box pressed robusto with a medium brown Rosado Habano wrapper that shows very few veins. The stick is held together with an expertly constructed triple cap, appropriate for a Cuban tribute like this seems to be. The pack is a little loose, though I suspect some of that has to do with the box pressing process. Compared to a lot of the Tatuaje lines, the El Triunfadors are fairly low priced, hanging in the $6 to $8 range, which if it proves to be great flavorwise, will likely lead this to be a regular daily smoke for many. The body does not give off much aroma, aside from a slight tobacco. The foot however has a bold spiciness that in my experience is a sign of powerful, high quality Nicaraguan leaves. Cold draw gives a slightly cinnamon and chili pepper flavor, as well as good earthy tobacco. The draw is fairly loose. Seems to have just the right amount of resistance.
Lit at 8:45pm.
Initial flavors are bold and stress heavily roasted coffee beans, creamy tobacco, and a good pepper blast across the tongue. The finish is spicy and lasts a good time, leaving the palette tingling from the pepper and spice.
Through the whole of the first third the flavors are similar to those present from the get-go, though the pepper blast gradually falls back a bit. Cinnamon, and earthy tobacco, with a slight leather that appears make up the entire profile, with a finish that consists mostly of pepper and a little cedar woodiness.
Getting just into the second third flavors haven't changed really, but I have started to notice that on the draw there is a sort of sweetness to everything that is pretty nice. This cigar is billed as a mild-medium, where most Tatuaje offerings are much fuller, and it certainly is living up to that... sort of. While the strength seems to be non-existent, the flavors are definitely plenty bold and hard hitting. Pepper, leather, earth, and spice are not flavors I personally think of often when considering "mild" cigars. The burn line isn't straight, but it isn't presenting any problems either. It is sort of wavy, off and on. Of note is the speed with which this stick burns. I am at the halfway point about 35 minutes in, which for a $7 cigar is a little quick.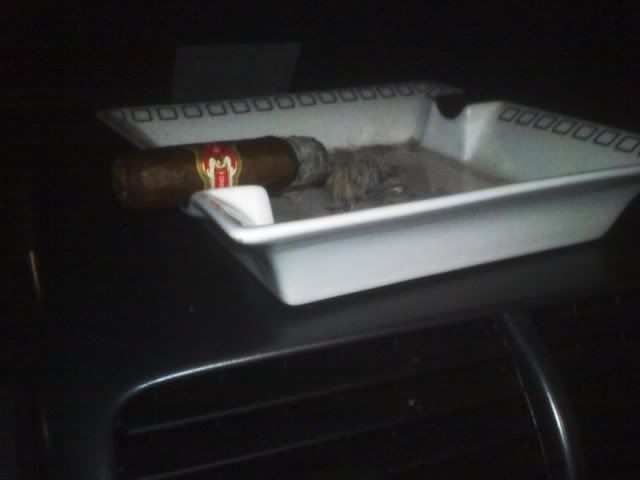 At the start of the final third things are getting a little warm already. The pepper heat and flavor are also coming back in full force, scalding my tongue with each draw. At exactly one hour, the nub that remains is getting too hot to hold, so I stuck a clip in it to keep smoking.
Ended at 9:55 for a total smoke time of one hour ten minutes, which is longer than it looked like it would be, as this stick seemed to burn very fast. Overall, the flavors were very good, rich and creamy, without ever becoming too strong, and without any real nicotine effects, which I guess is where this stick gets the label of being a milder stick. I enjoyed it, and would definitely buy more to have around for shorter smokes that still deliver complexity and boldness.