KRISTOFF CRIOLLO LIGERO
7x50 Churchill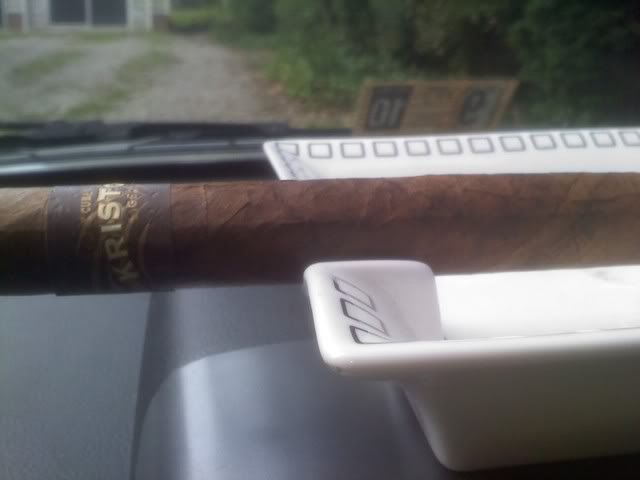 The massive Kristoff Ligero Churchill is certainly an imposing smoke to look at. It has an interesting shaggy closed foot, and a very tightly wound pigtail. The wrapper is very oily, almost leaving a slick residue on your fingertips when holding it. The veins are all smooth and well distributed. Seams all look good too. Despite the pigtail, I have opted for a regular guillotine cut, for the sake of consistent reviewing conditions.
The foot gives off less aroma due to the closed style it takes, but has a faintly salty element to it that is interesting. The cold draw is firm, and gives hints of cedar and sweet tobacco.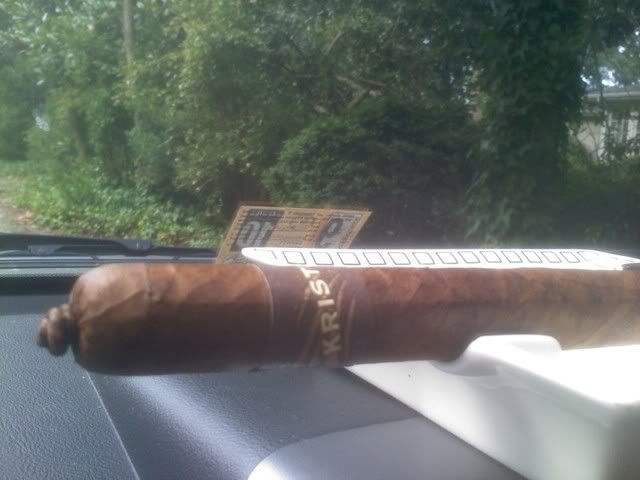 Lit at 6:39pm.
Right away the flavors present are bold. There is a solid, sweet tobacco, with a hint of smooth cedar, followed by a big peppery blast on the finish that is very fulfilling. The closed foot has caused some weird burning for about the first half inch, but past that it has smoothed out. The draw is also a little tight, but I think that too has to do with the wrapping. When sitting idle, this monster stick just burns away, jetting off cool looking wisps of blue and white smoke. Very good start.
Based on the rate this guy is burning, it's going to last over 2 hours at least, which I hope for... About an inch and a half in, everything is going well. Pepper has settled back to a dull hint on the finish, which is long an very oily. Ash is tight, and dark in color... sort of brown actually. Interesting.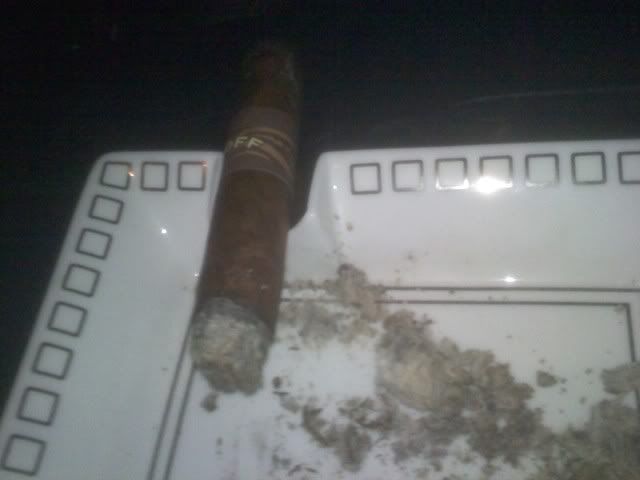 By the end of the first third it is clear that this is a strong smoke. Already feeling it in my gut and my head, though the smoke itself is very smooth. The mouth feel is still really oily, and the flavors are still very wood-centric.
In the second third a sweet nutty flavor dominates so far. It is almond like in nature, with a slight bitterness on the finish. The burn line has progressed swimmingly, requiring only one touch up so far.
Just want to go ahead and mention the rate this thing is burning again... It is now 8:15pm, and I am only just past the halfway point of this cigar. It's a good thing I have nothing to do this fine Sunday evening. I was planning to cook dinner when I finished this thing, figuring it would be a little after 8 when it finally wound down... not the case by a long shot. Everything is also still going fine. Flavor is still cedar, with an oily feel, and a cool nut flavor.
At this point my laptop actually was going to die, it had been off the charger for so long, so I grabbed a sketch I had in the truck, and took notes on the bottom of the page until the end...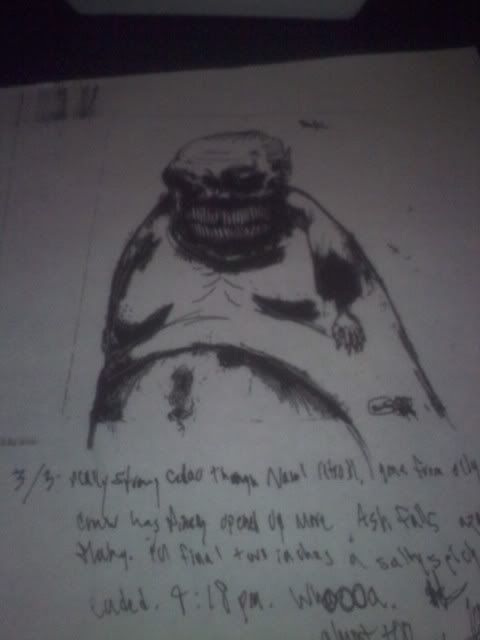 Around the middle of the final third a really strong, aromatic cedar is taking over through the nose, and the mouth feel has gone from oily to almost creamy in texture. Everything has gotten richer, and the body has ramped up significantly. The draw finally opened up a bit in the final third as well. It was never problematic but it was just a solid firm the whole way up to this point. Overall the ash has become very flaky as/when it falls, shattering into a million pieces as it hits the ashtray. And finally, the best part of the entire cigar, perhaps, arrives in the last 2.5 inches or so... a very powerful, salty spice. Salty is not an adjective I often find myself using when describing cigars, but this one has it. Very cool.
Everything finally got hot and mushy (and I started to feel nicotine sick) at 9:18 pm which is utterly ridiculous for a cigar. Two hours and thirty-nine minutes total burn time. If nothing else, this cigar more than pays for itself in smoke time. There are also some good flavors to be had here. If you are looking for a full bodied smoke, and a salty taste on the palette (oh, and almost three hours of smoking) I definitely recommend you check out the Kristoff Criollo Ligero Churchill! Sayonara!