JOYA de NICARAGUA ANTANO DARK COROJO
4.7x60 "Pesadilla" Belicoso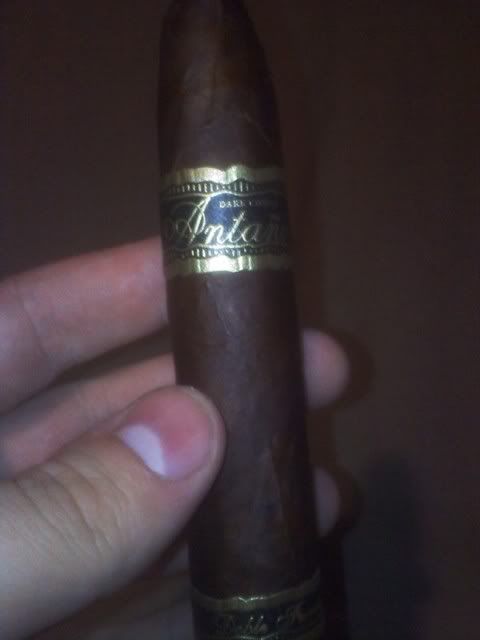 This short, fat belicoso... that looks extremely short and fat, features an appropriately dark corojo habano seed wrapper that is just seeped in oil. It has a smooth surface, with very little vein structure visible. The pack is pretty good, with a few spongy spots, but overall it feels fairly dense, and is definitely heavy as heck. The regular Antano line is apparently descended from the original JdN Antano, and was the first cigar produced in a factory commercially in Nicaragua. The Dark Corojo has an extra fermented Corojo wrapper, and it actually SMELLS spicy which bodes well for the strength and robustness of this little guy. The foot has a spicy, earthy aroma that reminds me of Old Bay seasoning actually which is cool. The cold draw is spicy as heck, with both cedar and cocoa present.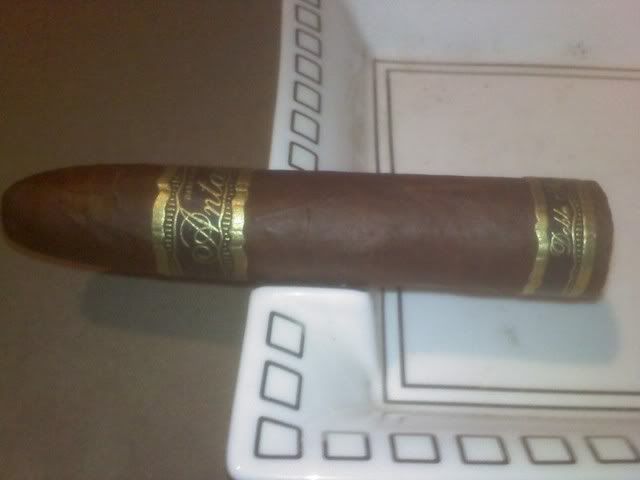 Lit at 11:10pm.
The really large ring gauge made for a slightly clumsy light. Once everything is even and burning, the draw is perfect. Just a slight resistance. Smoke production is great as well, and there is even a fair amount of ambient smoke off the foot. The flavors right off the bat are deep and earthy. There is a sort of mocha flavor, combining both bitter dark chocolate and bitter roasted coffee bean. It's not a sour flavor, but a bitter bite. The finish is woody with a lingering smooth spice over the palette.
In the first third the cocoa flavor has diminished a bit, replaced by a rich woody flavor, and a continued peppery finish. Not a burning, hot pepper, but a smooth mellow white pepper across the palette. The finish is somewhat dry, but the mouthfeel is heavy and oily. It makes me want to take a sip of water after almost every draw. As I sort of expected, the huge ring gauge is making for some funny burning, and will probably require a few touch ups to keep everything going smoothly. So far I have hit one spot quickly with the lighter, but nothing bad. About an inch in the ash is flowering a little bit, but that isn't a problem, just a pure aesthetic complaint on my part as a picky old sourpuss.
Since the start of the second third things have been getting steadily spicier. The flavor is primarily a sweet earthy tobacco, with a slight coffee bitterness, and an increasingly peppery finish. Interesting. In my experience, when pepper and spice comes back in most sticks it is towards the end if it was present initially and then disappeared. This stick is getting stronger and spicier much earlier than most. I like! I have found that this cigar also likes to either be drawn on more often, or with a series of quick back to back draws in order to get the wrapper burning all the way around its fat foot. This particular vitola would be very forgiving to the faster smoker, or someone who tends to draw more often than they should. Ash holds on for roughly an inch, and falls off in a big, fat, firm clump that remains pristine even after falling onto the ashtray.
A quarter inch past the halfway point a pretty large tear has suddenly developed from about a half inch from the head up for almost an inch. It seems to be only the wrapper that has been compromised, so it isn't affecting the smoke at all. Hopefully it won't cause any problems. Having now smoked into the torn area, it isn't causing any problems with the draw or smoke, but the stick is sort of swelling up making the tear get wider. There isn't but about an inch and a half left so I'm not worried about it, and it isn't affecting the flavor or anything. Strength has ramped up a good deal in this last third as well. For the first two thirds the strength was not noticeable really, or was overwhelmed by the flavor and general heaviness of the smoke. Now in the final third it is finally getting up there.
Ended at 12:40am, for a total burn time of one hour thirty minutes. Overall this was a great example of a typical Nicaraguan powerhouse. Lots of earthy richness and heavy on the peppery spice. Oily mouthfeel and thick smoke make this a good full experience. I would like to see how a smaller ring gauge would affect the burn and flavor. Not overly complex, but what is present is very good. Good smoke.