My Father no. 1
5.2x52 parejo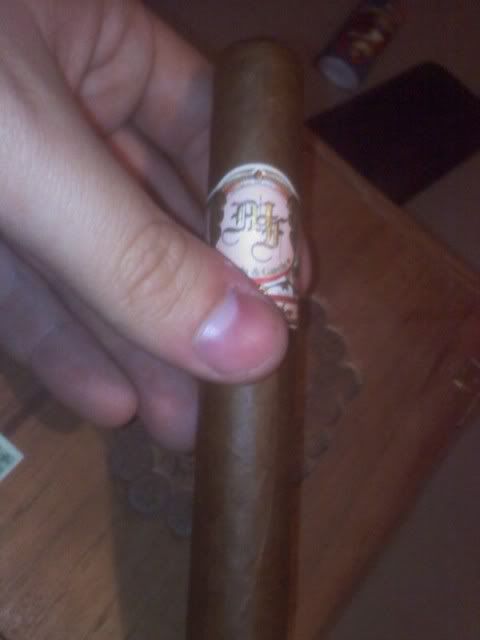 The My Father line has quickly earned a reputation as a great cigar from the Garcia family of cigar makers (Jose "Don Pepin" Garcia et al) but the My Father also has a sentimental story to it that adds to the experience. It also helps that the no.1 size was chosen as Cigar Aficionado's number 3 cigar of the year for 2009.
This robusto-ish stick features a dark caramel colored wrapper, with a visible network of small veins running over it (none of them pronounced or raised). It looks to have impeccable construction, featuring tight seams, and a crafty little triple cap giving nods to Pepin's Cuban past. The aroma from the wrapper is light giving a slightly grassy smell off. The foot on the other hand features a robust spicy aromatic tobacco, not sweet, more like chilis and maybe cinnamon. The cold draw is loose and packs a spicy wollop, with maybe a tiny bit of ammonia on the tongue that hopefully will not rear its ugly head later.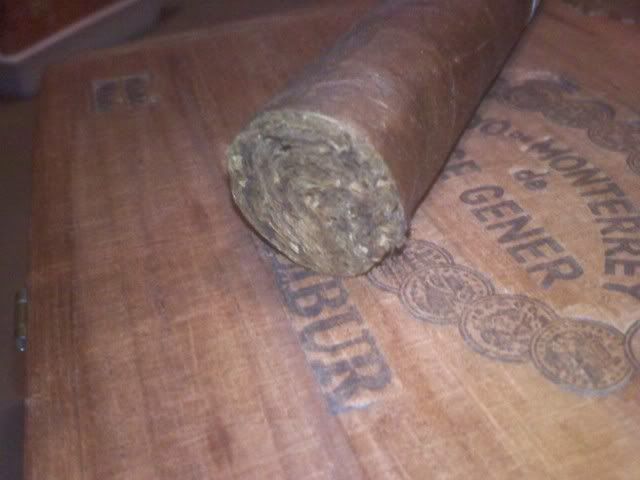 Lit at 11:29pm.
Despite the loose draw, smoke production is out of this world. Great billowing clouds of white smoke come off the foot, and the draw. flavors right off the bat are a heavy blast of spice and pepper, with a cedar finish. Not a light, sweet cedar, but a rich, overwhelming cedar.
About an inch in I'm really sort of remembering my past experiences with this cigar which is a good thing. Consistently performing this well is a good thing! The flavors are pretty powerful. Not a lot of flavors, just very powerful in their presentation. There is a pepper and spice blast on the draw, followed by a slighty creamy coffee bean flavor, and a continuing creamy cedar finish that lasts for a good length of time. The ash is holding on for an unusually long time. I got paranoid, and rolled it off just before the second third started, to avoid ashing my laptop.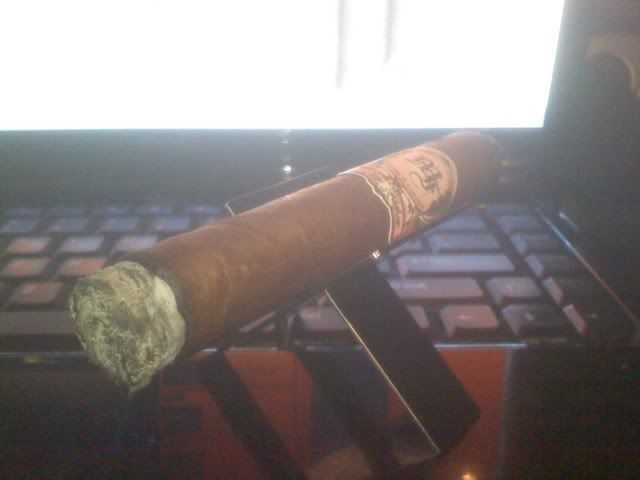 Second third brings more of the same cedar, coffee, and spice, but the peppery heat is definitely lessened. The spicy flavors of pepper and cinnamon are still perfectly discernable, and very bold in the middle, but without the burn. Finish is very cedar filled. Of note is the burn. It isn't a razor sharp line, but it evens itself out with each draw. It also WANTS to burn. I have set this cigar down for well over a minute without drawing, and it still draws and burns perfectly when I remember it, and get it smouldering again.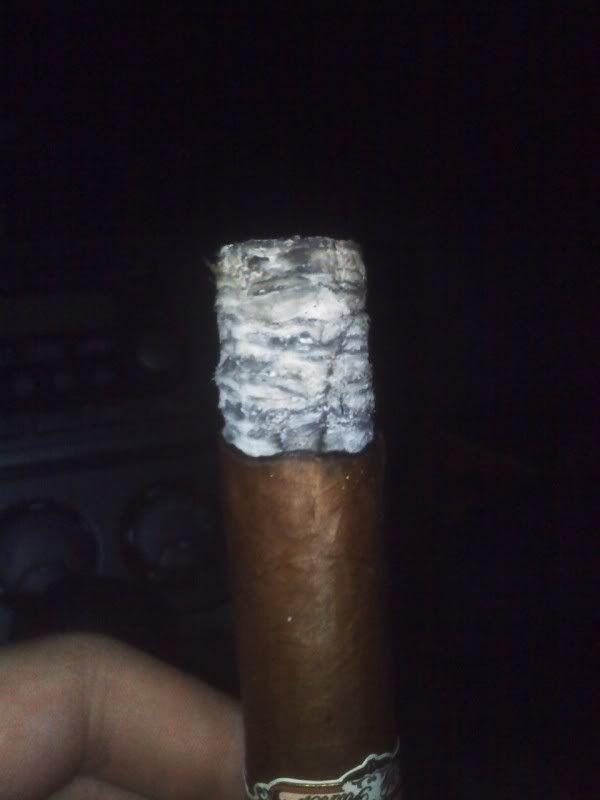 The final third starts with a ramping up of cinnamon flavor, plus some other dessert like spices (maybe nutmeg?) that bring a little earthy sweetness. There is a heat coming back through the nose, and a sort of lingering "zing" on the back of the tongue. Smoke production continues to be massive. The band is very ornate, with lots of fine gold trim, and attractive colors. Unfortunately there is a sizeable blob of glue that takes some wrapper with it upon removal.
Smoked this one down to the last inch before it finally got a little hot. Oh, and as for strength... this one never gets above medium-full at most really, which personally I like. Ended at 12:55am for a total smoke time of one hour 26 minutes. Very satisfying time, and some great flavors! The Garcias definitely have a winner here.