PINAR DEL RIO OSCURO
5x50 Robusto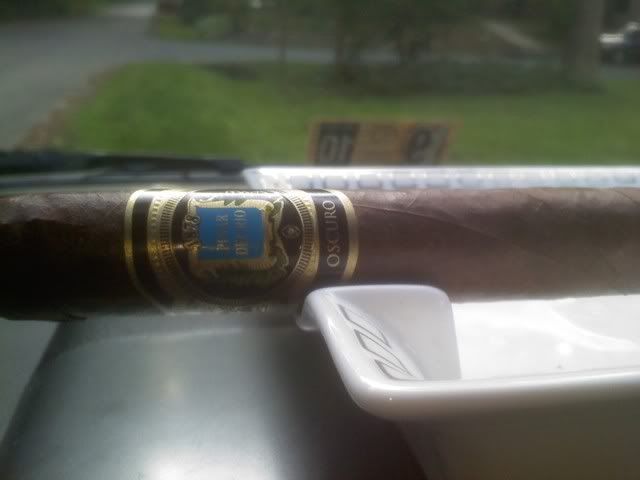 The PDR Oscuro features a Dominican Habano seed Oscuro wrapper. It is one of the oiliest and toothiest wrappers I have ever seen on any stick. It has a very deep dark chocolate color to it that appears totally natural (it is very dark... but not black!) It has a very slick looking oil sheen to it that is also quite nice looking. The seams appear tight. The double cap looks good and solid as well. There are no real veins tangible. I say tangible because all cigar wrappers are going to have veins, but it is the big protruding veins that you can really touch and feel that cause problems, not the tiny network of smaller veins that run over every leaf regardless of quality. The foot gives off a deep earthy aroma with a bit of peppery spice as well. Cold draw is slightly loose, in a good way, and full of chocolate and sweet, mellow tobacco.
Lit at 5:41pm
From the get go there is a good sweet tobacco flavor, and a mellow pepper. The mouth feel is very oily and thick. The smoke production is good, very easy going with a loose draw. There might be a little coffee somewhere, but it isn't really defined enough yet.
In the first third the burn line is pretty wavy. No real problem areas yet, but something to keep an eye on. The ash displays every last little toothy bump that was present on the wrapper, which is cool. The pepper on the finish has come up a little bit, providing a nice counterpoint to the sweet, dessert like tobacco taste that dominates otherwise. The smoke production has steadily gotten better as well, and you would never know how loose the draw is, based on the major amounts of smoke this cigar spews forth.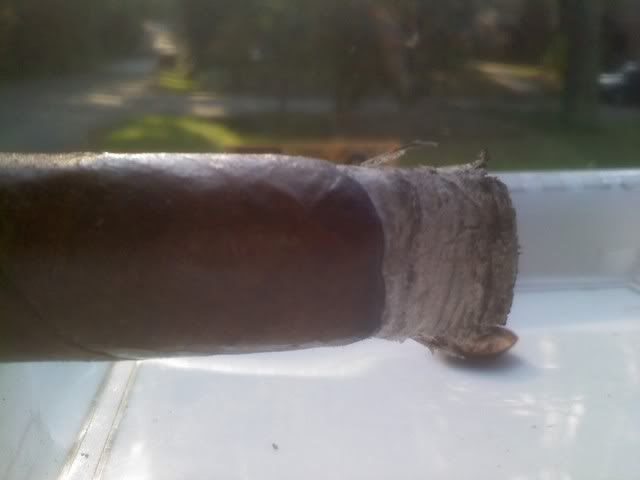 As things progress into the second third, the ash has fallen for the first time, at close to two inches, which is impressive. Pepper has continued to grow gradually and now makes for a lengthy, spicy finish, after a sweet leathery tobacco from the draw. The mouthfeel is still impressively thick and oily. Some cocoa washes in and out over the course of the finish as well. It is a creamy sweet taste. The burn line has also straightened out well. The heat near the burn has made all sorts of oils and tooth become even more apparent near the surface. Yum!
The flavors so far have been pretty straight forward, but very rich, and enjoyable. Not a lot of changes, but rather, consistent in a very good way. Not boring, but rather quite bold and dessert like (I know I already said that, but it is true) in how it feels overall. Ash has continued to hold on, getting into the final third it has only fallen once so far. Impressive. Of course as soon as I type that the ash falls (about an inch and a half of it) all over my shirt and lap. Karma.
Ended at 7:20pm for a total smoke time of One hour and thirty-nine minutes, which is about perfect for a robusto. No problems with construction or performance. Overall this was a great stick, really deep flavor and feel to it that would make it a wonderful choice for a smoke after a hearty dinner, or to wind down after a big day. Good stuff