PADRON 1964 ANNIVERSARY NATURAL
4.5x46 "Principe"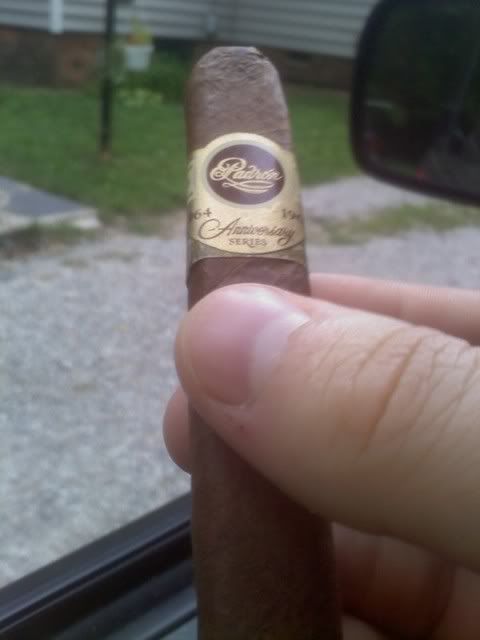 This small, well box pressed cigar is one of those sticks that everyone knows and is a classic smoke by many standards. The wrapper leaf, in typical Padron fashion, is oddly wrinkled, and honestly kind of ugly. It is a dark caramel color, and has no real visible veins without very close inspection. The seams are virtually invisible, as is the shoulder line. The pack is very dense, and despite being a pretty small stick, it has some definite heft to it. The feel is firm, and has no hard or soft spots, or lumps. The band is attractive, and well... classic, given the reputation that this cigar has. The aroma off the unlit cigar is a very rich, old humidor smell. Lots of aged, cured tobacco. The pre-light draw is slightly loose, and tastes heavily of old tobacco and wood. This cigar tastes how your Grandfather's old cigars smelled when you were a little kid digging around in his humidor...
Lit at 4:51pm
Right away there is a rich earthy tobacco flavor, accompanied by a pepper that sits far back on the tongue. Smoke production is out of this world, especially for a stick that is pretty small. Finish is impressive and lengthy.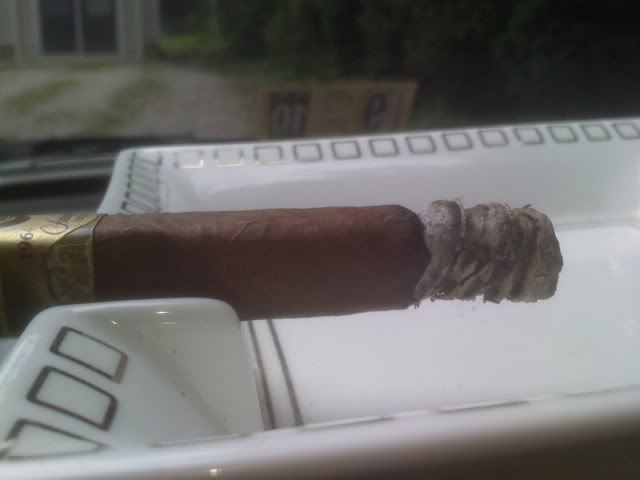 Getting about ten minutes into the first third, the pepper is really heavy, with a strong tingling burn that moves in waves across the palette. The flavor is still an earthy, rich tobacco. The finish lasts forever, lingering, tingling, pepper and spice through the entire ambient non-draw period. Burn line is wavy and generally uneven, which in my experience seems to be a symptom typical of heavily box-pressed cigars like this one. It hasn't required a touch up yet, but may soon. Ash is chunky and dark, and looks awesome. The "stacks" are very visible, and particularly thick.
Ash fell for the first time just prior to the start of the second third, shy of an inch and a half. Flavors have started to change a little as well. Pepper has come down significantly, and is now just one element of a more complex profile, that includes nuts, wood, spice, and aged tobacco. The burn line has straightened itself out quite a bit as well. Shortly past the half way point, the mouth feel has gone from heavy and chewy to slightly creamy, with the addition of a little bit of vanilla flavor.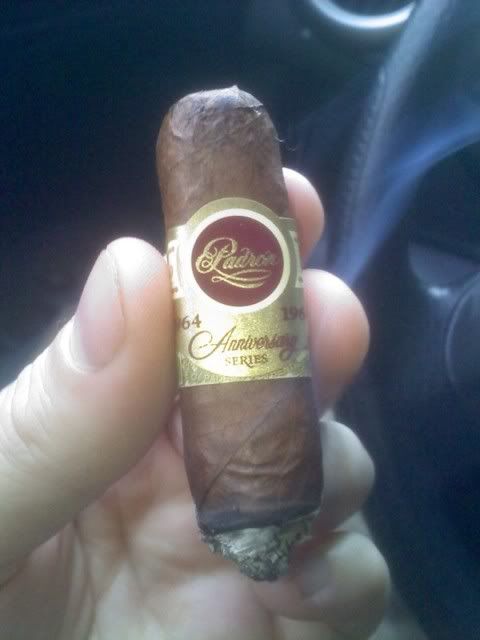 In the final third things are getting a little warm temperature wise, but the flavor is just out of this world. Nothing really new coming forward yet, but everything is just getting heavier, and richer, and more dessert-like in decadent quality. Put a clip in it to hold it and keep smoking at the one hour point.
Ended at 6:00pm, for a total burn time of one hour 9 minutes. Not particularly long, but given the box press, this cigar was actually probably smaller than the 46 ring gauge it began life as. Draw remained perfect the entire time. Flavors never took a down turn and only got more intense and complex as it progressed. I definitely recommend this cigar to anyone and everyone who wants a good, short cigar to relax with.