GURKHA LEGEND
6x60 Perfecto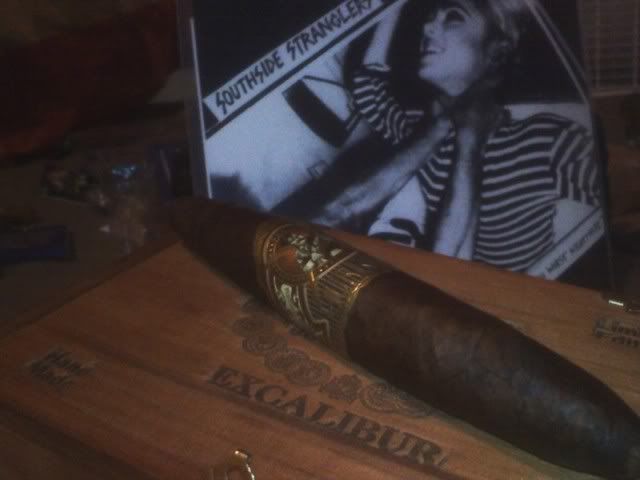 This is one of the rarer, more expensive Gurkhas. I'll be the first to say that I have had very mixed experiences with Gurkha in the past, though that probably has as much to do with their massive number of production lines as anything. If you produce 50 different cigars, each in several sizes, you are bound to have some stinkers. Well, this is one of the higher end sticks they produce, and it shows in the construction and packaging. The band is ornate and attractive even amongst Gurkha bands, and Gurkha is known for their packing and presentation. The stick itself features a super-duper slick and oily maduro wrapper, with very few tangible veins. The foot and head both have well constructed shoulders (perfecto, remember) holding everything together. They seem rather large as well, which is good for the cutting and lighting process. I opted to cut a small amount off of BOTH ends for the sake of a smooth draw and an easier, more even burn. It has been my experience with past Gurkha perfectos (especially the Centurian) that they suffer from a very tight draw that takes away quite a bit from the experience without taking a bit off of both ends.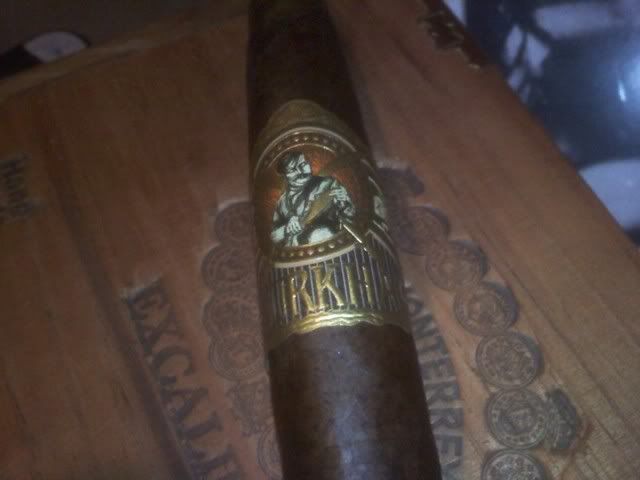 The aroma is chocolatey and sweet off the wrapper. The foot has a distinct (and pleasant) barnyard, almost straight manure aroma. The cold draw tastes like cocoa and cedar.
Lit at 12:01am.
Right from the get-go things are creamy and earthy. Chocolate and oak linger heavily on the palette, while there is a slight meatiness to the finish that is very strange. It is a spice of some sort that seems... meaty. The flavors present are VERY rich and hit very deep, and with a good balance on the palette. Hopefully this is a sign of good things to come... Because of the Perfecto shape, the band is very loose, and just keeps sliding around, so I have taken it off about a half inch in, for the sake of my sanity.
Through the first third roughly, the flavors sort of mellow out a little. Not as rich as they were initially, but continue to produce a mix of chocolate, oak, and spice that is very satisfying. The finish is very short, lasting only a few seconds after the draw. The burn line isn't perfect, but it doesn't require any touch ups. Ash is holding on very well for at least an inch and a half so far.
Around the halfway point the draw is getting a little tight. Not sure if it is tar or something else, but if it gets worse I'll stick it with a poker. There is a little bit of a slightly bitter burned coffee flavor on the finish now, followed by a sweetness that I can't quite peg. It's nice though. The ash on this one is really nice looking, mottled with white, grey, and black, in big flat chunks with a good toothy look.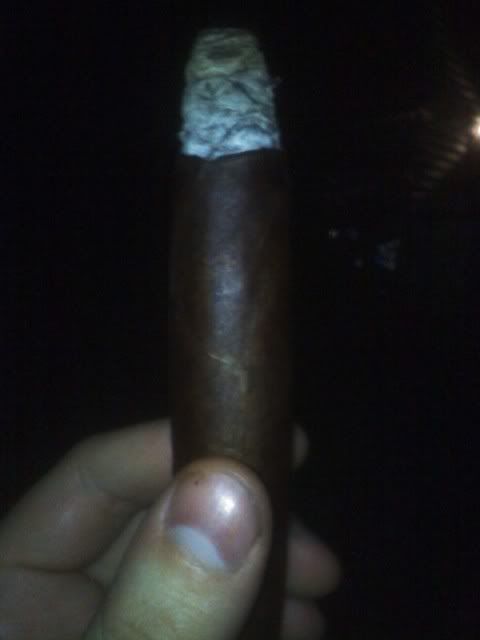 Things have taken a turn for the harsh around the start of the final third. The flavors are a little rough around the edges, and I'm having a hard time not going into a coughing fit for some reason. The whole smoke is also warming up quite a bit, and sooner than normal. This seems logically to be a result of the firm draw. I have tried a poker, and it still seems constricted unfortunately. I will, for the sake of reviewing, soldier on however. The chocolate is gone. So is the coffee. Instead it has started to taste like... every other Gurkha maduro I have had previously. The only exception is a slightly fruity spice through the nose that reminds me of oranges and cloves, like you have at Christmas time. This is definitely something of a saving grace given the sudden failing of everything else positive.
Ended at 1:51am, for a total smoke time of one hour 50 minutes, which is a fantastic long smoke time. Unfortunately, past the second third, this one sort of peters out and doesn't have much to offer, especially for the price (the perfecto goes for over $15.00 US online regularly). Gurkha fans, definitely give it a shot. People who like the flavors described, certainly give it a try. I'd say it's a good smoke, but not worth the high price.