LA RIQUEZA
5.6x46 "#3"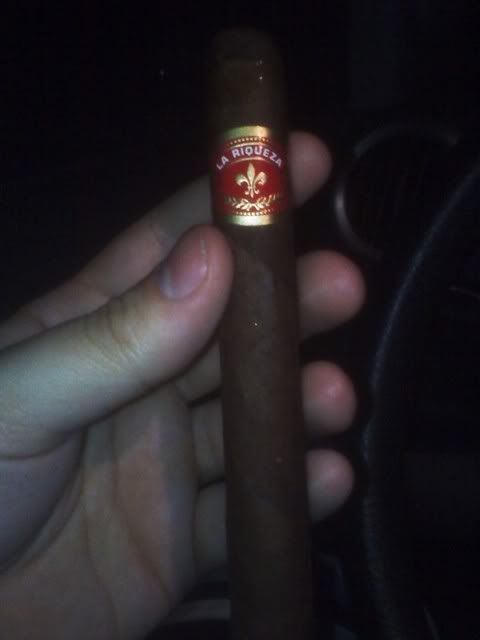 Another line offered from Pete Johnson and Tatuaje, produced under the watchful eye of Don Pepin Garcia, La Riqueza is also another mark saved from the wrath of history, an ancient Cuban brand, resurrected by Johnson and his apparent love of all things old, cuban, and made of tobacco.
This corona gorda sized stick features a matte dark chocolate wrapper, with very few veins, and a tough leathery feel to it. The coloration is not exactly flawless or even, but the construction looks great. Solid triple cap, smooth, tight seams, and... actually it does feel a little light, like it may be slightly underfilled. The aroma is both chocolatey and spicy... almost like cumin. Pre-light draw is initially sweet, but also has hints of spice, and leaves a little zing on the tongue.
Lit at 10:34pm.
Right away the flavors are earthy, with a little cocoa and espresso, followed by a big peppery finish that really slaps you across the mouth.
Smoke production in the first third is sort of unimpressive. I think this is in largepart due to the looseness of the draw. The flavors are very thick, earthy and chewy. There is even a musty old leather flavor through the nose that is very nice. Not something I taste very often, but when I do, it is a good sign. The pepper on the finish of most cigars would have slowed down by now, but this suck is still like chewing hot wings even at an inch or more in. Ash looks choppy and flakey but has held on so far.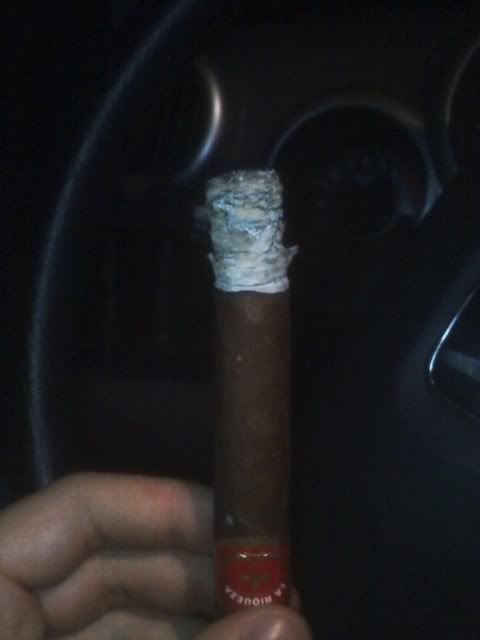 Getting into the second third I'm noticing that despite not exactly being a small ring, this cigar needs to be babied and smoked in much the same way as many smaller cigars, requiring more frequent, but less drastic draws to stay lit properly. With the right balance though, it is still proving to be very rewarding. The burn line is wavy, but not bad. The flavors in the second third are fairly dry on the palette, no oil or creaminess. Woody, earthy, and spicy are all still the adjectives on the board for this guy right now. Draw has firmed up a little, and smoke production has taken a directly related stance.
Around the start of the final third things are getting a little bitter on the palette. Still mostly earthy and spicy, but there is a bitterness on the draw that isn't the best flavor... The ash has also been kind of a pain in the rear, making a bit of a mess when it doesn't quite make it to the ash tray. The flakiness of it also results in random bit and pieces dropping off at nonsensical intervals. I have had to touch the burn line up a few times to prevent tunneling or canoeing also. With about an inch and a half left a huge wave of pepper comes onto the finish, unlike the medium, smooth pepper previously present. ZING.
Ended at 12:13am, for a total burn time of almost one hour forty minutes. Good time for a corona gorda. Unfortunately I just cannot justify this cigar based on cost next to other blends in the Tatuaje lineup. If this were a $5 or $6 smoke, it would be perfect, but at $9 it just does not perform the way it should in my opinion. Decent flavors, but nothing too complex. This cigar also has some strength to it. Nothing unwieldy, but it is noticeable. Over all, good, not great.